Magic Mike's Last Dance Is Actually A Fantastic Date Night Movie
Leave your cynicism at the door.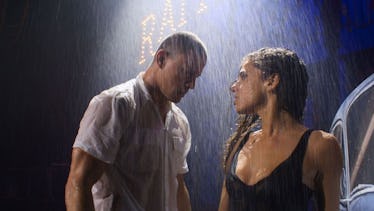 Warner Bros
The best date night movie for February 2023 is bookended by two stripteases. Magic Mike's Last Dance —the third and purportedly final installment of the Magic Mike franchise currently in limited release in movie theaters. And if you're thinking about a good couple's date night movie, it's not only solid but heartfelt, too. This number-one box office hit just asks you one favor: Shed your cynicism quicker than Mike takes off his shirt.
The film wastes no time getting to the action, with the titular Magic Mike Lane — played charmingly by Channing Tatum — getting summoned to the private living quarters of rich philanthropist Maxandra Mendoza (Salma Hayek Pinault), where he's bartending at a charity event after his furniture business has succumbed to the pandemic. One of the party's guests recognized Mike from his previous career as a stripper, and Maxandra offers him an exorbitant amount of money to dance for her to take her mind off things. Well, he ends up doing a lot more than that and, you can guess where things go from there.
Director Steven Soderberg, who also directed 2012's Magic Mike and produced, edited, and provided cinematography to the second film, Magic Mike XXL (2015), has said that seeing the Magic Mike Live stage show affected him profoundly. Maxandra perhaps is a stand-in for him here, willing to risk it all after one night with Mike.
Magic Mike's Last Dance also has something in common with another American fish-out-of-water in London story.; Ted Lasso! In both, we have a loveable doofus, a diverse group of athletes from throughout the world, and even a vengeful, rich divorcee who wants to get back at her ex by desecrating what they hold dear. One has to imagine Soderberg was bingeing Ted Lasso while he cracked the screenplay.
Soderberg also said that for Last Dance to work, Mike had to be in a relationship. Critics have been mixed on whether or not it does. But, for couples, the movie's tension is more about a courtship, rather than a tale of domesticity.
Either way, Last Dance is certainly a film of the current cultural moment. Both Soderberg and Tatum have stated that post-MeToo, they wanted to change the thematic foci of the sequels. The first film was more of a gritty exploration of toxic masculinity in Florida's stripper scene, and the second one (possibly even better) was a road trip romp that gave us Joe Manganiello's convenience store strip to "I Want It That Way." And there's a spiritual sibling scene in round three, with the ragtag group of dancers Mike's assembled for his show weakening the defenses of a local bureaucrat who is stonewalling them from making adjustments to the heritage theater through the power of strip. This is certainly made explicit through the stage show's only female actor, Hannah (Juliette Motamed), narrating each themed strip in scenes.
Magic Mike's Last Dance isn't without its problems, but it's a fun closing chapter to a franchise that provided an unlikely commentary on the last decade of Americana and masculinity. And if you're looking to make it rain, Magic Mike's Last Dance is the date night flick for romantic partners who want to blow off the steam that was generated during this last, very wet, dance.
Where to watch Magic Mike's Last Dance
Magic Mike's Last Dance is in limited release in theaters. But, there is a streaming option, too. If you want, you can purchase Magic Mike's Last Dance for $26.99 on Vudu right now.