What It's Like Living Off the Grid During Covid-19
Covid-19 has many people dreaming of greener pastures and living off the land. Here, ten families who currently live off the grid, discuss what their lives are like right now.
by Joseph Sarosy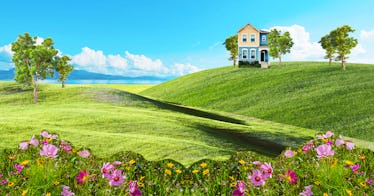 Living off the grid can feel like a dream. The water is fresh, the grass is green; hard work is rewarding, and mistakes are taken in stride. As the threat of Covid-19 has pushed urban families inside, and made crowded suburbs feel even more crowded, the idea of living on the side of a mountain in the middle of nowhere has taken on new appeal.
My family and I lived off-grid for years, drawing water from a mountain spring, power from the sun, and wood from the forest for heat. Today, our daughter is eight, and we live a little closer to town. We still take in plenty of the raw beauty of the mountain, but we've found living off the grid to be a different kind of social distancing. As our daughter aged, we wanted her to have rich friendships, and the long drives became taxing. This is something almost no one thinks about, and we've seen it happen to many urban transplants like us, young men and women who forged into the mountains, made love, had kids, then realized they were alone.
Fortunately, we still live in New Mexico, where even the towns are largely populated with wildness. Within a short walk from our door is a protected wilderness with rivers, canyons, forests, and geothermal hot springs. We spend a great deal of time outside, and I even teach a tiny school – an independent group of 1st through 3rd graders – within this wilderness zone. The land is an immense part of our life and education.
When news of the pandemic first struck, and public schools were shut down, many of us were slow to appreciate the impact it would have on rural communities like ours. But the stress quickly caught up with us. As of this writing, we have 31 confirmed cases of Covid-19 in our county and zero deaths. New Mexico as a whole has been a national cool spot, but the impacts of the disease are visible everywhere – from the obvious, like masks and protocols in the grocery store, to the curious, like the out of state cars and vans camped along the river. The impact on our health has been minimal, but the impact on our well-being — and that of our children — has been palpable.
What is it like for families living off the grid in other communities? I recently reached out to my network of off-grid parents across the U.S. to ask how the pandemic is affecting them. This is what life is like for them during Covid-19.
We're Grateful for a Simple Life
"A year before the world changed, we piled our family of five into an RV seeking a simpler life. We eventually settled on six acres in rural New Hampshire — a decision I am profoundly grateful for every day. Once it became apparent that the pandemic would change our lives for the near future, it was easy to make the most of our situation. My husband cut a trail through our wooded lot for nature hikes. It provides ample opportunities for educating our three little adventure seekers. And since we were already homeschooling our eldest before the schools were closed, we were prepared. We're learning to grow vegetables. Next come the chickens. Every time I run on our dirt road – without a soul in sight – I thank the canopy of trees for cleaning our air and keeping us healthy."
Katherine, 40, New Hampshire
Forest Kindergarten Made a Difference
"I started a forest kindergarten four years ago, after 25 years in the classroom. I wanted a shift in my life, and also felt the need to reintroduce children to the simple classroom of nature. But when the pandemic hit, it put everything in a new light. The kids and I have been stuck in rain and snow many times, and we have learned to help each other in all manner of circumstances. The children learned how to use what we had, not to wish for what we did not. During the pandemic, the children stayed home, and I sent parents activities, recorded songs and stories.
It has been a challenging time, but at graduation I decided to make individual home visits, outside the house, with social distancing. One girl led me to a stream and we sang a song together to the water, and gave thanks. She proudly showed me her garden. On another visit, we gathered around a fire outdoors and sang a song about the heartbeat of the universe. The child showed me his lost tooth with pride. Another boy met me in the woods where we had gathered before, and led me to a familiar spot. I pretended to have grown old and forgetful. "Don't worry," he said, "I will lead you on a good path!" My heart sang. For these children, our connecting point has been nature, and weathering the storm." — Silke, 54, New Mexico
We Have Not Been Stressed
"We have been working the whole time. We've been biking, walking the dogs, playing board games, and cleaning up trash in the forest. We even taught the kids how to cook and bake. We have taken precautions, but rarely wear masks except at our jobs. No, we are not stressed – we're fortunate. Covid-19 hasn't impacted us very much." — Shaniqua, 51, Michigan
It's Mentally Exhausting
"We haven't had much impact from the disease itself, but we do have many friends reacting with different levels of precautions. There's little consistency. We don't want our daughter to be isolated at home, and we think it's okay for her to see friends on a one-on-one basis, outside, with basic precautions. Lots of others seem to think so too, but not everyone agrees. Some people laugh at our precautions and want to give us a hug, others think we are far too easygoing. The constant conversation – who is seeing who, on what terms – is mentally exhausting." — Daniel, 40, New Mexico
We've Realized That Parenting Is Never Finished
"Our kids are in their early 20's. Both lost their jobs and came to stay with us to wait out the most intense phase of the virus. Having them back in our immediate lives has been both glorious and challenging. Unable to be with friends, the four of us have had the chance to live deeply in each other's lives. Breakfast, lunch, dinner; problems, joys, ideas, blather – we're all in it together. This often includes sitting endlessly around the kitchen table and discussing current social problems – from this nation's entrenched racism to how communities can reopen in a safe manner. I love listening to my kids' insights. Living with them during the pandemic has been a powerful reconnection and important education." — Paul, 61, New Mexico
We're Grateful for Our Lifestyle
"Our town was hit with a big wind storm at the beginning of the pandemic, so most of our neighbors went without power for nine days. We had solar and propane appliances. Living off grid during the pandemic has been the same as it always is – a little more tiring and a little more rewarding than "normal" life. Our son is two. We handwash most of his clothes by the river, tend a large garden, and appreciate the house we built together. The only bill we pay is our cell phone bill. I'll admit that some days I have thought to myself, "you're insane for doing this," but the pandemic has made me nothing short of grateful for our chosen lifestyle." — Ashley, 26, Maine
We've Had a Lot More Quality Time at Home
"This pause has given us time to be more firmly rooted in our life off grid in the mountains. Before, we were spending hours in the car driving to town for this or that. Now, we keep looking at each other and wondering how we would have had the time to build the horse corral, expand the garden, mend the fences, and tend to the details of homeschooling 4 children. We had long suspected something like this pandemic was coming, so we were prepared with lots of seeds, a grip of hens, beans, and tons of potatoes. I think we ate 50 pounds of potatoes just in April! The kids got creative with forts, fairy houses, sword fights. They have been reading lots of books and listening to podcasts. We adults have been more challenged. The heavy news in our world is a lot to bear without community. But projects and lots of space has kept us somewhat sane." — Lindsy, 46, New Mexico
We're Scared
I had life threatening pneumonia in 2002 and was on a ventilator for 3 days. My husband is 75 years old, has muscular dystrophy and diabetes, and is in a wheelchair. We decided our only option was to socially isolate on March 13th. We have cut ourselves off from any personal contacts. Generous friends leave groceries and packages outside our home in an old cooler. We are blessed to have friends like them. Isolation is difficult, but it is easier with my loving companion of 31 years. This time has brought us closer together. Now, we are considering leaving the safety of our home, the safe cocoon we have created. I am scared. How do we negotiate the complexities of social distancing while keeping ourselves safe?" — Lisa, 64, New Mexico
We've Been Less Busy and More Playful
"We've been less busy due to social restrictions. In the beginning of the pandemic, when we were very strict about isolation, I was my daughter's only playmate. She turned our hikes into stories and games. Often we were either two Olympic gymnasts taking a walk before our performances, or 2 princesses of different countries chatting about what it means to be a princess. It was a gift to become a more connected part of her play, and get more insight into what types of stories and themes are alive for her." — Megan, 41, New Mexico
Part of Me Doesn't Want to Return to "Normal Life"
"My family and I live in the foothills of the Sangre de Cristo Mountains. We live on two acres surrounded mostly by national forest, and our nearest neighbors are acres away. This pastoral setting has been a tremendous blessing in our lives and especially so since the onset of the pandemic. Needless to say, it is not difficult to social distance here. We spend quite a bit of time outdoors – hiking, biking, playing in our pond, gardening, and eating meals out on our deck. As parents of a six year old boy with lots of energy, the most challenging aspect of the pandemic has been the closure of his school and lack of playtime with other children his age. Since he doesn't have siblings, his mother and I have become his primary sources of play and social interaction.
While we certainly spend time playing with him under normal circumstances, the amount of time and effort spent trying to keep him engaged in developmentally appropriate activities has increased dramatically and taken its toll on us as parents. On the other hand, the pandemic has had unexpected positive impacts in our daily lives as well. My wife and I are working less, which means we are spending more time at home and less time in town. Being at home allows us to give more attention to our son, the care of our home, and the land. Our garden is much larger this year. Part of me doesn't want to return to "normal life" and would much rather continue as it is, without the pandemic of course. The question is whether we can take the lessons of this time and redesign our lives with more balance. I have hope that there are many parents out there asking the same questions. After all, crises give rise to new ideas and I know there are grassroots movements sprouting up even as I write this. Change will come." — Brock, 43, New Mexico
Joseph Sarosy is the author of A Father's Life and the co-author of How to Tell Stories to Children. You can find more of his work at offgridkids.org.