'Hamilton's' Leslie Odom Jr. Is Schooling His Kid About Good Music
He's playing Sam Cooke in 'One Night in Miami,' which earned him a Golden Globe nom.
by Donna Freydkin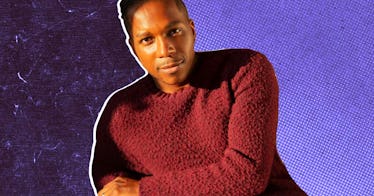 Tony Duran
In the musical Hamilton, which needs no introduction, Leslie Odom Jr.'s Aaron Burr shot Lin-Manuel Miranda's Alexander Hamilton in a duel. It also catapulted the Philadelphia theater kid to a level of fame he never saw coming and endowed him the superpower he most coveted: Confidence.
"That's what Lin gave a room full of Black and brown people — I had the evidence that if, given the resources, the role, the time to prepare that, yes, I could quite possibly do something special, something that would make me proud," Odom tells Fatherly.
Now, he's up for a Golden Globe for playing another legend, musician Sam Cooke in Regina King's One Night in Miami. In the midst of a flurry of press, Odom — holed up in his garage — talks to Fatherly about the real meaning of success and how he's teaching his daughter Lucille, almost 4, with wife Nicolette Kloe Robinson, to appreciate good music.
Playing Sam Cooke is very different from being Aaron Burr. How did you approach the role?
I had the music, which is a deep, psychological profile on somebody. I learned so much about the heart and soul of the man just by listening to those recordings again and again and again.
This was the first time that I was playing a role with some sort of verisimilitude — it was going to be about how closely at times I could mimic, or I could evoke somebody that people knew very well. And I wasn't sure that I had the time. I wasn't sure that I had the talent. I wasn't sure that I could do it. So the first challenge, the most challenging part was seeing in myself, what Regina saw in me because Regina saw it in me.
What would you tell a younger Leslie just coming up in the entertainment world, someone who wasn't self-assured and didn't know what he was doing?
I would tell him to do exactly what he was doing. There wasn't really any great ambition to the way I was putting my life together. I was just doing what I love to do. I was trying to put myself right in the center of any room that made me come alive, any space that made me feel joyful. If I was making friends, if I was getting affirmed and validated, if I was having fun, then that's where I needed to be.
You don't know where the road's going to lead, but man, if you're joyful along the way, you won't mind wherever it leads us. I just think that leads you exactly to all the places you're supposed to be. And if you love something hard enough, eventually it'll love you back. Not always in the way that you expect it to, but in the exact way you need it to.
You have a daughter, and a son on the way, due in March. How do you teach your daughter in particular to be a confident, outspoken, self-assured human being?
We accept her as she is. We tell her the truth and we also try to model certain behaviors for her. We don't hit you, so you are not allowed to hit us. We don't talk to you that way. You're not allowed to talk to us that way. It's self-respect, self-respect for ourselves — there's only so much abuse that we're going to tolerate for ourselves. And we want her to have that same respect for herself.
When I first started acting at 13 years old, I got into my first acting program. A summer program called the Freedom Theatre in Philadelphia. And it was in an all-Black repertory company that had a training program. And Mr. Tom Page, he since passed away, every single child that walked through that door, Tom Page would ask us: 'What's the password?'
And we would have to answer, 'I respect myself' and Tom Page would respond, 'You're beautiful.' And then we'd go in. We had no idea what that meant, no idea what it meant — we did it by rote but saying that thousands of times as a child, it takes root. So when I asked my daughter, now what's the password. She knows: 'I respect myself.'
With baby number two about to arrive, what's been the most revelatory thing about fatherhood for you?
Something about my having a kid has obviously healed old wounds between me and my parents — has made me understand the way that I was parented in a different way. My parents were children. They were 23 when they had me. I know that they were still figuring things out. There's things I don't expect of them.
I really understand generosity and I understand selflessness in a way that I never have before. I'm giving you all that I have and all that I can, and I expect nothing in return.
Listen, I'm asking this on behalf of all parents who have to listen to tragically bad music courtesy of their kids. How do you teach them to appreciate the good stuff?
I think you just expose them to it. You just have to lay down the breadcrumbs and eventually they find it themselves. My parents, all they did was play great music. And then eventually I discovered the records in the basement myself. My relationship to Marvin Gaye is deeply personal. My relationship to Sam Cooke is personal. And the Beatles, you know, but of course my parents had been all those places before. They'd been all those places before me. So they just exposed me to it. And then I found my way there myself.
We've been doing bath time over quarantine because I've been home now more than I've ever been home with my child. She knows what I look like. She's sick of seeing my face. But she's gotten used to dad's rhythms. The rhythm of our life used to be very different. If I was home three days out of a week, that was a lot. I do baths with my daughter most nights. I'm playing my Billie Holliday, playing my Miles Davis. And sometimes she'll ask questions about it. Sometimes she won't, but I'm trying to lay a foundation of some quality music.
One Night In Miami is streaming now on Amazon Prime.
This article was originally published on