5 Pearl Jam Songs The Last of Us Season 2 Should Use Instead of "Future Days"
Which Pearl Jam song should Ellie and Joel love now?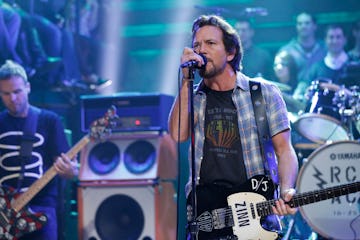 NBC/NBCUniversal/Getty Images
If you've played The Last of Us Pt 2, you know how important Pearl Jam's song, "Future Days," is to the unfolding story. Early in the game, Joel plays the song for Ellie before giving her his guitar and promising to teach her how to play. His tremulous performance of the song captures the complexity of their relationship–so much so that the song feels inextricably wound up in the story's DNA. As game-Joel sings "If I ever were to lose you / I'd surely lose myself" — before he suddenly, self-aware, stops playing, so much is suspended here: the travails (to put it mildly) that he and Ellie have been through, who he realizes he has become, and what these two survivors mean to each other.
So: if you've just finished watching season 1 of HBO's adaptation of the video game, you may be aware of the Pearl Jam paradox of the TV show. The show sets its "present day" in, well, our present day: 2023. The show's producers moved up the timeline of events by ten years: the fungal apocalypse now occurs in 2003–ten whole years before Pearl Jam recorded their album, Lightning Bolt, and, with it, "Future Days." Since Episode 1 aired, time-paradox attentive fans have wondered how the show — when it gets to Season 2's adaptation of Pt. 2 of the game — could find a way to still use the song. See, Joel couldn't have seen the YouTube video of Pearl Jam performing the "new" song live in July 2013 (before the Cordyceps crisis arises a few months later). Some fans and critics hoped that Pearl Jam themselves could get written into Season 1 as alternate-reality versions of themselves: refugees who'd written the song after the fungal fall. Spoiler alert: no Eddie Vedder was encountered in the (mountainous) wastelands west of Boston.
Recently, the original Game Director and the show's writer/ Executive Producer, Neil Druckmann, suggested that they might use a different Pearl Jam tune for this pivotal scene in the upcoming Season 2. We already know that Ellie knows at least one Pearl Jam tune, "All or None," as she has it on her Walkman cassette in Episode 7. Given how much story work "Future Days" does in the game version of Pt. 2, which Pearl Jam song might the producers choose–and what might its impact on the story and characters be?
Here are five Pearl Jam songs that might be swapped in, and what that might mean for the show and our characters.
"Future Days" hauntingly captures Joel's intense emotions around the choices he made at the end of the first game–and leans into a forthcoming goodbye between himself and Ellie. Its themes of loss and hope for the future are palpable and heartbreaking. "Present Tense" might provide Season 2 writers with a way to play, still, with these themes of letting go of a traumatic past, and trying to remain in the moment. It would center a sense of being in the now, rather than either the past or, yes, future days ahead.
On the original recording, Eddie Vedder sings "You can spend your time redigesting past regrets / Or you can come to terms and realize you're the only one that cannot forgive yourself. / It makes much more sense to live in the present tense." The song's driving acoustic guitar also makes it a good candidate for the solo, more folk-singer ethos that this moment between Joel and Ellie demands. There'd also be some pathos to hear Joel singing to Ellie "Are you getting something out of this / all encompassing trip."
Will the song that replaces "Future Days" try to gather the pieces of the story that's already unfolded, or try to hint toward things to come? "Parting Ways" is an enigmatic tune–a song balancing brightness with a hint of melancholy. Vedder sings, "She knows their future's burning /But she can smile just the same."
Were Joel to play this song for Ellie, it could capture a sense of impending change for the two of them: "And though her mood is fine today /There's a fear they'll soon be parting ways." If Season 2's producers continue to have Ellie use this song as a quiet and somber moment amid her ongoing struggles, there are certainly some haunting lyrics she might continue to wrestle with: "Behind her eyes there's curtains / And they been closed to hide the flames."
I mean: Joel and Ellie walked a pretty long damn road in Season One, amiright? And Season Two will answer the question of exactly where the road leads from here for the two of them. Vedder is said to have written "The Long Road" about a former drama teacher who'd recently passed away.
The themes of loss would be palpable were Joel, and later Ellie, to sing: "All the friends and family / All the memories going 'round, 'round, 'round, 'round / I have wished for so long / How I wish for you today." Gifting Ellie his guitar after playing "The Long Road," Joel would drive home the sense of uncertainty for what's to come– "Will I walk the long road? Cannot stay / There's no need to say goodbye."
Full disclosure: we're into the part of the list composed of Pearl Jam songs this reporter knows how to play, and he thinks he and Joel are maybe comparable in their guitar playing; so there's that layer of verisimilitude at play. So: the lyrics to the final track off 1994's "Vitalogy" are, let's be honest, toward the more impressionistic pole of Pearl Jam's catalog: "artificial tear, vessel stabbed, next up volunteers?" But the song's exploration of what is lasting, of what we're able to hold on to, suits the story's themes.
What would the concept of "immortality" mean to two people who have seen their world turned upside down–all the death and violence, yes, but also the transformations (fungal zombies, etc). Joel singing the song's muted opening — "vacate is the word / vengeance has no place so near to her / cannot find the comfort in this world" — would rhyme with the hope that Joel and Ellie have sought, clung to, through all their traumas. And the song's final lyrics, given by Joel, would be, well, quite a whammy: "cannot stay long / some die just to live."
As Pt 2 of the game unfolds, Ellie plays "Future Days," for herself again and again. The song's meaning — because of who is playing it — moves her character forward. "Elderly Woman" is a beautiful ballad about memory, loss, and a desire for connection. It's also driven by an acoustic guitar, and is pretty easy to learn (my high school band, Access Denied, played it–poorly–in my living room). "I seem to recognize your face / Haunting and familiar and yet I can't seem to place it." While the video game Joel sings "Future Days," with palpable sadness, it's interesting to imagine Pedro Pascal gifting Bella Ramsey's Ellie with a song charged with just a hint more happiness–before the bittersweet sweeps in: "My god, it's been so long, never dreamed you'd return/ But now here you are, and here I am."
The thought of Joel and Ellie singing–each in their own way–the song's repeated-to-fade-out last is just a little haunting: "Hearts and thoughts they fade, fade away." To misquote Ellie after Joel's performance in the game: "that wouldn't suck."
The Last of Us streams on HBO Max.