The Puerto Rican Superhero La Borinqueña Fights for Kids
La Borinqueña is a Puerto Rican superhero who is fixing Puerto Rico when the government can't.
by Miguel Guadalupe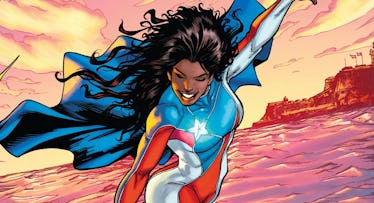 Edgardo Rodriguez / Somos Arte
Hurricane Maria hit Puerto Rico almost one year ago and the island has not yet recovered. Although very few Puerto Ricans died during the storm, the lack of electricity, running water, and critical infrastructure has led to as many as 5,000 deaths in the wake of the hurricane. Even now that electricity has largely been restored, power is intermittent, outages are common, and morgues remain full of unclaimed bodies. There are fewer kids too — many parents sent their children to the mainland in order to keep them in school. The kids that remain face uncertainty. Many are afraid. That's why Edgardo Miranda-Rodriguez sent a hero.
Miranda-Rodriguez, a father comic book author best known for collaborating with Run-DMC, was frightened by Hurricane Maria and even more frightened by what followed. He saw a threat. He didn't see the government stepping up. So Rodriguez invented La Borinqueña, a Puerto Rican superhero (real name: Marisol Rios De La Cruz) born and raised in born and raised in Brooklyn who, thanks to an encounter with magic crystals, can lift fallen electrical poles, fly, and control weather patterns. The new hero is teaming up with Wonder Woman, Superman, and Batman to help save Puerto Rico and rebuild.
Fatherly spoke to Rodriguez about his inspiration for the character, how his Nuyorican kids think about Puerto Rico, and why the children need a hero that fights hurricanes.
Why did you want to create La Borinqueña?
Pop culture icons shape our identity, and as people of color, we have to deal with so much already in terms of discrimination and racism. When we see characters that look like us and connect us to a real legacy, a real history, that's rare.
I understand that more people follow pop culture than real events, so sometimes the only way to raise awareness is to create an icon with pop culture benchmarks, but that has real-world scenarios. It's a subversive awareness…. The debt crisis, and the PROMESA laws, the recent Hurricane Maria devastation — I use the character as a way to uplift people, but also to talk about a humanitarian crisis. This is a strategic formula: Have a great icon rooted in something substantial.
La Borinqueña is from Brooklyn. But her Brooklyn doesn't look like the uber-gentrified version of Brooklyn many people imagine or live in. It feels intentional.
La Borinqueña is definitely from Brooklyn, and modern Brooklyn. She's from the south side of Williamsburg, Los Sures as it's still called by the people who live there. It has not been as gentrified as North Williamsburg. Not yet. I wanted her to live in this era and this area because there are a lot of parallels to what's happening in Brooklyn and the gentrification of Puerto Rico. For hundreds of years, Puerto Rico was exploited by the sugar barons, like Domino Sugar, which had its headquarters right here in Brooklyn. There is a twisted history of colonialism that connects the two. Here in Brooklyn, there is a major company that transfers toxic waste. And in Puerto Rico, there is a town called Peñuelas, that has historically stored toxic ash from US Companies. It was a great way to bring that awareness to my readers.
Your graphic novel has superheroes fix the Puerto Rico, which has been devastated by Hurricane Maria. It's now been many months since the storm. The island is still in crisis. What does your comic book really do about it?
I've been working on the book since two weeks after the hurricane. I was at New York Comic Con promoting the comic, feeling anxious because I still hadn't heard from my family. People were coming to my booth, crying, and sharing their frustration about the lack of news and communication coming from the Island. Dan Didio, the Co-publisher of DC comics, was with his fiancee, who is Puerto Rican. He looked at my work and loved it. That's when I took the opportunity and asked him directly, 'What are we going to do for Puerto Rico?' He responded, "Well, how soon can you put together a proposal?" That week, I signed a contract with D.C. Comics to legally use their characters, artists, and writers for the project. Dan gave me carte blanche. He believed in the project that much.
The lights were still out and people still needed help. I pushed to get the book done at the six month anniversary of the hurricane. We announced that pre-orders would be available on that date, and it went viral. It became an instant Amazon bestseller.
So what did you do with the proceeds?
My wife is helping with the philanthropic side. We know that there is an idea that the people of Puerto Rico are just waiting for handouts, so we wanted to show that there are organizations on the island that are working on the ground every day. We've invited them to request grants for funds raised from sales of RicanStruction. We already have a long list of organizations that we know are doing the work, and more are being found.
Will La Borinqueña become a part of the DC Universe? Is there a CW TV series in the future?
La Borinqueña is independent, and will always be independent. There is a lot of power and symbolism in that independence.
So what's next for La Borinquena?
I made La Borinqueña a student because it allows me to have the reader learn about Puerto Rico with her. I want the reader to discover Puerto Rico through her eyes. When I was at Puerto Rican Comic Con, the Mayor of San Juan, Carmen Yuli Cruz, met with me and told me how important my work was because of that. I'm convinced that the success of La Borinqueña means I have a real responsibility to keep up this work.
You were raised by your mother in New York City. Who do you look to in terms of learning how to be a father?
I looked at my own dysfunctional family growing up and consciously decided to be more present in my children's lives and include them in my work. My eldest comes with me to conventions. I support my youngest in his professional modeling, which is a rare thing among men of color.
When you are a father of color, you have a stereotype to overcome. Not only do you have to disprove those stereotypes for society, but also for yourself.
This article was originally published on