With 'True Story,' Kevin Hart Gets Serious About His Mistakes
"Right now I'm focused on legacy."
by Donna Freydkin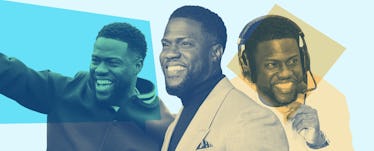 Credit: Getty/Fatherly
He's been heckled. He's bombed, hard. And once, memorably, had a "saucy Buffalo wing" thrown by a disgruntled audience member in Atlantic City. But as Kevin Hart told Howard Stern a few years ago, he kept right on going because "I don't like to lose." The Philly native who cut his teeth at New England comedy clubs remains just as driven, as motivated, and as ambitious, planning to be a billionaire by age 45. That's three years from now.
The same hunger for more applies to "the Kid," the brash comic Hart plays in True Story, now streaming on Netflix. He's rich and famous and on the cusp of losing everything after a night goes very, very wrong. The limited series lets the father of four — whose kids range in age from 16 to one — go deep in a milieu that's deeply familiar to him: Before COVID-19 shut down venues and threw everything into disarray, Hart was a standup machine. According to Forbes, Hart has dethroned Jerry Seinfeld as the highest-paid comedian, earning $59 million between June 1, 2018, and June 1, 2019.
The comedian talks to Fatherly about the meaning of success, building his legacy, and that bromance he has with Dwayne "The Rock" Johnson.
So let's talk about this movie. This is a new Kevin Hart.
You know, it's about the opportunity to amplify, open up another door. I think I've been making baby steps just in the way of progression in my career by slowly working my way towards more serious dramatic roles. So from The Upside to Fatherhood to True Story, my road that I took to get here was one of patience. And I think my audience now knows what I'm capable of.
But even in knowing that you're not going to see this coming, you're not going to see this type of performance coming and you're not going to expect it. So to have the opportunity to go a little darker, it was a must. And the cast that we put together was unreal. I mean Wesley Snipes.
Wesley Snipes is unreal. I got to work with a legend, a GOAT, a true thespian, he brought a tremendous amount of credibility to the project. He helped make that real. This is a real series. This is a real moment in time for myself and my career. And I can't thank all parties involved enough.
What does success mean to you? Because so much of this is this guy, who's "made it" on the verge of it all going away.
The meaning has changed so many times, right? And I can say there's a different reality and perspective that's attached to it after we went through what we just went through, right. I think the pandemic shined a light on all of us and our perspective of just what's important. What really matters.
So yes, success is unbelievable. There's a thrill that's attached to it. And with it, there's a want and need for more, but it doesn't have the same impact on me that it will once did. At this point, it's about happiness. And right now doing my job makes me happy. Coming up with ideas and being in a position to create those ideas, make me happy if that is ever removed or question, it wouldn't be the same. So I can say success for me now is knowing where my happiness is.
At this point, are you more focused on legacy?
Yes, yes. I think when it's all said and done when you look back at what I've been able to do, my resume, the boxes that I've been able to check, I think people are going to be shocked at how much I did through the span of my career and my reason for doing it is because I can. The possibilities are endless and there's no ceiling on success. There's no ceiling on how much of it you can have. So for me, it was about opening up different doors and trying different things. And those things that I did and tried, I somehow stumbled, stumbled in a way that landed me in or put me close to. So yes I am right now focused on legacy.
Do you worry about quote-unquote losing it all?
I will say that there was a time where that was the worry, right? Where that was the fear. Is that the same fear now? No. Once again, it's because my priorities and my mindset have changed though, in the way that it's attached to the business. It's about fun. It's about having a good time. It's about smiling because I'm achieving the goal at hand and doing the thing that I said I was going to do. There's different levels to my process and to my breakdown now. And I'm very thankful that my eyes were open to some things that I'm able to process them the way that I do.
What do your kids think about your career?
There's some, whatever man in there, but they know I'm cool. My kids definitely respect my level of cool. Do they praise it? No. Do they give me more flack than anything? Of course, they're my kids, but they definitely respect my level of cool for sure.
This kind of hearkens back to your conversation with Obama for Fatherly. As a Black father, do you feel that you have a responsibility to be a role model to other dads?
I mean there is, right. Whether you want the responsibility or not, there is a spotlight on us all, and that spotlight just comes with expectations of failure to some degree. Because of a narrative that's been created, you're not supposed to win or succeed. So when you're doing it right, you are an example to the younger version of that, to do it right. To do it the right way because of what the right way not only means, but can mean for you. That's special.
What kind of dad are you? If I was to come to dinner at your house.
I'm a great dad. I'm a great dad.
I'm a dad that prides myself on communication and great dialogue. It's about showing your kids and not doing for your kids, right? Yes, you're providing, we all understand that, but it's very important to lay down a foundation of how to operate in said pipeline during said thing. How are you preparing your kids for adulthood?
I would say that's probably, that's probably the best definition that I can give you when it comes to me as a parent. For me, it's just about information. So I'm a father that prides myself on giving information, not being preachy, but just being open, being open to questions, being open to conversation, and being understanding while doing it. That's the atmosphere that I've created for my kids to flourish in.
True Story is streaming now on Netflix.