How to Write a Letter From Santa
Santa is busy this time of the year. Here's how to make sure your kids get a timely (and properly detailed) response.
by Fatherly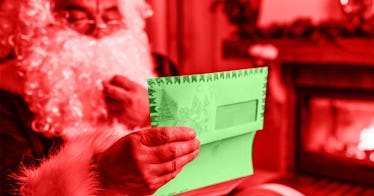 Writing a letter to Santa Claus is an age-old tradition from the times when most kids woke up to find an orange in their stocking until today when you can Google stories on "How to Write a Letter from Santa." Making sure your child receives a response to their thoughtfully written out plea for toys, games, and a new baby brother or sister can be daunting if you don't know where to start. I mean, the North Pole is a long way away and Santa is very busy this time of year. But fortunately, there are a few surefire ways to make sure that your little ones get a response that makes them—and the holidays—feel special.
In the past, letters postmarked to Santa Claus at the North Pole were intercepted by postal workers in an initiative called "Operation Santa," where USPS employees, volunteers, members of the public, charity workers, and others "adopt" letters and respond to them—always with a sign off from St. Nick.
But it's a big job, and sometimes it's easy for a letter to get lost in the shuffle or for the demand to be too great for each letter to get a timely response. Especially during holiday seasons like last year's, where an influx of letters were sent in from hurricane-ravaged Puerto Rico and the U.S. Virgin Islands.
That's why we've outlined a few options for making sure your child's letter from Santa arrives to them, whether you're the one behind the ink or not.
Option 1: Use the USPS Postmark Program
While Operation Santa might be the best option for kids and families who are facing difficult situations or who don't have the resources to otherwise get a letter to and from Santa, it's not the best decision to inundate the massive call for volunteers further if you can help it. That gives children and families in need a better chance to get the magic that they need delivered.
However, if you want to support the USPS, they have another program that allows you to have your child's letter to Santa and Santa's response postmarked at the North Pole. The caveat? You have to help Santa out by writing the letter yourself.
The process looks like this:
Have the child write a letter to Santa and place it in an envelope addressed to: Santa Claus, North Pole.
Write a personalized response to the child's letter and sign it "From Santa."
To save paper, write Santa's response on the back of your child's letter. If you keep them together, your child will also be able to recall what he or she wrote.
3 Insert both letters into an envelope, and address it to the child.
Add the return address: SANTA, NORTH POLE, to the envelope.
Ensure a First-Class Mail stamp is affixed to the envelope.
Place the complete envelope into a larger envelope, with appropriate postage, and address it to:
North Pole Postmark
Postmaster
4141 Postmark Dr
Anchorage, AK 99530-9998
Option 2: Write a Secret Letter and Hide It In Your Mailbox for Your Child to Find
If you don't want to go through the hassle of all those steps, then just writing your own version of a letter from Santa and making it special on your own. This can mean having a co-worker or friend with lovely handwriting transcribe your letter on a North Pole-themed piece of stationary, rolling it up and tying it in a ribbon, and sticking it in the mailbox—saying that you thought you just heard sleigh bells and someone must've dropped something off. But it doesn't have to be a handwritten letter. Maybe finding a typewriter to use is more your style. Or maybe even just using a new font in Word and printing your letter out at work. Whatever you do, make sure you specifically address your child and compliment the good things they have accomplished this year and their good behavior.
Option 3: Use a Santa Letter-Writing Service
Sealed by Santa, (yes, the one you might've seen on Shark Tank) is a service that allows you to order a package full of goodies from Santa so your kids can have direct communication with the Big Guy. Different packages include different things, but you have the options of choosing a personalized letter from Santa, a north pole exclusive envelope, Rudolph reindeer food, a Santa top secret ornament with a video message, a phone call from Santa, and a north pole sticker sheet. This is the perfect solution for any parents who have the problem of time versus money.
This article was originally published on