How to Throw a Summer Birthday Party
Sure, it's hot, humid, and all the kids are away. That's no excuse. Here's how to throw an awesome summer birthday party .
by Alexis Barad-Cutler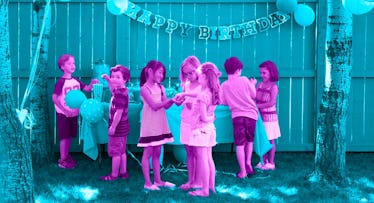 Kids with summer birthdays have it tough — it's hot, people are at camp or away, and many things are booked. On the plus side the weather is nice, you're not wedded to paying through the nose for indoor space rental fees, and your invite list is smaller so you can do something a little more extravagant for your more limited guest list. Here are a few tips for how to throw a summer birthday party for your kids – without feeling the burn.
RELATED: 10 Outdoor Activities for Kid's Next Birthday
Make A Huge Deal On Their Birthday
Summer Birthday kids may not get to celebrate their big day in school with all their friends — which can make them feel like they've been cheated out of something super important. Make up for their Unimaginable Loss by making the biggest honking deal about their birthday that you can imagine. Think streamers on their door, for them to wake up in the morning, or a big banner in the living room that says Happy Birthday. Come up with a summer birthday tradition that's just for a summer birthday celebrant, and no one else in the family.
Consider Moving The Party To A Different Day
This one might be a little controversial, but if you and your child are really concerned about having the whole class show up to your birthday party, you may want to schedule it for closer to the school year. Make sure you communicate with your child about this, because it may be more important to your kid that the party fall on or near their actual birthday than whether they have a huge party attendee list. The younger the child, the less important a big guest list is. (For a preschooler, as a general rule, invite the number equal to the birthday child's age plus one.)
Send Out Invites Super Early
If you are planning on having your birthday party in the middle of the summer, your child might be worried that their friends will forget about them or not want to come to their party if they don't see them every day. It may help to assuage their fears if you lock down your RSVP's ahead of time — that is, before the school year ends — so that your child can move into the summer knowing that they won't show up to their birthday as the lone guest. Yes, it may sound crazy, but other parents will most likely understand the unique pain of being the parent of a Summer Birthday Kid.
Do Something Extravagant For a Small Party
If you have a small gust list due to the limited availability of people in the summer months, why not take your guests somewhere you wouldn't normally be able to afford if you had to entertain an entire classroom of kids? Maybe treat four of your child's favorite friends to an outdoor movie and pizza night, or your child and their best friends to a baseball game. Or, host a backyard campout with a couple of their pals, complete with s'mores and scary stories. A more manageable number of kids means you can really do it up with the party activity itself and your level of involvement.
Or Invite Everyone From Your Child's Class
Your kid might be attending school with a completely different group of friends in the oncoming school year, but if you have a summer birthday and you're inviting more than just a few kids from the past school year's class, the nice thing to do is to invite everyone from the class your kid was just in. Don't worry about the kids in the class they're about to enter. Those kids don't factor in yet (and that would be kind of over the top). Besides, it is likely most people won't be able to attend, so don't worry about being saddled with a huge group of kids to pay for. Relax – it's a summer birthday, and you get to say you did the right thing by not leaving a single kid out.
Take Advantage Of That Warm Weather
The best part about a summer birthday is all the outside fun it affords when planning activities and party themes. There are so many possibilities and ways to make the summer season work for your party — from beach parties to backyard parties with slip n' slides and water balloons and sprinklers. Transform a greenspace into a Butterfly Wonderland, and give guests butterfly wings to run around with. Or have a scavenger hunt party in a park, and give your mini detectives magnifying glasses and mini clip boards as they hunt for bugs, plants, or little trinkets you've hidden earlier that day.
Don't Pay for the Space
Summer birthdays mean opportunities for outdoor birthdays! And being outside means you can opt to have a birthday in a shared public space, like your child's favorite playground, beach, roller rink, carousel, or even sports field. Just make sure you know when these spaces tend to be less crowded, so you don't have your party, say, when the local Y camp tends to take their campers to play. It also is key to send a family member or friend to the place early to stake out a few picnic tables so that you can guarantee having your own party area when birthday time rolls around. If you're doing a park or beach birthday, bring activities like a piñata, bubbles, chalk, or balls, and help kids and parents stay engaged throughout the party.
Have a Contingency Plan
You don't have to have an indoor space booked just in case it rains on the big day. Bring your own "Plan B", by buying some canopies and setting them up rain or shine – people will appreciate the shade either way. If the indoor space you've rented for your party has an outdoor/indoor set up, even better.
This article was originally published on