How to Make Homemade Playdough In Less Than 15 Minutes
All it takes are a few household ingredients.
by Brendan Charles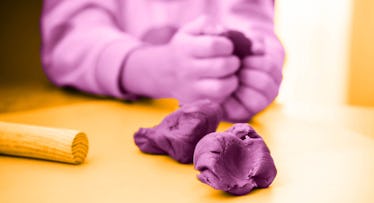 The problem with Play-Doh is that no matter how many colorful cans you buy, it always ends up in one giant brown clump. Rather than spending more money on more playdough though, or desperately trying to teach a toddler how not to mix colors, it's just as easy to make your own homemade playdough ⏤ and it's cheaper. Homemade playdough is just like the kind you buy in the toy aisle except it's made with ingredients you already have in the kitchen. Even better, making it from scratch using a playdough recipe not only soaks up an afternoon with a fun project but also teaches kids a thing or two about science. It's easy, safe, and even edible if one of your munchkins gets the munchies. Here's how you do it.
Prep Time: About 15 minutes
Entertainment Time: One hour
What You Need:
A pot
3 cups of flour
1.5 cups of salt
6 teaspoons of white vinegar
3 tablespoons of oil
3 cups of water
Food coloring
How to Make It:
After decking the kids out in aprons or smocks, help them prep the ingredients with measuring cups and spoons.
Dissolve the salt in the water.
Over medium heat, combine the remaining ingredients in the pot and stir. Add a few drops of food coloring to achieve the desired hue.
Depending on the age of the kids, they can either help stir or watch as you do so. Either way, the dough must be stirred continuously, pulling it away from the sides and kneading until it reaches the consistency of playdough.
Once a ball is formed, remove the pot from the heat and let it cool. From there, some recipes call for adding additional food coloring to make it darker but you don't have to. As soon as it reaches room temperature, you're ready to mold, roll, and squish.
Make sure to store the new dough in an airtight bag or container if you want it to last longer.
This article was originally published on