How The Founder Of TOMS Shoes Balances World Travel With A 6-Month-Old Son At Home
Blake Mycoskie spends as much time in Nepal as you think he does, but he still manages work life balance.
by Michael Howard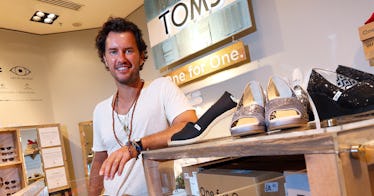 GETTY
Routine Behavior is a new series where we talk to guys who successfully juggle businesses, careers, and parenting about the routines that keep them on track. Up next is Blake Mycoskie, founder and Chief Shoe Giver at TOMS, the popular brand that helped pioneer the so-called "one for one" model, which pairs for-profit businesses with philanthropic efforts — in Mycoskie's case, providing shoes, clean water, eye care, safe births, and bullying prevention in disadvantaged communities around the world.
In some ways, Mycoskie is exactly who you might envision the founder of TOMS to be: he's into yoga, he has dogs named Buddha and Gypsy, and he travels constantly. But despite all that, and his steady focus on helping others, he still manages to be a present, engaged father to his 6-month-old son, Summit and husband to his wife Heather. What time do you start answering emails in the morning?
We are a global company, so it varies. Some nights I am up emailing until 2 AM. Other days I wake up at 6 to send emails and then spend time with Heather and Summit in the morning. That is my absolute favorite time of day.
How do you reconnect with your kid when you get home from work each day?
I hold him in my arms for as long as I can. Usually we nap on the couch together and just relax. I can't get enough of my time with Summit.
What's the one piece of kid-related gear that you can't live without?
My TOMS diaper bag. It looks like a messenger bag, but has the functions of both. It fits my laptop and also all the baby stuff. I wanted to make sure TOMS created a men's diaper bag for all the dads in the world.
How many times a week do you get home for dinner and do you ever cook?
I try to get home on time every day I am in town. Heather and I both enjoy a great dinner. It's fun to get out and try new chefs and restaurants together. Sometimes we order in. As long as I am spending time with Heather and Summit, that is all that matters. I do make pancakes on the weekends though. How about that?How much exercise do you get in a given week and what kind?Heather and I are both into yoga. I also have a TRX set-up at home.
What's the longest you've ever played with your kid without looking at your phone?
I am a big advocate for fathers taking paternity leave. I personally took 12 weeks and really tried to remain present, avoid work emails and calls, and give Summit and Heather my full attention. Now, when I am at home with Summit, I remember how precious every moment is with him, and I think about how much better it is when I don't look at my phone and give all that time and focus to him.
How often do you travel for work and do you look forward to it or dread it?
Quite often and I never dread it. I just came back from a press tour in Europe and Asia. Summit and Heather came with me.
What's your go-to when you need work-related inspiration?
When I travel to visit our Giving Partners, I'm constantly inspired by fabrics and shoe styles around the world. Whether it's unique boots in Nepal, beautifully crafted flats in India, or colorful fabrics from Guatemala, I like introducing these to our design team to consider ways we can integrate them into our seasonal design concepts. What's your go-to when you need to completely turn your brain off?With all of the traveling I do year-round, there's actually nothing that compares to coming home to Los Angeles and our new home in Topanga Canyon, California. There's no happier place for me. Being home centers me and allows me to recharge and refocus my energy.
How's your attendance record at your kid's events/games?
He's only six months old, so my attendance is currently perfect. I can't wait to see which sports and events he gets excited about as he grows older.
What's your kid's favorite book at the moment?
Jellycat Soft Books, Jungly Tails
What's your kid's favorite toy at the moment?
The Eric Carle Very Hungry Caterpillar Teether Rattle
Get The Toy
[iframe https://market.nmrkt.com/publisher/item-box?css=https%3a%2f%2fmarket.nmrkt.com%2fcss%2fcss%2ffatherly-horizontal-item-box.css&publisher=102&items%5B%5D=15328507 width=100%]
This article was originally published on