How To Set a Winning Little League Batting Order
A Little League World Series coach shares his tips to setting a winning batting order.
by Jack Crosbie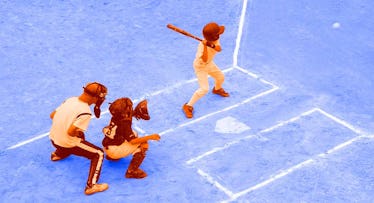 Let's face it: when it comes to baseball, everyone wants to be a cleanup hitter. The prized number four slot in the lineup is where the big slugger sits, whether it's tee-ball, beer-league kickball, or MLB. But in Little League, not every kid is a big slugger ⏤ even if their parents think they are. And setting a lineup can be tricky. Coaches have to balance the demands of parents' and kids' egos with what's best for the team, and make sure that every hitter gets their fair share of appearances at the plate.
Mike Randazzo knows this better than most. A coach for the Fairfield American Little League, an elite program in Connecticut, Randazzo's All-Star team has made several trips to the Little League World Series. As he understands a thing or two about setting lineups, both for recreational tee-ball teams just out to have fun and competitive programs aiming for Williamsport, he offered up a few of his best lineup-setting tips.
The Traditional Baseball Lineup
First, the basics. While traditional baseball lineups all tend to follow the same formula, coaches at the youth level have a lot more flexibility ⏤ as well as challenges ⏤ depending on the age/skill level of the kids. The biggest issue with setting a Little League lineup is that young players are often inconsistent, as well as close enough in skill level that it can be tough to differentiate between them. It's important to take those first few practices to really examine and rank the talent on the team, as well as the potential. Which players are going to be your run scorers and which ones, who with the benefit of more at-bats, might develop into a bigger hitter later in the season.
Overall, you still want a good contact hitter who's fast on the basepaths up first, batting leadoff. Their job is to get on base. Same goes for the two-to-three slots ⏤ contact hitters with a high on-base percentage ⏤ although some coaches argue for their best all-around batter to hold down the three-spot. Hitters four and five are usually the power hitters, most likely to get an extra base hit or even a home run, maximizing your chance at scoring big. You want players who hit the ball hard at the heart of the lineup.
After that, it's up to you; some coaches like another fast player, who may also be a good bunter, to hit sixth. Other coaches leave weaker or developing hitters at the bottom of the order, in the eight or nine spot. By doing so, they give younger hitters a chance to see more pitches before they step up to the plate. That way they can watch the batters before them and hopefully learn a thing or two. The leadoff guy doesn't have that advantage ⏤ he or she is going into their first at-bat blind, so they should probably be a more experienced kid.
Honestly, a Little League lineup isn't as important the younger and less competitive the kids are. If you're coaching a group of tee-ballers just out to have fun, it literally makes no difference who hits where in the order. Mix it up. Let them all have a chance to hit leadoff and cleanup and ninth (or twelfth, if every player gets to bat). There's really no need to create any sense of best-hitter hierarchy too early, even if parents demand it.
For coaches of more competitive squads, however, there are a few strategies Randazzo suggests.
If You're Going for a Win, Put Your Best Hitter Second
In the majors, a team's biggest hitter is usually batting cleanup. That can be true in Little League too, but Randazzo likes to put a deadly bat in the number two slot. They're right at the front of the lineup, which means they'll maximize their at-bats in the game. Also, because they're not up first, there's a better chance they'll have at least one runner on base when they get up ⏤ and that lets your team strike quickly. Randazzo says that the strongest contact hitter ⏤ someone who hits the ball the most, but not necessarily the hardest ⏤ is a good person for this slot.
Don't Forget Defense
Randazzo said that he tends to set his lineups with defense in mind, not offense. You can only have one shortstop, so even if you have two talented kids at the plate, the one who's better on defense should probably start. Little League teams typically have 12 players, so make sure your subs know their roles and where they'll fit in the order. Also, it's important to make sure they understand that every player on the team, regardless of spot in the lineup, is as important to winning.
Make Sure Everyone Gets Their Reps
In the early spring leagues, Randazzo says it's all about making sure players get plenty of at-bats. Hitters earlier in the lineup will naturally get more at-bats, so it's typical for teams to stack the one through five slots with the best hitters. In the less competitive spring leagues, however, Randazzo says he doesn't always do that. Again, it's as much about fun as it is winning. The best players are often the ones playing in multiple leagues, on traveling club teams, and on the All-Star teams. They're getting their reps. So he says he frequently mixes it up, putting casual players up top and changing the lineup every game, so new kids can see plenty of cuts at the plate.
At the end of the day, though, it's important to keep one rule in mind: "You want to give them a great experience," says Randazzo. "It's Little League baseball. You want to win, but you gotta make sure these boys have fun."
This article was originally published on