Read Three 'Hawkeye' Comics That Inspired the Show With Your Kids
Reading these will make watching the show even better.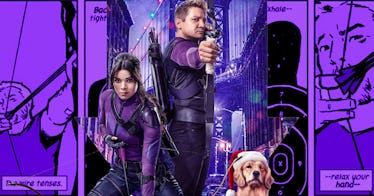 Disney / Marvel
Hawkeye is back! In the new Disney+ limited series Jeremy Renner returns as Avenger Clint Barton for a Christmas-tide adventure that introduces the inimitable Kate Bishop (Hailee Steinfeld) for a grand total of two—count em'! — two Hawkeyes. The Dinsey+ story unfolds sometime after the events of Avengers: Endgame, but it's mostly based on Marvel comic books from 2012-2015. Comics writer Matt Fraction is a producer on the series and has been name-checked by the cast and crew of Hawkeye more than once.
So, there are some differences between the comics and the show: the bad-boyfriend Clint of the comics, for example, is replaced by the loving family man of the MCU. But these comics provide the heart and tone of the story and introduce us to the mentorship between Hawkeyes, the villainous "tracksuit draculas," — who are just called the "tracksuits" in the show —, and Lucky, the one-eyed pizza dog. So, with the gifting holidays coming maybe you want to check out these three collections of Hawkeye comics. Because—can I be real a second?—these comics by Fraction, artist David Aja, and colorist Matt Hollingsworth are simply awesome: one of the best pieces of comics storytelling of the last two decades. Here's are the three graphic novel collections to read while you're watching the show. Each of these volumes are pretty great for older kids, but some of the themes might be a bit much for very young ones. Mild spoilers ahead for the comics, which, could, possibly, translate into
HAWKEYE: MY LIFE AS A WEAPON
This is a story — as writer Matt Fraction tells us in the opening pages — of what Clint Barton does when he's not an avenger. Herein, we meet Hawkeye as a guy who doesn't have his life figured out–and can't quite reconcile his Avenger's hero-dom with his Iowa-carney-orphan, bad-with-love, and trying-to-be-a-regular Gen-Xer self. Clint lives in Bedford-Stuyvesant, Brooklyn, and gets tangled up with the local mafioso that owns his apartment building. After these "tracksuit draculas" (decked out head-to-Superstars in Adidas and gold chains) try to evict his neighbors, Clint starts down a path of all sorts of trouble. He tries to buy the building from them, gets caught up with the 1970 Dodge Charger-driving wife of one of the gangsters, careens around Brooklyn in a machine gun vs. bow n' arrow car chase, and adopts the dog that the draculas beat-up. All while Clint embarks on a troubled crime-fighting partnership with Kate Bishop–a 19-year-old socialite who just happens to be the greatest archer Clint's ever met and doesn't take any of his nonsense.
HAWKEYE: LITTLE HITS
It's Christmas time, and things start to go off the rails for old Clint. Well, first we are treated to a wonderful bit of visual storytelling where Clint and Tony "Iron Man" Stark try to get a DVD/DVR working–trust me, it's a beautiful, unreplicable two pages of comics magic. But then Clint's futzing with the tracksuit draculas comes back to haunt him: the boss dracula (you know he's boss because Kangol beret + sports shutter glasses + regular hits from a portable oxygen tank = boss) tells him to skip town or he'll kill everyone in the building. When Clint considers leaving, the tenuous team-up between he and Kate starts to rift: she is fed up with his narcissism, man-boy feelings, and half-baked stabs at being a real hero. Though Clint decides to stay and protect the community he's now a part of, the trouble only deepens when the draculas send an assassin called The Clown to the building. This volume contains "Pizza is my business" — an astonishing, somewhat heart-breaking bit of storytelling from the perspective of Hawkeye's one-eyed dog, Lucky–including symbol-filled thought bubbles, and snatches of human speech as a dog might hear it: "Come, ~~~~~? Come? Lucky. Come!" While David Aja's artwork is always wonderful, the work he and Matt Hollingworth do in these pages is a testament to how sometimes a story is sometimes really told best in a comic.
HAWKEYE: RIO BRAVO
After the events of Little Hits, Clint has hit rock-bottom–and Kate has skipped town with Lucky (a story told in another excellent volume, L.A. Woman, by Fraction and Annie Wu). After trying to take on the Clown, the tracksuit dracula's assassin, Clint is severely beaten–and ends up deafened when the Clown jams arrows into his ears. While a horrific bit of comic book violence, this sets up another extraordinary issue of the comic told largely in American Sign Language. Again, David Aja outdoes himself in creating a captivating reading/looking experience that only heightens the drama that he and Fraction have created as the story comes to its climax. Here, Fraction and Aja bring their story to a close with a final showdown at the Bed Sty apartment building–a clash only complicated when Clint's neerdowell brother gets involved. It's a super-satisfying end to the story arc that both Fraction and Aja left after these final issues. If you want the whole story, you've got to get this one.
Hawkeye airs new episodes on Disney+ on Thursdays.