5 Haircuts for Men Ready to Accept That They're Balding
You aren't at a loss for hairstyle options. It's merely time for a new set of options.
by Adam Hurly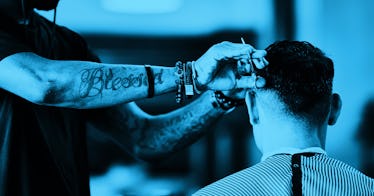 There's no shame in losing your hair. You join the ranks of, well, every guy ever. However, we all experience hair loss differently: Some guys will lose everything on the crown by 20, whereas others get an extra 70 years with hair up top. Regardless of when it happens to you, it's important to know that you aren't at a loss for hairstyle options. It's merely time for a new set of options.
The five styles listed here, provided by Boardroom Salon for Men grooming expert Lauren Rachel, work with every kind of hair loss. Rather than try to cover up your lack of hair, they help you own it, without making you look like a car salesman from the 1980s That's the nice part of growing older: You might lose your hair, but you can still look as wise and charming as ever.
You Have: Severe Recession at the Sides of the Crown
Try: The Pompadour Fade
The cut: Lots of guys who retain a majority of their hair will still experience extreme loss above the temples, creating a "widow's peak" effect. "Ask for a high fade starting with a 1 on the sides and back," says Rachel. "Play with the length up top to find your preference." She suggests leaving it 1 to 2 inches long. "Choppiness at the top and height at the front give you added texture and volume. The idea is to wear your hair 'forward,' " she says.
The style: Grab a pomade or clay styler. The former can be added to towel-dried hair and blown dry with a round brush for volume. The latter can be applied to dry hair and coached back with fingers.
You Have: Severe Hair Loss on the Crown
Try: The Comb-Over (Really!)
The cut: If the majority of your hair loss is concentrated to the top of your head, then there's an easy and obvious solution. "Comb-overs work well for receding hairlines as they create the illusion of a uniform hairline," says Rachel. Tell the barber to leave 1.5 inches up top, at least, since this is enough to create a part. Then, have him or her taper the sides and back. This will easily blend into the top.
The style: Stick with something lightweight, like a cream or paste. You don't want to weigh the hair down. Style either one in towel-dried hair and comb it to the side (or use your fingers for a more relaxed look). "Don't slick it down around the forehead," Rachel advises.
You Have: Uniform Thinning
Try: The Textured High and Tight
The cut: If your hair isn't receding as much as it is thinning everywhere, then Rachel suggests a textured, medium-length side part and tapered sideburns. "Think of a messy high and tight – perfect for making hair look thicker due to the contrasting short sides and back," she says. Follow the same side-part instructions in the previous style, but twice as long up top.
The style: Rub a dime-size amount of cream or paste in your hands. "Comb your hair back and part to the side slightly," says Rachel. "Then, comb the hair up top to the side and use your fingers to fluff up the hair up top for maximum texture." This will give you the illusion of volume and density.
You Have: Thick-Textured (But Still Thinning) Hair
Try: The Short Buzz With Tight Fade
The cut: Even guys with thick hair experience thinning — not the hair strands, but the hair density lessens severely. For this, Rachel recommends "a barely-there, close cut". It will define your facial features by blending the edges of your hairline. "Ask your barber for a skin fade," she says. "He or she will need to use a razor on the back and sides, then fade to a 0 or 1 up top."
The style: This is a low-maintenance style, requiring a rinse and a towel dry so that it never looks slept on. It's short enough that it doesn't require any product. You will need to visit the barber every couple weeks, though, to keep it looking fresh.
You Have: A Dying Field of Hair Follicles
Try: The Full Shave
The cut: A lack of hair is as much a style as one with hair. Regardless of how much you've lost, it's worth trying a close shave at least once; it may suit you better than you realize. (You can always grow out the beard or mustache for an entirely new look, too.) For your inaugural shave, Rachel suggests you pamper yourself with a straight razor shave from an experienced barber. "But when you're ready to shave at home, invest in a high-quality razor and shaving cream," she says. Think of it as a replacement for the hair products you aren't purchasing.
If and when you shave it yourself at home, you must follow a very specific process to avoid cuts and irritation. "Start after a hot shower, then trim your hair down with a set of clippers," says Rachel. "Apply shave cream to the entire area to soften follicles. Begin by shaving with the grain, applying little pressure in even strokes. The razor should do all the work." After this, you'll move to the coarser areas. Pull the skin taut, especially the back of the head, since it tends to hang looser there. (For this, you'll need a hand mirror.) After the shave, splash cool water across the scalp — same as when you shave your face — to close your pores. An aftershave balm can help lock in moisture and prevent breakouts and ingrown hairs, too.
This article was originally published on