The New Reading Rainbow: Great Books About Race, Diversity, and Inclusion
A reading list for the whole family.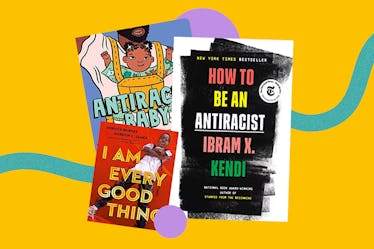 Getty / Fatherly
This story is part of From The Start: A Parent's Guide to Talking About Racial Bias, a series created in partnership with Johnson's®, Aveeno® Baby, and Desitin®. We're here to help parents tackle the difficult task of talking to their kids about race. With a topic this big, it can be hard to even know where to start — so we've teamed up with experts who have real answers to parents' questions.
As Black Lives Matter protests ignited throughout the country, our children were watching. They're still watching. Not all are passive witnesses. Some of our kids are in the streets with us, holding handmade crayon-signs and raising their own voices behind miniature masks. For many parents this moment in our history presents an unprecedented opportunity to engage in difficult and long-overdue conversations about race and privilege.
Even in 2020, when Facebook, Twitter and TikTok reach massive audiences, books remain one of the most powerful tools for teaching and learning complex issues. For adults, books unfold slowly, they celebrate nuance and complexity, and they're more easily retained than your average social video — short, punchy, but thin on substance and grappling. For young kids, books are an experience, a cooperative reading lessons with pointing, musing, and discussions about the content built into the comfort of bonding. While there are many excellent book lists for young readers that challenge representation and celebrate diversity, this list also includes reading recommendations derived from a variety of organizations and experts leading the charge. From libraries and Black-owned bookstores to educational institutions and writing communities dedicated to dismantling systemic racial injustice — this list will not only provide you with a stack of perspective-transforming books, but opportunities to dig deeper and take the next steps towards actionable change off the page.
Books for Young Kids
This book list was created with the idea in mind that parents would be reading these books with their kids and, when questions arise, breaking down the content in a way that their child can understand. Will pre-schoolers understand or even like everything here? Of course not. But reading with a kid is as much about the dialogue that comes off the page as it is what's on the page.
Where's Rodney? by Carmen Bogan, illustrated by Floyd Cooper
A tender story of a wriggly class clown and city boy named Rodney, who can't seem to stay planted at his desk in Mrs. Garcia's class because of his desire to be outside. When Rodney finally gets the chance to go on a class trip to a "real park," farther outside of his neighborhood than he has ever been, the reader is treated to Rodney's moving reaction to the wonder of nature, along with powerful social commentary on how rare this access can be for some children. Like Mrs. Garcia's word of the week, this book is truly: majestic. Also be sure to check out illustrator, Floyd Cooper's, The Blacker the Berry, written by Joyce Carol Thomas, a poetic celebration of different skin tones and the beauty of blackness.
Recommended by We Are Kidlit Collective, who create excellent summer reading lists and opportunities to recognize the humanity of Indigenous and People of Color (IPOC) in youth literature that celebrates diversity, inclusivity and intersecting identities.
Hands Up! by Breanna J. McDaniel, illustrated by Shane Evans
In the context of the recent protests, this book is both incredibly heartbreaking and inspiring, demonstrating how the simple gesture of a black child putting her hands up is both nuanced and charged. At first, our little protagonist lifts her hands for everyday activities such as greeting the sun, reaching for the sink, and answering a question in class. This gesture then culminates into a powerful political statement, as she joins the protest of other children advocating for Black Lives Matter, environmental activism, and immigration reform, holding a sign that says "Lift Every Voice."
Recommended by We Are Kidlit Collective
The Undefeated by Kwame Alexander, illustrated by Kadir Nelson
This skin-tingling, 2020 Caldecott Medal winning picture book pays tribute to Black American excellence and the Black struggle in America. The inspiring opening passage will move you: "This is for the unforgettable. The swift and sweet ones who hurdled history and opened a world of possible. The ones who survived America by any means necessary––and the ones who didn't." Also look out for author Kawme Alexander's touching tribute to basketball and Black familiies in his tender novel-in-verse, The Crossover, and his latest, a biographical novel collaboration with James Patterson, Becoming Muhammad Ali.
Recommended by Harriet's Bookshop, a Black-owned bookstore in Philadelphia, PA, named after Harriet Tubman, with a mission to celebrate women writers, artists, and activists.
Antiracist Baby by Ibram X. Kendi, illustrated by Ashley Lukashevsky
One of the foremost experts on race in America, Kendi is a National Book Award Winner and Founder of BU's Center for Antiracist Research, which will also host the second annual National Antiracist Book Festival. This is a very accessible board book that breaks down complex subject matter into kid-friendly verse. With nine steps to make equity a reality, Kendi combines practical action steps (condemning colorblindness and celebrating differences) with a vision for a hopeful future. The first line of the book is perhaps the most important, emphasizing parents' roles in raising informed and empathetic children: "an antiracist baby is bred, not born."
Recommended by Harriet's Bookshop
I Am Every Good Thing by Derrick Barnes, illustrated by Gordon C. James
Pulsing with self-worth and joy, this picture book offers a shimmering counter narrative to negative depictions and stereotypes of young Black boys in society. A single speaker stands in and stands up for many unheard voices, as he celebrates his self-confidence and how far he's come: "I am my ancestors' wildest dream." With gorgeous words by Barnes, a father raising four Black sons and author of notable books, such as The King of Kindergarten and Crown: An Ode to the Fresh Cut, the text contains a wonderful balance between playful lines ("I am good to the core like the center of a cinnamon roll") and moments that will take your breath away: "I will not answer to any name that is not my own. I am what I say I am."
Selected by NCTE (the National Council of Teachers of English) at the 2020 virtual conference, as winner of the 2021 Charlotte Huck Award for Outstanding Fiction for Children.
Above the Rim: How Elgin Baylor Changed Basketball by Jen Bryant and Frank Morrison
This picture book biography celebrates the fascinating story of Hall-of-Famer and legend, Elgin Baylor, who inspired a young Dr. J to recognize the grace and the possibility of basketball. The story follows Baylor as the best high school basketball player in Washington DC, who is shunned and subjected to the discriminatory practices of college teams who only wanted white players. Elgin's activism draws a direct line to the political activism and protest in sports today. A triumph of art, athleticism, and social justice, illustratrator, Frank Morrison's gorgeous oil paintings are stunning and lift this soaring story off of the page.
Selected by NCT, at the 2020 virtual conference, as winner of 2021 Orbis Pictus Award, the oldest children's book award for nonfiction.
The President Sang Amazing Grace by Zoe Mulford and Jeff Scher
Inspired by President Obama's trip to South Carolina after the tragic shooting of nine innocent members of a historic Black church in 2015, this book is a somber but vital tribute to those who lost their lives. It is also a poignant reminder of the moment President Obama eulogized Reverend Clementa Pinckney, and shared an incredible experience of humanity and healing when he sang "Amazing Grace." The President Sang Amazing Grace is a multimedia experience featuring the original lyrics of the 1772 spiritual song along with a QR code linking to a short film depicting a moving performance by singer Joan Baez, set against the affecting picture book illustrations.
Recommended by the Charleston County Public Library, committed to inspiring understanding and healing in a community directly devastated by violence against the Black community.
Hair Love by Matthew A. Cherry, illustrated by Vashti Harrison
This book is an absolute gem, sparkling bright with joy and that special daddy-daughter bond. When little Zuri needs help with her hair that has a mind of its own, dad steps in with a comb, bobby pins, and iPad in hand. Not only does he nail those funky puff buns, he reminds his little Zuzu that her hair is a source of beauty, pride, and self-expression. Written by former NFL wide receiver turned director, Matthew A. Cherry, the audiobook is set to be narrated by none other than Blue Ivy (progeny of Beyonce and Jay-Z). Be sure to also add illustrator and NAACP Image Award Winner, Vashti Harrison's Little Leaders: Bold Women in Black History, to your library of picture books that celebrate diversity.
Recommended by the Charleston County Public Library
Books for Adults
How To Be an Antiracist by Ibram X. Kendi
How to Be an Anti-Racist is featured on the majority of such reading lists because it offers a blend of social commentary and memoir that extends an invitation for self-examination and a thorough understanding of structural racism. This is your official textbook to form a solid basis for an education on racism in America. Also check out Kendi's National Book Award-winning collaboration with powerhouse YA Author, Jason Reynolds: Stamped: Racism, Antiracism, and You.
Recommended by #DiversifyOurNarrative, whose mission is to demand diverse texts in U.S. High Schools and to work towards racial justice, educational equity, and community power.
Why Are All the Black Kids Sitting Together in the Cafeteria? And Other Conversations About Race in the Twenty-First Century by Beverly Daniel Tatum
Originally published in 1997, this fully revised classic takes a look at racism from a psychological lens. This updated version contains over a 100 new pages of material that also includes the early days of the Trump presidency. While it may seem troubling that issues discussed in a book written so many years ago would still be applicable today, it still ends with a hopeful epilogue titled "Signs of Hope, Signs of Progress," highlighting progressive projects and encouraging readers that social change is possible.
Recommended by #DiversifyOurNarrative
Racism Explained to My Young Daughter by Tahar Ben Jelloun
An international bestseller that has been translated into over twenty languages, this book emerged from the author's experience taking his young daughter to a demonstration against immigration laws in Paris. Ben Jelloun, who is French-Morrocan, breaks down concepts such as xenophobia, genocide, slavery, and anti-Semitism in a question-answer format. Perhaps opt for the paperback addition, whose cover features an additional essay by acclaimed educator and researcher, Lisa Delpitt, as opposed to the original hardcover, which includes an introduction by Bill Cosby.
Recommended by EmbraceRace in conjunction with Dr. Ronda Taylor Bullock, Lead Curator of we are, a non-profit that provides training for children, families, and educators.
The Black Friend: On Being a Better White Person by Frederick Joseph
A very compelling read. Frederick Joseph recently spoke about his forthcoming book geared towards white people who "want to be better" on a panel about "Writing to Share and Educate" for the 2020 ALAN (Assembly for Literature for Adolescents) Virtual Workshop. Technically a book for YA audiences, Chelsea Clinton respectfully disagrees in her glowing blurb: "This book should be an obligation for white people, especially white parents, because we must raise anti-racist kids who will never be perpetrators of or bystanders to white supremacy and who will never mistake tolerance or appropriation for respect. Don't skip the painful parts and read every word." Using personal anecdotes and interviewing other writers and activists, this book is a resolute call for accomplices, not just allies.
Featured in the ALAN (Assembly for Literature for Adolescents) 2020 Virtual Workshop
The Bluest Eye by Toni Morrison
Written by one of America's most celebrated writers, The Bluest Eye, is a heart wrenching novel about Pecola Breedlove, a little Black girl who grows up after the Great Depression. Her quest for beauty manifests in a fixation for blue eyes, which she believes could transform her life and allow her to be loved. Morrison's first novel, with its unflinching depictions of poverty and sexual violence, is an unforgettable story of the devastating effects of internalized racism on Black girls subjected to white standards of beauty.
Recommended by the New York Public Library's Schomburg Center for Research in Black Culture, one of the world's leading cultural institutions devoted to the research, preservation, and exhibition of materials focused on African American, African Diaspora, and African experiences.
The Nickel Boys by Colson Whitehead
This Pulitzer Prize winning novel is set in the 1960s and is based on the true story of the horrific abuses suffered by young boys at a segregated reform school in Florida that operated for over one hundred years. Optimistic and studious protagonist, Elwood Curtis, is just about to begin classes at the local college when one innocent mistake derails his dreams, and he is sent to the brutal world of the Nickel Academy reform school. There, he forms a friendship with Jack Turner, irrevocably altering the courses of both of their lives. Prepare yourself for an emotional powerhouse of a story with plot twists you won't see coming and characters that will stay with you forever.
Recommended by the New York Public Library's Schomburg Center for Research in Black Culture
Fences by August Wilson
Sometimes the brevity and intimacy of a play can communicate in a way that cuts deeper than even a novel or work of nonfiction can. Fences, written by preeminent and self-taught African American playwright, August Wilson, does just that. The Tony Award and Pulitzer Prize winning play tells the story of a frustrated, former Negro League baseball player in the 1950s, and the conflicts he faces with family, particularly the tenuous and painful relationship between fathers and sons.
Recommended by the New York Public Library's Schomburg Center for Research in Black Culture
The New Jim Crow Laws: Mass Incarceration in the Age of Colorblindness by Michelle Alexander
The tenth anniversary of a classic text that spent nearly 250 weeks on the New York Times bestseller list, this new version offers an updated preface by author Michelle Alexander, a civil rights lawyer, activist, and legal scholar. Arguably one of the most influential books written about race and mass incarceration. This indictment of the war on drugs has inspired countless activists, particularly on campuses, and resulted in an impressive impact on criminal justice reform, including citations in judicial decisions and the formation of The Marshall Project.
Recommended by IARA (The Institutional Antiracism and Accountability Project), a newly formed initiative at the Harvard Kennedy School of Government's Shorenstein Center, whose goal is to use research and policy to promote Anti-Racism as a core value and institutional norm.
The Fire Next Time by James Baldwin
First published in 1963 during segregation, this book of epistolary essays by famed writer of the great Black American novel, If Beale Street Could Talk, is composed of two "letters." The first is written to Baldwin's 14 year-old nephew, but is clearly also meant for a wider audience to address issues of racial injustice. The second essay, which originally appeared in The New Yorker, focuses on the intersection of race and religion. Ta-Nehisi Coates, author of Between the World And Me, also listed on top many reading lists and also written in letter format to his son, calls Baldwin's work "basically the finest essay I've ever read."
Recommended by IARA
For more stories, videos, and information on talking to our kids about race, click here.
This article was originally published on