'Frog and Toad Are Doing Their Best' Is a Hilarious Bedtime Book For Adults
This hilarious and poignant book is essential.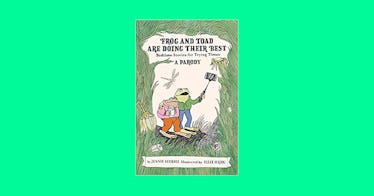 Move over, Kermit! There's another frog in town, brimming with Amphibian Wisdom. To be more precise, there are actually two amphibians: Frog and Toad. Based on Arnold Lobel's classic children's series of easy-readers, Frog and Toad Are Doing Their Best: Bedtime Stories for Trying Times, is a whip-smart delight that originally appeared online. Excerpts from the book happened to nab two of the top slots on McSweeney's list of most-read articles of 2020 ("Frog and Toad are Self-Quarantined Friends" and "Frog and Toad Tentatively Go Outside After Months in Self-Quarantine"). If keeping abreast of some of the most Twitterable reads from Dave Eggers's Literary Cool Club isn't enough to entice you, perhaps triple threat author-editor-performer, Jennie Egerdie, said it best in her introduction. Now more than ever, there's a serious need to read this kind of heartfelt parody: "Because, these days, adults need bedtime stories too." Amen, Jennie.
While you're at it, bring on the milk and cookies (and water and apple sticks with almond butter and 17.5 extra bedtime snacks that will inevitably be requested).
There are so many super-excellent things about this book. It's clever as hell and bullseye-timely, for sure. Frog and Toad are dealing with the same bullshit we all are. They're Zooming in their "work pajamas," eating endlessly (yes to birthday cake for breakfast), and acquiring massive piles of delivery box carcasses, as well as debt. They're muddling their way through Frogstagram and ToadTok, which no-doubt exacerbates their anxiety, thereby feeding that need for Lexapro (which of course, Toad forgets to take). They're applying face masks and stashing emergency boxes of mac of cheese in the pantry, heeding that relentless and suspicious societal decree of self-care.
The odd couple trope is both familiar and fresh. Frog and Toad have a nearly perfect friendship (or simmering forbidden romance?) or weirdly codependent post-college roommate situation. Whatever it is, it's functional and kind of fucking beautiful (yes to the ultimate compatibility test being a shared disdain for Black Friday.) It reminds me of comedian Mike Vecchione's bit that's swirling around those Instagram stories and reels about what it takes for relationships to flourish: "The marriages that last are a combination of two types of people: one person who is boring with another person who is crazy. Boring and crazy is the only combination that seems to work." Frog and Toad aren't conventionally boring and crazy. Frog is more curmudgeonly and uptight, and Toad is reassuring as ever with that glass, perennially, half-full. Though in today's era of gloom and doom (and Zoom), maybe the ultimate craziness is having the chutzpah to retain your optimism?
Fellow-crazies, rejoice! Here are some of the most truest, hope-laced, and genius words from Frog and Toad Are Doing Their Best:
It's okay to be afraid of the dark.
Time means nothing….Time is just the thing that happens between snacks.
Smiling is hard work!
Friends do not let friends dress like internet trolls.
Laughing makes me beautiful.
"…I love Dirty Dancing," admitted Toad." "Everybody does," said Frog.
And the pièce de résistance via spoiler-alert! What you are about to encounter is my favorite line in this book and the funniest sentence ever uttered by any frog in the history of verbal frogdom. When Toad makes the ill-fated fashion decision to sport a Fedora ("at a jaunty angle!"), Frog keeps it realer than real and busts out with this sharp gem: "That makes you look like a men's rights activist."
In addition to being bitingly hilarious (yes to any Enya reference), what sneaks up on you in this parody is the unexpected tenderness. Frog and Toad Are Doing Their Best will lodge itself into the achiest places of your four-chambered human heart (fun fact: amphibians only have three). This book will not just lift you out of your bad mood–it is a mood. At its sincerest moments, it builds you a goddamn snuggery.
It's also a pretty profound reminder that we're really not supposed to go at this thing called life, by our lonely little selves. Maybe the problem with self-care is actually staring at us right in the prefix? Maybe this overreliance on self (and caring for self) is supremely overrated.
Frog and Toad Are Doing Their Best shows us that it's okay to need someone else to get through the crappy times. And while a solo sweat on the Peloton or a guided meditation in the isolation chamber of your AirPods or a $48 JLo Beauty sheet mask that only one (or no one) person can afford, may seem swell; perhaps the best self-care is sometimes letting yourself off the hook. Maybe we need to stop relying on ourselves, and start leaning more on the shoulders of good friends, be it toads or humans.
It's altogether possible that the obvious secret to finding meaning is more connection and less me-time. So please do yourself a favor and pick up a children's book that's not even for children. Pass this remixed Frog and Toad into the hands of whoever is lying beyond those mounds of pillows and across that great expanse of your wrinkly comforter. Tonight, let someone else read you to sleep. Listen to another voice––of perhaps someone you love or really like a whole freaking lot––ribbitting sweetly to you in the darkness.
This article was originally published on