15 Years Ago, One Rom-Com Was Way Better Than It Had Any Right To Be
Forgetting Sarah Marshall holds up, despite its very 2008 baggage.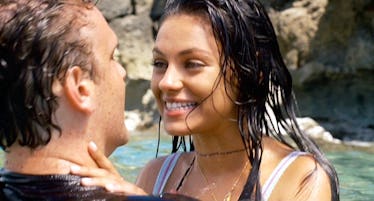 Universal
Picture this: a group of privileged elites takes refuge from their first-world problems at an exclusive Hawaiian resort where the kama'aina (local Hawaiians) are basically erased or in favor of white staffers. While this reads like the plot of The White Lotus or Glass Onion it's actually the synopsis of Forgetting Sarah Marshall, the crass rom-com that took the world by storm when it premiered fifteen years ago on April 16, 2008.
The titular Sarah Marshall is played by Kristen Bell, a rising Hollywood star feeling tamped down by her depressed composer boyfriend, Peter (Jason Segel). It's not exactly an excuse for cheating with bad boy rocker Aldous Snow (Russell Brand) but that's exactly what she does. Peter decides to run away from his predicament to said five-star Hawaiian resort, where Sarah and Aldous also happen to be staying because of course they are. Peter is immediately smitten by hotel concierge Rachel (Mila Kunis).
It all sounds a little too formulaic, but watching it 15 years later, the truth is, this movie really holds up. Everything the critics and general movie-going public were saying back then — if you could get past the big deal made about Segel's full-frontal nudity — was pretty much correct. This is a solid rom-com, with heart, and even though it feels a bit dated in 2023, it's still very good.
Forgetting Sarah Marshall allowed Segel to flex his leading man chops in a studio rom-com (after having appeared for several years as Marshall on How I Met Your Mother) and, having written the movie, cemented him as a creator to watch. Given Peter's B-story about wanting to stage a Dracula puppet musical (and seemingly Segel's own B-story about wanting to film a mockumentary about the musical's journey to Broadway), it's no surprise that Segel has a writing credit on 2011's The Muppets, in which he also starred, and co-created the Apple TV+ series Shrinking, which he co-leads alongside Harrison Ford. Not too shabby.
Bell, too, was best known for her TV roles in Veronica Mars and as the voice of Gossip Girl before Forgetting Sarah Marshall showed that she could lead a blockbuster, going on to lead the blockbuster to end all blockbusters, Frozen, as well as starring on The Good Place.
These days, Mila Kunis is perhaps better known for her headline-making parenting opinions but for a while there she was the quintessential cool girl next door, and Forgetting Sarah Marshall does nothing to disabuse viewers of this notion.
The casting of these three actors was like lightning in a bottle: they perfectly complement and play off one another. Where other, worse rom-coms would demonize Sarah for her treatment of Peter, Segel's script affords her interiority and she attempts to give voice to the partners of people with mental illness. And despite the circumstances of their meeting dictating that Rachel (Kunis) would likely only ever be a holiday hookup, she asserts herself by reprimanding Peter for treating her as such when Sarah tries to get back together with him. Rom-coms gotta rom-com though, so it's not a huge spoiler to hint at what ends up happening with Kunis and Segel's characters in the end.
The double-date dinner scene is chef's kiss, with the four actors (including Brand) playing off one another perfectly and making the viewer think that if the circumstances were different, they could definitely be a friend group. Forgetting Sarah Marshall is not without its problems, though. As previously mentioned, native Hawaiian characters are few and far between and those who are featured are depicted as violent and tribalistic.
This is a Judd Apatow joint, too, so the usual suspects of 2000s bro-ish comedies are all here: Paul Rudd, Jonah Hill, and Jason Bateman; which is probably one of Rudd's better movies, and one of Hill's worst. Still, it's hard not to crack a smile watching this one. It was created as a unique date night movie, and a decade and a half later, it still is.