Travis Mills Is a Father of the Year Honoree
Fatherly honors the Purple Heart winner for bringing together the families of injured veterans.
by David Browne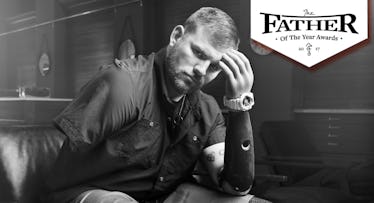 The Father Of The Year Awards celebrate both influencers and unsung heroes who have made a major contribution to fatherhood, kids, and communities.
In April 2012, staff sergeant Travis Mills of the 82nd Airborne was leading a team checking for IEDs in Afghanistan when his life changed. He placed his backpack on the ground, triggering an explosion that ripped into his body. In an instant, he lost both legs above the knee along with portions of both arms. Mills was airlifted to Kandahar, then Germany, where doctors performed four amputations. He clung to life, stabilized, and became one of only five quadruple amputees from the wars in Afghanistan and Iraq to survive their injuries. Eventually, he was flown to Walter Reade Medical Center in Maryland for recovery. But recovery didn't feel like a given.
"I was telling my wife Kelsey she should leave me and go do whatever she wants in life so she shouldn't put up with a burden like me," recalls Mills, 30, whose daughter Chloe was only four months old at the time. "My family is a huge reason why I got better, so I wanted a place for families to go."Mills, encouraged by his wife and kids, did the work and was eventually discharged with two robotic legs and one robotic arm, each equipped with microprocessors. Though he was relieved to be out of the hospital, Mills had to come to terms with the physical and emotional challenges to reintegrating himself in the daily life of his family. It was at this moment that he realized there was a need for a getaway that was designed with amputees and injured soldiers in mind.
After moving into a physically-challenged-friendly "smart home" in Manchester, Maine, Mills (who is originally from Michigan) found a way to help his fellow soldiers. Specifically, he found an abandoned spa built on 1200 acres by cosmetics magnate Elizabeth Arden in 1929. The property had been on the market for ten years. It was too big for a summer estate and seemingly too fancy for a summer camp. After raising money through his foundation, Mills bought it for $765,000 and began converting the ornate building and its eight guest rooms into a retreat for injured soldiers and their families.
"I wanted them to relax in a place where they're not different because everybody who would come knows their situation and what they're going through and could relate," he says, " I thought, 'What would I need?' You have to decide where the showerhead is. If you don't have arms, you can't reach the shower head. You have to use carpets, not rugs, which can trip you up on a wheelchair. You have to have wider doorways for wheels." This June, the Travis Mills Retreat opened its doors to its first wave of 56 veterans and their families, entirely free of charge. At the lakeside property, the guests were able to bike, paddle board, kayak, go horseback riding, and take yoga and even self-defense classes designed for amputees. Soldiers and their partners go on dates at the property's movie theater while caregivers look after their children. For Mills, the retreat is not just a calling, it's a way of reassuring his six-year-old daughter Chloe and making sure his six-month-old son Dax will someday understand what happened to his family.
"I want them to understand they're not the only children with dads like me — that there are other dads or moms out there in my situation. It's something that happens, but life goes on" Mills says. "That's the biggest mission I have."
This article was originally published on