Amy and Ben Wright Are Parents of the Year Honorees
Fatherly honors the entrepreneurial couple for creating employment opportunities for Americans with intellectual and developmental disabilities.
by David Browne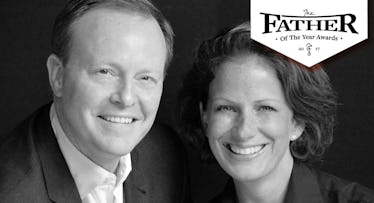 The Father Of The Year Awards celebrate both influencers and unsung heroes who have made a major contribution to fatherhood, kids, and communities.
By the early 1990s, Ben Wright had some early acting successes under his belt. He'd appeared in a TV movie, played Jack in the first Broadway production of Into the Woods, and smoked Cuban cigars with Tom Cruise while filming a small role in Born on the 4th of July. Wright was not, however, particularly pleased with himself or his career. He remembers sitting in a movie trailer and, rather than meditating on his successes or plotting a way forward, feeling generally apathetic about show business.
"I was reading a book and thinking, 'This is so boring,'" he recalls. "I didn't find any enjoyment in it."
Wright and his wife, Amy, who was also a working actor, decided to try something new and moved to Wilmington, North Carolina. They started a family and Ben began working as a financial advisor. They had two daughters, Emma Grace and Lillie. Then, in 2004, the couple gave birth to a son, Benjamin Jr., or Beau, with Down Syndrome; five years later, their daughter Jane, nicknamed Bitty, was born with the condition, too. The Wrights had raised two developmentally normal teenage daughters without having to wonder whether or not they would have the opportunity to be independent, but they quickly came to understand that Beau and Bitty faced different odds. Only 17.5 percent of American adults with intellectual or developmental disabilities have jobs. It's an unusually low number in the developed world and it galvanized Ben and Amy; they wanted to create new opportunities.
"We were thrust into this community of families with special needs," says Ben, 48, "We saw that some of the older folks didn't have anything to do. We said, 'There's something not right about this — we don't want this for our children.'"
The Wrights considered what they could do to change the norms around employing developmentally disabled people and settled on the idea of creating a very visible business staffed largely by disabled but highly capable adults. Not long after, they opened Bitty & Beau's, a coffee shop that initially employed 19 people with disabilities. The store was immediately popular and wound up relocating to a bigger spot. The cafe now employs 40 and the Wrights are planning to open a second store in Charleston to expand the business and see if it has the potential to go national. It's a big move for a small business, but also the best way the Wrights can think of to make people with developmental disabilities more visible to potential employers.
"We're burning the candle at both ends," laughs Amy. "But it's the best kind of exhaustion we've ever felt."
Bitty & Beau's has attracted nationwide attention, including spots on The Today Show and The Rachael Ray Show. Still, the Wright's business isn't simply meant to demonstrate that people with Down Syndrome, autism, or other disabilities can hand over breakfast beverages.
"We don't want people to come in and leave and go, 'Man, they totally figured it out — people with IDD can work in coffee shops,'" he stresses. "What we want to show is that people with IDD can be interacted with and do a good job and be part of a viable business. And if you can get businesses to just begin to tuck in one or two people [with IDD], you start to have a substantive impact on the unemployment rate. You can change the culture."