Elemental Is a Solid Pixar Romp And The Best All-Ages Summer Movie Of 2023
Is it a classic Pixar film? Maybe not. But that's not the point.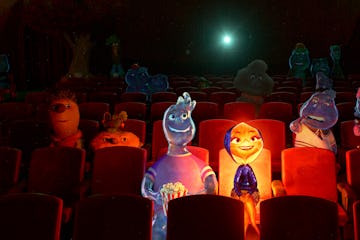 Disney/Pixar
The summer of 2023 is clearly, the first summer since 2020 in which taking kids to an actual movie theater is very much back. The Super Mario Bros. Movie was huge (regardless of reviews!), Across the Spider-Verse is correctly slaying a the box office, The Little Mermaid remake is doing great, and now, Pixar is back, too. For families looking for summer movies with popcorn, soda, and everything else, things haven't been this good in a while. And yet, among all these choices, Elemental — that aforementioned new Pixar effort — is perhaps the best choice for the very little ones. Although this new Pixar film may not be the best movie of the summer, it's certainly the most ideal one for all ages.
Elemental, fits right into the pattern of Pixar's historical ambition with its wholly invented world and exploration of everything from star-crossed romances to the immigrant experience. To be clear, that's not enough to push the movie into masterpiece territory alongside Pixar icons like Finding Nemo, WALL-E, or Up. For all its creativity and effort, Elemental feels like a film that never fully comes together, a movie that juggles too much to ever keep it all in the air. But that's the perspective of an adult talking about Pixar movies as art.
No middling critical review of Elemental should stop families from seeing it. Despite moments when it falters, there's still something immediately and deeply endearing about this film, particularly in the context of going to watch it with your family. It might not be a masterpiece, but Elemental will still be a great time for you and the kids at the movies.
That all starts, probably not surprisingly, with the way it looks. Director Peter Sohn and his team of artists dig deep for their depiction of Element City, an incredible place where people of Water, Air, Earth, and Fire all live, even if the Fire people get short shrift and have to make do with their only little insular neighborhood. Even if they can't fully grasp the many layers of plot at work here, the younger kids in your life will get lost in this colorful, vibrant world where trains glide on water, apartments become wading pools, and the sport of "Air Ball" is played to raucous crowds in a massive, unconventional stadium. It's all wonderfully inventive, and it holds the eye throughout the film.
This isn't to say the film's inventiveness and charm only exist on a macro scale. Look closer at the character work, and you'll find plenty of engrossing stuff, particularly when it comes to the film's efforts to dig deeper into the way that Fire woman Ember Lumen (Leah Lewis) and her parents live. The Lumens run a business, a kind of all-encompassing bodega for Fire people, and that business is packed with clever nods to the way a being made entirely of fire might live. We learn about the snacks they eat, the tools they use, and the traditions they hold dear, and it's there that the bigger kids in the family will start to latch on not just to the jokes, but to the bigger ideas at work in the story.
And while they sometimes spend a little too much time jockeying for attention, those big ideas are all definitely worthwhile. It begins with the film's focus on a family of immigrants. The Lumen family is not native to Element City, and when they get there, they find that the other Element "races" are not necessarily welcoming. Fire has a stigma, you see, and so most of the Fire people in the city keep to themselves and develop their own prejudices, particularly against Water people and their ability to extinguish everything the Fire families have worked for. That means that when Wade (Mamoudou Athie), a local Water guy and inspector for the city, first comes into contact with Ember, she's not all that happy to have him around.
Of course, as the trailers show, that eventually changes, and Ember starts to both question the barriers that have existed her entire life and ponder her place in the wider Element world. Ember's eventual exploration of life outside her little family bubble is another meaty piece of the Elemental puzzle, and older children will certainly relate to her search for meaning and purpose beyond what she knew growing up.
Then there are the other, tried-and-true Pixar ideas that parents will recognize: Kids learning to exist independently of parents, near-fatal experiences, how to cope with a rapidly changing world, and how to overcome self-doubt to reach your potential. It's all there, even if it gets a bit jumbled sometimes, and it arrives in a fairly light, bright package, without some of the more overt darkness that launched Pixar films like Finding Nemo and Up.
That means that, despite its shortcomings, Elemental is the kind of film you can feel good about experiencing with your family, and beaming onto the TV for the kids when it hits streaming. It might not be the most memorable Pixar experience ever, but everyone, from little kids to their parents, will still come away with something rewarding.
Elemental is out in theaters now.