Eddie Murphy Is a Cool Dad — But He Helicopters Like The Rest Of Us
"My legacy is not my movie career. My legacy is my children, my family. My children are everything to me."
by Donna Freydkin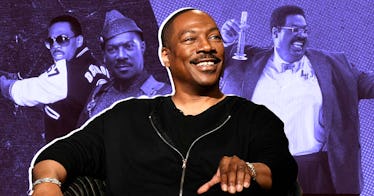 Getty / Amazon Studios
Just picture this: Axel Foley/Reggie Hammond/Billy Ray Valentine/Eddie Murphy as an unapologetically adoring grandpa. The swaggering purple jumpsuit-wearing standup god is now a contented almost-pensioner who dotingly watches endless rounds of mud puddle-jumping Peppa Pig with his granddaughter Evie. At home, he's not Mr. Robinson. He's just, well, papa.
"That's everything. I was talking a little while ago, and somebody was like, 'So what do you think this movie — is your legacy in the movie?' My legacy is not my movie career or my career in show business. That's my career in showbiz. My legacy is my children, my family. That's my legacy. My children are everything to me," says Murphy of his family.
So yeah, it seems like an almost baffling disconnect. Because this is Eddie Murphy we're talking about. It's easy to throw around the whole "larger than life" rubric about famous people. In fact, most are startlingly diminished in person. Not Murphy. He's got a towering presence, even via a computer screen, and a wicked, self-aware glint that defies you to look away. You won't. There's nothing small about the famously private Murphy, who has no social media presence and barely gives interviews. His hits are history-making, his flops equally epic. And it's more than a little ironic that he's usurped Bill Cosby, who once famously reprimanded him for his foul mouth (as Murphy gleefully recounted in his seminal standup special Raw), as America's comedy dad.
"You're with Fatherly. I'm very fatherly. I'm a very fatherly man. Very fatherly all the way around" quips Murphy, as only he can, while promoting Coming 2 America, which streams on March 5.
Maybe you first stumbled across him as the crafty, wily savant of the Saturday Night Live skit Mister Robinson's Neighborhood, a wickedly clever take the real Mister Rogers actually liked. Maybe you met him as slick avenging officer Axel Foley in the Beverly Hills Cop films, an enterprising SAHD in Daddy Day Care, or a berserk donkey in the Shrek films. You get the drift here. Eddie Murphy is a guy whose appeal is cross-generational, so much so that in the midst of this Zoom interview, a 10-year-old shot the shit with an amiable Murphy, fully cognizant of just how epic this moment would be.
But back to Coming 2 America. What's changed? A lot. Murphy is king, but there's the murky issue of who inherits the throne. So he embarks to locate his heir with an assist from his sidekick Semmi, played again by the indefatigable and seemingly ageless Arsenio Hall. We'll stop there, because the movie has so many hidden pleasures, in a 12-month period that's brought us so few, that you should be left to enjoy them without spoilers. Fatherly talks to Murphy about returning to Zamunda, legacies, paychecks, and being a grandpa.
This movie is so much about being a parent, about raising your kids to know their own worth. What's Eddie Murphy like as a dad?
Oh, you'd have to ask my kids that. I'm a cool swell dad. I'm always here. Dad is always here. I'm serious. I'm always reachable. I'm always right down the hall. I'm very hands-on about it. That's maybe that's what they'll say. What's your dad like? He's always around. He's always here.
In the movie, your kids deal with finding themselves when they have such a larger-than-life parent. Sounds familiar. How did you teach your own brood to be confident on their own?
We can't teach them that. They have to find it. You could guide them and give them good examples. But they have to kind of come into that on their own. You can't teach a person to be self-confident. You can't sit over there and do this and then give them a firm handshake. That's not going to make them feel any kind of way.
Seeing your daughter, who plays your daughter, on-set must have been a special moment.
Big proud papa. You go to go see your kid in the school and your chest at bursts to see them doing anything. To be actually on the set with my baby girl and she got this part and she's contributing to one of my movies and she's good and she's turning it out. I just had the gushy proud Papa moment every day.
I got 10 of my own. I got a nice little tribe. When I started out on Saturday Night Live I'm 19 years. I'm a baby. I got an audition for that show. And I'm 18. I'm 21 years old in 48 Hrs. I'm going to be 60 in April. So that's a long, long time. And I'm a grandpa now. I have my very first grandchild. I have a little granddaughter named Evie and she calls me Papa.
You must spoil the hell out of her.
I pick my granddaughter up a lot. My son and his girlfriend, they been sheltering with us 'cause she just had the baby when all this stuff broke and I didn't want them — I couldn't be around them. And so they came and they'd been staying here. So I got to be around her every day for the whole first year. That's great.
Then at the same time, I have a brand new son, a two-year-old. I have a two-year-old son and a four-year-old daughter and a year old grandchild. So it's babies all around. My little two-year-old son is an uncle at two.
What's dinner like at the Murphy house?
People around a table eating the same exact thing. Only now we have to watch Peppa Pig and Moana. I love it but goddamn. If you see it like 300 times in a row…I will not say "you're welcome" because I seen it too many times. We watch that during dinner. Sometimes I'd be like, yeah, I'm gonna go eat in the dining room because I can't watch this. Sometimes it's too much.
In terms of movies, there's talk about another Beverly Hills Cop sequel. Now that you've finally made Coming 2 America, what are your future plans?
I wasn't planning on doing this one. We did the movie 30 something years ago and the movie ended on and they live happily ever after. And we never even thought about doing a sequel. The movie took on a life of its own, where it became out of all my movies, just the only movie that became like this cult movie. Coming to America is on TV all the time.
And the movie became this cult thing. And that's when we started thinking about doing a movie and it turned into all of that. And that may be about six, seven years ago. Then we worked on the script for four years. We never planned on doing this. It kind of just happened. And I don't have plans on doing anything right now.
And Beverly Hills Cop?
Well, they've been trying to do another Beverly Hills Cop for — they've been trying to get a script together for that for over 10 years. I'm not doing any more movies — I said a few years back — I'm not doing anything else that's a payday. The movie, the script has to be right. And it has to be something that — I'm going to be engaged in doing it. And I'm going to be excited about making it because when you do those payday movies, you get a big payday. And then the years after that money is spent that movie is still on TV forever. Pluto Nash's on tonight somewhere. I've spent that money. It's just not worth it.
Because those forever movies only in a movie theater for a month, two months. And then it's out there forever. So you want it to be good. 'Cause once you do it, it's going to be out there forever.
You've had Raw and you've done a ton of family films. What movie do you want to be remembered for?
My kids didn't get to see Raw 'til they're teenagers. My daughter, she's never seen Raw. She's 18. She's probably never seen it. But proud to show my movies? If I could only take one movie and it represents you in movies, I would take The Nutty Professor. The multiple characters. It's funny and it's touching and I think that movie is timeless.
Coming 2 America hits Amazon Prime on March 5, 2021.
The first film, Coming to America is on Prime right here.
This article was originally published on