Dumbledore Will Be 100 Percent Gay in 'Fantastic Beasts 2'
The director confirmed it in a new interview.
by Alicia Kort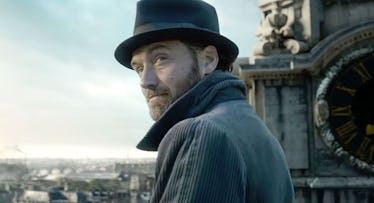 Warner Bros.
This summer Harry Potter fans were outraged when Fantastic Beasts: The Crimes of Grindelwald director David Yates said that Dumbledore, played by Jude Law, wasn't "explicitly gay" in the new film. The Fantastic Beasts film series is meant to lead up to the very famous Grindelwald and Dumbledore duel, so fans expect the films to cover their romantic relationship. In the latest trailer, it's made clear that Dumbledore doesn't intend to confront Grindelwald directly and hands that daunting task to Mr. Newt Scamander, which would make more sense if Dumbledore still had feelings for Grindelwald. In an interview with Empire magazine, Yates clarified his earlier comments about Dumbledore's sexuality.
"In that earlier interview, I didn't say Dumbledore's not gay. He is," Yates told Empire.
It never says anything that the Headmaster of Hogwarts is gay in the Harry Potter books, but Rowling controversially revealed in an interview 2006 that he was, which made some fans believe she shoehorned that aspect of his character in.
"This part of this huge narrative that Jo is creating doesn't focus on his sexuality, but we're not airbrushing or hiding it," Yates said. Yates did go on to say that Dumbledore would not be openly "out" in this film.
There will apparently be scenes showing that young Grindelwald and Dumbledore did have a romantic relationship.
"A couple of scenes we shot are very sensual moments of him and the young Grindelwald," he said.
There was a hint of this romance in the latest trailer showing Dumbledore gazing into the Mirror of Erised at a young Grindelwald and reaching up to touch his hand in the mirror.
"The story [of their romance] isn't there in this particular movie but it's clear in what you see… that he is gay," Yates went on to say. "[The Crimes of Grindelwald] is about other things, fundamentally, but the story of Grindelwald and Dumbledore, going forward, that is the story."
Fans will have to wait till November 16 to see how Yates handles Dumbledore and Grindelwald's romance.
This article was originally published on