Don Cheadle On Being Bad For 'Space Jam' and What's Next For War Machine
The Marvel star dishes on 'Armor Wars' and telling LeBron James to "stay out of my light."
by Donna Freydkin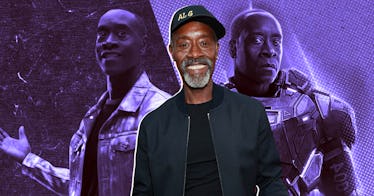 Warner Bros / GETTY / Disney
As War Machine, Don Cheadle was the conscience, the voice of reason, the adult in the room, playing a key Avenger in all six of his Marvel movies. Maybe the dude needed a change. Maybe he got sick of doing the right thing. And maybe that's what led him to Space Jam: A New Legacy — opening on July 16 and on HBO Max— a gloriously absurdist mash-up of hoops, cartoons, misbegotten superheroes, complete with LeBron James and Sonequa Martin-Green as worried, and heoric, parents.
This time, Cheadle isn't saving the world from Thanos. Nor is he wearing any impressive armor. But he does face off with LeBron, as Al-G Rhythm, a diabolical, evil, and nattily dressed computer A.I. whose name is a play on an algorithm. Working with King James had its challenges, but the deliciously deadpan Cheadle, who does this interview from "an unspecified location on an island in the Pacific," handled everything with aplomb.
"I just told him really to stay out of my light, of course, which is hard because he's a giant. I said don't mouth the words when I'm saying the words, like Will Smith did (in The Fresh Prince of Bel-Air) — don't do that. That's an amateur move. And when they say cut, the standard applause is fine. You don't have to whistle and cheer, just clap for me. That's all," he says.
All jokes aside, the movie deals with some issues relevant to all parents, especially those in the public eye. How do you free your kids to pursue their own dreams, without being beholden to the legacy of their parents? How do you raise confident children who aren't always afraid they won't measure up? It's a real thing, and it's something Cheadle discussed with Fatherly.
Don, this movie is funny, sure, but it also deals with some pretty heavy issues. Like how to raise grounded kids who know their own worth. How did you manage it, with your two adult daughters?
I'm glad that I've had a good example from my parents who let me do what I wanted to do. And my sister and my brother, there was never any real pressure from my parents for us to follow any sort of path or any sort of plot that they'd laid out for us.
I think as a parent, really, if you're really have your kids' best interests at heart, that's what you want. You want them to be happy. You want them to be successful, but not by your standards but by their standards.
And you largely kept them out of the public eye.
That was our goal, to make sure that they got to be kids and that they had a life outside of this. They didn't ask for this celebrity, they didn't ask to be exposed in that way.
We'd go to premieres and walk the red carpet and say, 'Do you guys want to do this? Or do you not?' There's no pressure to do it. I don't need to have everybody show up and get dressed and show everybody how close we are. If you guys want to do this, you can, if you don't, it's all good.
But you try to give them a consistent upbringing, so they get to go to the same school and have the same friends and not have to just follow me all around the world. I was really never away from them without them coming to visit me or me coming home for more than two and a half weeks at a time. You just make that the priority. And if you do that, then you have a shot of having a family and having some normalcy.
You also got married during the pandemic. Congratulations. How does it feel being a newlywed after being with Bridgid Coulter for almost 30 years?
My accountant. I'm serious. I'm actually totally serious. If we had lived in another state, we would already have been common-law married and we wouldn't have had to go through that. He's been asking both of us to do it for years. We've been together for so long that it didn't really matter to us. We didn't need the ceremony to have a commitment. That's already happened. We've already had all the productions. We've had kids, we've raised kids. We built homes. We'd gone through all of the big productions, which is all really the wedding thing was for us. But the piece of paper is important to obviously take care of the family later. Something happens to me, then we're not giving half of it away too.
Most important question of the day: What's ahead for War Machine, and his return to Armor Wars on Disney+?
Is that the most important question of the day? It must be a slow news day. There is Armor Wars. We're kind of cracking the spine on all of that right now. There's no spoiler alert. I can't even give you one, because I don't know what the show is going to be, but that's going to be happening probably within the next year. You probably know more than me. I legit know nothing.
And you're also the narrator of the upcoming Wonder Years reboot. How did that come about?
Incoming call. Fred Savage and Saladin K. Patterson, who were both behind it, called me. Actually, it was it wasn't Saladin who called me — actually, the first call that I got was from, I'm going up on his name, he's producing it. Look it up. [Marc Velez)\]. They just said we're doing this reboot and we want you involved. And we think it would be great. We met and talked and chopped it up and I read the first three scripts and I thought they were really cool.
We've had a hell of a year. What excites you the most about the future?
Really figuring out Armor Wars, which is going to be very interesting. My company is up and running. We've sold several shows. That's cool. So keep the momentum going on that. But I think mostly what I'm excited about is starting to really craft the work-life balance and getting more time off — this is my 36th year of work. So I'm looking forward to having more time like this, more downtime, and not downtime doing Zoom prep.
Space Jam: A New Legacy is streaming on HBO Max and in theaters on July 16, 2021.