10 Craziest Mini Golf Courses In America That Are Worth The Trip
All teed up and ready to go.
by Dylan Love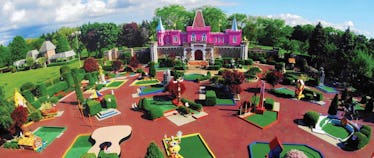 Miniature golf (or Putt-Putt, as amateurs call it) is so much more than just golf with windmills and clown mouths. And even if you're not pointing your kid towards a career as professional mini golfer, it's still a great outdoor activity to squeeze in with the last unofficial weekends of summer (once you're done with hitting up these State Fairs, toy stores, and ice cream shops). If guys in funny pants travel around the world to play Pebble Beach or Innisbrook, surely you can get your family onboard with a vacation to one of these 10 unique, car-ride-worthy courses.
Par-King – Lincolnshire, IL
Billing itself as "the world's most unusual golf course," Par-King has thrown down the mini golf gauntlet since the 1950s. Work your way through 2 18-hole courses, playing alongside fake elephants, a replica of Mount Rushmore, and a giant pink castle. Par-King doesn't go for distractions like arcades and go-karts, so you better show up ready to putt. Also, be aware of the 48-inch height requirement in order to play here — some small children will be DQ'd.
Standout Hole: Hit your ball into a miniature roller coaster called the "Super Looper," which will take your ball on a short, but elaborate, ride before ejecting it near the hole.
Molten Mountain – Myrtle Beach, SC
Molten Mountain has the distinction of having both indoor and outdoor courses (no game should be called on account of rain). If you have a kid that isn't doing the bull dance and feeling the flow, they can go feed the fish in the koi pond. For you there's a beer-stocked snack bar. If you're on the ball, you have a good shot of winning a trophy.
Standout Hole: Not a specific hole, but the overall volcano motif is pretty bad ass. There is a staged "eruption" every 30 minutes, featuring sound effects and lava. In the words of Jack Handey, if your ball goes in there, let it go — because man, it's gone.
Around The World Mini Golf – Lake George, NY
Located in upstate New York, this celebrated miniature golf center gives you the chance to play an "Around the U.S." course or, if you're feeling more continental, an "Around the World" course. There's a giant roulette wheel in "Nevada," a giant lobster in "Maine," a oil rig in "Texas," and "Delaware" … is probably a bunch of banks. There's also Lake George's largest frozen dessert parlor, which you will refer to as the 19th Hole.
Standout Hole: The original Taj Mahal may be one of the wonders of the world, but this replica certainly has to be on the list of "Wonders of the Adirondacks."
Ripley's Believe It Or Not Mini Golf – Gatlinburg, TN
The Ripley's brand name is more associated with bearded ladies than miniature golf, but you can head to Tennessee to take your pick of 2 elaborate courses loaded with family-friendly weirdness. Gatlinburg's Davy Crockett-themed course and Sevierville's Old MacDonald-themed course boasts 36 and 54 holes, respectively. After 7-8 solid hours of golfing, the family can enjoy classic Ripley's attractions nearby, like the mirror maze or the "5D" movie theater (which is like 3D, but more smells blown in your face).
Standout Hole: The 18th, of course. If you shoot a hole-in-one here, your next round is free. Theoretically this cycle of free admission could go on forever.
Urban Putt – San Francisco, CA
How do you feel about dinner and miniature golf in a former mortuary? (Probably better than doing it in a working one.) Urban Putt's expansive indoor golf experience is located in downtown San Francisco and has an elaborate food and drink menu worthy to reflect that fact. The aesthetic has been described as a "steampunk meets Rube-Goldberg." There's nothing more Bay Area than that.
Standout Hole: Each hole has its own theme here, but the Dia de los Muertos hole looks like what would happen if Tim Burton got his PGA card.
Ahlgrim Acres – Palatine, IL
Ahlgrim Acres is located in the basement of a real second-to-final resting place — you can't spell funeral home without the word "fun!" And they don't shy away from the death imagery. Get your kid comfortable with death by playing 9 holes that trade windmills for guillotines. Satisfy all their questions about the afterlife by playing arcade games, ping pong, shuffleboard, bumper pool, and foosball. And no, it doesn't operate while the upstairs is in business. That would just be disrespectful.
Standout Hole: You'll have to play your ball through a human-sized wooden box that was used to ship things (read: bodies) via train.
King Putt – Henderson, NV
If the pun didn't tip you off, this is an ancient Egyptian-themed course illuminated by black light. Yes, once again, you find yourself having a family Saturday in a haunted, psychedelic tomb. After golf, get the heart rate up with a few rounds of laser tag. Hungry? An-site pizzeria sells pretzels, tater tots … pizza? Is it the Mummy's curse, or just a gluten intolerance?
Standout Hole: More golf courses should have cup holders, right? Golf finally takes a cue from bowling, but putting a cup holder for soda (or beer) on every hole.
Glowing Greens – Portland, OR
Black light mummies aren't your thing? How about blacklight pirates? This mini golf course is located underneath the Hilton Hotel in downtown Portland. Although you'd think they'd put it in Arcadia, home of One-Eyed Willie's rich stuff. There is definitely a creepy vibe here, so young kids may be better off strapping on the floaties and checking out the indoor pool.
Standout Hole: One hole has a pond full of beautiful tropical fish, which are made all the more beautiful under a blacklight.
Fantasia Gardens, Orlando, FL
This lesser-publicized miniature golf course at Disney has all the standard golf mechanisms you'd find on a PGA Masters course — sand traps, hills, fairway, and rough — but scaled down to a family-friendly size. There are 2 full courses at this location. One is easier and ideal for young children. The second is aimed at you to improve the short game. If you're staying at the Disney resort, every guest gets a free round. And if your kids like mini golf, they may also enjoy Disney World.
Standout Hole: Everyone can pay homage to Mickey Mouse by hitting a ball through a giant statue of him.
Ocean's 18 – New Bedford, MA
Mummies, pirates … where's the underwater themed glow-in-the-dark course? Ocean's 18 has a Cape Cod vibe with it's lighthouses, mermaids, and sharks, but adds a dash of Pilgrim Nuclear Power Plant disaster. If you've grown tired of competing with your kids, go over and test your adult skills on the golf simulator, where you whack real golf balls on a virtual course. Standout Hole: If you don't hit your ball into the giant clam's mouth just right on the last hole, it will spit the ball back out at and sabotage your score. That shucks.Learn more here