Big Bird Will Never Die, But Kids Should Know Who Caroll Spinney Was
Caroll Spinney once debated with Fred Rogers about breaking an illusion. But maybe kids need to know who this guy was.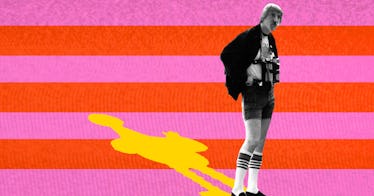 Sesame Workshop via Copper Pot Pictures
It's pouring today in New York City, where Sesame Street is set and filmed. If weather forecasts are correct, the clouds will remain for the next 24 hours, unchased away. Caroll Spinney, the puppeteer who created Big Bird died yesterday at his home in Connecticut. But, as we all know, Muppets don't die. Big Bird himself was in Washington D.C. last night, at Kennedy Honors Ceremony, ducking interviewers as his friends on the street wore single feathers on their tuxedoes and dresses in tribute to Spinney. But the loss of the performer who so shaped Big Bird's character, the one that generations of children, parents, and grandparents grew up watching, feels like a significant passing nonetheless; a moment to reflect back on Big Bird's contributions to our own lives and our own understanding of death.
When William Lee, the actor who played store owner Mr. Hooper on Sesame Street died in 1982, the show's creative team was left wondering how to navigate through the loss. Unlike Muppets, people do die, of course, and simply recasting him wouldn't do. But because the show, at its core, was about educating, on episode #1839, art imitated life on the street and Mr. Hooper, the friendly grown-up children knew and loved, was revealed as having passed away.
In the episode's beginning, Big Bird is uncharacteristically sad. He draws a picture for Mr. Hooper and plans on giving it to him when he returns — impossibly — from death, and is told that Mr. Hooper can't come back. Big Bird is indefinite — and impossibly — six-years-old, and as a young child, doesn't understand how the shop owner could have gone somewhere and left everything —his store, his friends, his life — behind. He begins going through the stages of grief, feeling sad, confused, and angry, as the adult characters on the show remind him that it's okay to feel that way. They reaffirm how much they love Big Bird and will continue to take care of him. The six-year-old demands an explanation as to why death happens, and the adults tell him there isn't really an explanation to give. Sometimes things in life just happen. Sometimes life on Sesame Street isn't always filled with sunny days, and the clouds are a little harder to chase away.
The episode concludes with Big Bird hanging a picture of Mr. Hooper, which Caroll Spinney actually drew himself, near his nest. It has remained on the Sesame Street set ever since.
While the show was able to address Mr. Hooper's death head-on, Caroll Spinney's death will, most likely, go unmentioned in an actual forthcoming Sesame Street episode. Which is good and the way Spinney would have wanted it. Spinney was always particularly protective of ruining the illusion of Big Bird for children, believing the character worked best if kids truly believed there wasn't a man with one arm extended high above his head hidden beneath the anatomy of foam.
And, unlike most of the puppets on Sesame Street, Big Bird was best equipped to keep up this illusion. When Elmo, Abby Cadabby, and Oscar the Grouch — who Spinney also played — show up at public events, their manipulators are always nearby, just slightly out of the shot. Children visiting the set or meeting the characters at public events would also see the women and men behind the figurative curtain. But Big Bird is fully self-contained and his puppeteer hidden, making it much easier to suspend disbelief. When Big Bird ran away from his nest and traveled halfway across the United States in 1985's feature film Sesame Street Presents Follow That Bird, it was conceivable to children that he could do so.
There was power in being able to see his bright orange legs in the frame, and that power was used to great effect over Spinney's near-half century portraying the character. Big Bird was relatable and mature in a way that Elmo could never be. Just yesterday, at the Kennedy Honors, the short furry red monster said he didn't know what the President of the United States does. It's nearly impossible to imagine Big Bird with that level of innocence.
So if Sesame Street is unlikely to address the passing of Caroll Spinney, should parents? While it's impossible to know exactly what Spinney would have wanted, the answer to the question might lie in an unlikely meeting between two children's television icons — Big Bird and Fred Rogers.
In 1981, Big Bird appeared on Mister Rogers' Neighborhood in the fictional kingdom of Make-Believe. The real-life Fred Rogers wanted Big Bird to appear in the regular Neighborhood sequences, but Spinney wouldn't agree to his terms. Rogers wanted the performer to appear both in and outside of the Big Bird body puppet suit and explain how he operated it. Spinney was happy to appear on the show but refused to reveal himself, believing there was no benefit to ruin the illusion.
The two allegedly had several heated discussions over the phone in the run up to the appearance, and in the end, Spinney won. However, not to be fully defeated by his guest, Rogers managed to sort of get the better of the exchange. Right before the segment where Big Bird appeared, Rogers appeared on camera, putting on a giant costume of a giraffe. He explained, "When you see big make-believe creatures in plays or parades or on television, you can know that the people inside are just pretending to be something else."
While Big Bird wasn't mentioned directly, he didn't need to be.
Fred Rogers was a firm believer that children should learn to get in touch with their feelings and not believe the world is perfect all the time. Sadness was just as valid an emotion as happiness, and by recognizing the former, and learning how to process and navigate through those feelings, one could make their way to the latter. It was important to not talk down to children and, instead, always tell them the truth, just as Sesame Street would do in 1982, a year after Big Bird's visit to the Neighborhood when Mr. Hooper died.
However, for Spinney, there was safety and security in children believing in the impossible. The real world is harsh, and for students to believe in a utopia where children, adults, monsters, and big birds could exist in harmony was good. It was important to teach life lessons, but also retain a bit of the fantasy that makes Sesame Street unique children's television.
The two children's television stars met again on-screen just a few months later when Mister Rogers paid Big Bird a visit on Sesame Street. The two had a nice chat and, during their conversation, Rogers asked Big Bird if he believed real-life or make-believe was better. "I think both are good," Big Bird said. "Because it's kind of fun to see all the real, wonderful things there are, and then it's kind of nice to think of all the wonderful imaginary things you can think of."
Caroll Spinney, who played an iconic character for the greater portion of five decades, was a very real and wonderful man. He was an artist, writer, puppeteer, actor, philanthropist, husband, father, and more. He was an Emmy and Grammy Award winner, and the subject of an amazing 2014 documentary, I Am Big Bird.
Big Bird is equally wonderful, and while he is imaginary in the conventional sense, his impact was very real. He is an amazing friend and a great singer. He has traveled the world and helped children learn more about who they are and how the world works. He has been celebrated with a United States postage stamp and a star on the Hollywood Walk of Fame and had his image reproduced on thousands of pieces of merchandise around the world over the last 50 years.
Perhaps now is an excellent time to introduce children to the man, Caroll Spinney, Big Bird's best human friend, who loved him very much. Who traveled everywhere with him, and knew exactly what he was thinking at all times, and who met millions of children alongside him. A man so special that he receded into the background while Big Bird repeatedly took center stage. Spinney's life was one of imagination and selflessness. Maybe kids should know that it wasn't all make-believe.
This article was originally published on