The 29 Best Books for Grade Schoolers
We're talking chapter books, series, and graphic novels.
by E.L. Kennedy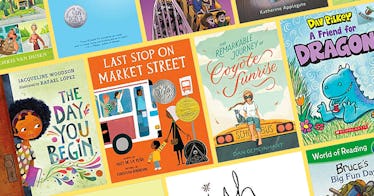 Elementary school takes kids from The Book With No Pictures to Harry Potter in the blink of an eye. The best books for grade schoolers include chapter books, series and easy readers that grow along with them.
You might long to see your grade schooler curled up with the classics you loved. (Are you there, God? It's me, cramming this book down your throat.) But literacy experts say it's important for kids to have a say over their choice of reading.
Often as not, that's going to lead them to graphic novels. Don't fight it! Some parents sneer that graphic novels aren't "real" books, but they are in fact an excellent tool for emerging literacy.
And don't be too eager to let go of picture books, many of which are aimed squarely at kids over 5. The vocabulary used in picture books tends to be more sophisticated than early readers, and the pairing of images and words helps with comprehension.
Nonfiction can be another great choice for a kid you might think is a reluctant reader. The most important thing for elementary school students is that they learn to love reading – whether it's novels or comic books or cereal boxes. Don't get in the way with outdated assumptions about "real" reading.
Here are some of the best books for grade-schoolers at all stages.
Best Picture Books for Grade Schoolers
Best Graphic Novels for Grade Schoolers
Best Novels for Grade Schoolers
Best Series for Grade Schoolers
Best Nonfiction for Grade Schoolers
Every product on Fatherly is independently selected by our editors, writers, and experts. If you click a link on our site and buy something, we may earn an affiliate commission.