6 Toy Factory Tours To Take With Your Kids
by Chris O'Shea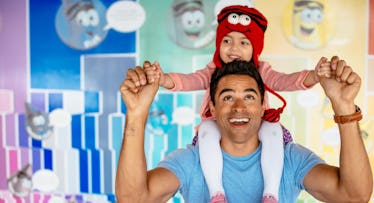 CrayolaExperience.com
Your kids love toys. And, chances are, they love places full of big, loud machines and cool equipment. See where this is going? These 6 factory tours offer great behind-the-scenes peeks and enable curious kids to use their busy hands. Plus, they present the rare opportunity to see how things are made the old-fashioned way. Just … make sure the kids are old enough before you show them how teddy bears get stuffed.
Louisville Slugger Museum, Louisville, KY
The Slugger Museum has been cranking out bats since 1884. On this tour, your kids can see every step of the bat-making process, from the shaping to the sealing. They'll also be psyched to see the museum's collection of famous sluggers wielded by the likes of Mickey Mantle and other Hall of Famers, as well as the world's largest bat. An exact replica of the one Babe Ruth used, it weighs 68,000 pounds and stands 120 feet tall. There are also batting cages and a simulated pitching system to test your kids' arms against MLB's best. After the tour, each kid gets a free miniature bat. And yes, they will use it to terrorize their siblings.
Vermont Teddy Bear Company, Shelburne, VT
Before you sign up for this tour, ask yourself: are your kids old enough to see toy bear carcasses stuffed with filling? Because that sight could really mess a kid up. This tour features Bear Ambassador guides who walk kids through the bear-making process and drop educational nuggets on them about things like the ins and outs of modular manufacturing. After the tour (free for kids 12 and under and only $4 for adults), kids can pick up a bear in the gift shop or even create their own. Although they aren't cheap: a 20-inch bear will run you about $60.
American Whistle Corporation, Columbus, OH
Yeah, they're the weapon of evil gym teachers who make you run too many wind sprints. But whistles are pure kid-fodder, and yours will likely enjoy seeing how they're produced. This 45-minute tour gets kids up close and personal with the metal whistle crafting process. They'll see a mix of both modern machinery and equipment that dates back to the turn of the century while a tour guide rattles off fun facts about whistles. Like how the whistle was first conceived in 1878 when referees were looking for something more effective than a handkerchief to get players' attention.
Crayola Experience, Easton, PA
Crayola's factory in Easton, Pennsylvania, doesn't let you see the actual process behind making crayons, but it does explain how it's done and more. The factory is bigger than a football field and has 4 floors packed with activities. There's an 85-foot-wide water table and a glow-in-the-dark room on the third floor. On the fourth floor, check out the Melt and Mold room, where kids can melt crayons then mold them into whatever shapes they want.
Wisconsin Wagon Company, Janesville, WI
The Wisconsin Wagon Company started crafting genuine, full-sized wagons long before the automobile started encroaching on its market. Then, a retired businessman had an epiphany that the wagons could have a second life … as gifts for kids. Each Wisconsin Wagon Company product is handmade from wood and is the kind of toy that can be passed down from generation to generation. Tours of its factory are free and will show kids how the impressive wheelbarrows and wagons are made. The hour-long affair covers every aspect of the process, beginning in the lumber yard and ending in the shipping warehouse.
Cabbage Patch Kids Babyland General Hospital, Cleveland, GA
No, Cabbage Patch "hospital" isn't a factory. It's a Georgia farmhouse built on 650 acres to foster the mythos of the Cabbage Patch brand, which involves an origin story about magical seeds and babies springing from plants. So, this is a sort of factory. There's a fantastical garden, a troop of guides dressed as nurses and doctors, and tons of dolls lining the path. It's weird. But if you have a kid who's obsessed with the dolls, well, they'll be pretty stoked to see where the big headed play things were born.
This article was originally published on