All the Best Streaming Services For Families: Disney+ Vs Netflix Vs. Amazon:
Here's what you get with each service.
by Fatherly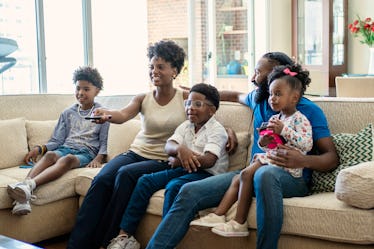 Renata Angerami/E+/Getty Images
As a parent, deciding what to watch with your kids can be tricky, as there are tons of options and plenty of kids have fickle tastes. But even harder than that is figuring out how to watch. There are no longer just a few streaming services. These days, every studio and company on the planet is launching its own, in an effort to make you a monthly subscriber. But which are the best streaming services for parents? Disney+? Netflix? Do you need to get another aimed exclusively at kids? How much do they cost, and are they worth the money? What about for yourself?
Here are all the biggest streaming services and apps right now, complete with a breakdown of cost, what you get and why we think each one is or isn't worth your time and money.
PBS Kids
How much does it cost: PBS Kids is free.
What you get: The PBS kids app won't give you unlimited streaming episodes of their big shows, like Daniel Tiger's Neighborhood, but it will give you a few free full episodes to watch every month. And because this app gives you a ton of clips from all the shows, it's pretty much the same thing.
Should you pay for it? You won't have to! The PBS app is free.
Apple TV+
How much does it cost: $6.99/month.
What you get: Wehreas most streamers have a substantial back catalog in addition to their own original content, AppleTV+ started from scratch in late-2019. What AppleTV+ lacks in volume it certainly makes up for in quality. Parents will enjoy sharing the classic Peanuts catalog with their kids, as well as some all-new Snoopy content. The new Fraggle Rock reboot is both star-studded and a lot of fun. And parents can enjoy Ted Lasso once the kids are in bed.
Should you pay for it? It's worth checking out. Back when Apple TV+ launched, we were kind of harsh on it. But now, perhaps sleeping on Apple TV was some kind of weird fate. Look, it has a lot of high-quality shows, with huge actors, and most of us have watched very little of it. For variety alone, it might be worth it for a little while.
Disney+
How much does it cost: Disney+ Basic (with Ads) is $7.99/month. For $10.99 or $109.99/year, Disney+ Premium will give you all the same content ad-free. And then there are a handful of bundles available if you want to throw in Hulu and/or ESPN+.
What you get: Well, the big headline is that you'll get every animated Disney movie ever, on tap, all the time. So, if you're a parent, that alone is worth the subscription price. You also get comprehensive Marvel and Star Wars libraries and an entire section of National Geographic content.
Should you pay for it? Big yes. The convenience of having nearly everything Disney at your fingertips is great. Disney has also been good about pushing movies to the service shortly after their theatrical release so film content is always current And, with Disney continuing to release new Marvel and Star Wars shows on a regular basis, the hits just keep on coming.
Disney+ Subscription and Bundle Options
HBO Max
How much does it cost: $9.99/month or $99.99/year with ads. $15.99/month or $149.99/year without ads.
What you get: Sesame Workshop and Looney Tunes are the family-friendly headliners. But the real value is in HBO's tremendous catalog of prestige television including The Sopranos and Succession, comedy specials and 90's sitcoms like Friends.
Should you get it? Not if family viewing is your primary goal. But if you want to keep up with the hottest shows and are willing to consider the kid's content a nice sweetener, then absolutely.
Paramount+
How much does it cost: $4.99/month or $49.99/year with ads. $9.99/month or $99.99/year without ads.
What you get: Most Nickelodeaon and Nick Jr. content lives on Paramount+, including Paw Patrol and Spongebob Squarepants. Paramount Studios huge film library, quality Star Trek offerings, classic CBS shows, a handful of original prestige dramas and access to nearly a dozen soccer leagues from around the world make this the streaming service for everyone.
Should you pay for it? Absolutely. Paramount+ is the most slept-on of all the streaming services, considering it has the most robust content offerings and the lowest pricepoint. If your family is going to go with a single service, this is the one.
Paramount+ Kids and Family Hub
Curiosity Stream
How much does it cost: Plans start at $2.99 a month.
What you get: A huge library of educational documentaries. This includes a bunch of amazing David Attenborough nature documentaries, documentaries about dinosaurs, space documentaries from Stephen Hawking, etc. You get it.
Should I pay for it? Absolutely! If you've got school-aged kids who are suddenly about to have a lot more screentime, it makes all the sense in the world to have you and your family watching stuff that will make you smarter.
Boomerang
How much does it cost: $5.99 a month
What you get: A huge library of Looney Tunes and Hannah Barbera cartoons. That means everything from Bugs Bunny to Scooby-Doo to Josie and the Pussycats. New versions of these various characters pop-up on this service very often, too.
Should you pay for it? Maybe? The amount that you get with this app is sort of amazing, and the depth of the Looney Tunes libraries alone makes it worth it if you want to make sure your kid has a well-rounded introduction to classic cartoons.
Explore Boomerang's Catalog Here
FreeVee
How much does it cost: Okay, so this one is a little under-the-radar, but FreeVee is for-real, free. The ad-supported service is folded into Prime Video and is also available as a standalone app.
What you get: A rotating lineup of both current and classic titles that at the moment includes Cloudy With a Chance of Meatballs, The Angry Birds Movie, Little House on the Prairie, and Bewitched.
Should you pay for it? You can't pay for something that's free!
Amazon Prime Video
How much does it cost: A Prime Video standalone subscription is $8.99/month. Also included with an Amazon Prime subscription, which is $14.99/month or $139/year.
What you get: A revolving library of a ton of different streaming videos, consisting of both original shows and films, plus old classics, too. In terms of kids content, this includes a huge library of original shows like Pete the Cat, Kung-Fu Panda and If You Give a Mouse a Cookie, all of which are more interesting than Paw Patrol.
Should you pay for it? Probably not as a standalone service. But chances are, you probably already pay for it as an Amazon Prime member. Of all the streaming services, Amazon Prime is the one most families will probably never get rid of, because it comes with so many other benefits unconnected to streaming TV. In other words, it's not like your Netflix subscription can let you get books and clothes delivered to your house faster.
Prime Video Kids and Family Shows
Netflix
How much does it cost: Subscriptions start at $6.99/month and go up to $19.99/month.
What you get: Access to a bunch of Netflix originals, but also all the rotating titles of blockbuster movies and old school shows you love like Seinfeld. In terms of kids' stuff, Netflix Kid's page is actually amazing. Right now, Netflix is in a sort of renaissance of great original programming for kids. Ask the Storybots is an amazingly educational show that won't make you want to run screaming from the room. Last Kids On Earth is great for tweens.
Should you pay for it? This is the hardest question. On the one hand, there's a chance that Netflix might be irrelevant for families in the next few years. But then again, it's still great. And Lost in Space season 2 is great for families with older kids. Trust us!
Children and Family Shows on Netflix
Peacock
How much does it cost: Subscriptions start at $4.99/month and go up to $9.99/month.
What you get: NBC's streaming service has a solid selection of kids shows — there just aren't many your kids have hear of yet. Curious George, Barney and a handful of How to Train Your Dragon spin-off shows are the most familiar brands. Peacock brings a diverse suite of bonafide blockbusters to the table in The Office, Yellowstone and The English Premier League, which should be enough for most folks to give it a try. Oh, and you can also find every Hallmark movie on Peacock, it you're into seemingly infinite versions of the same love story.
Should you pay for it? Pecaocks family section isn't enough to justify a subscription on it's own. But if you're into just one of its top-tier properties, then you'll find the cost justifiable.