The 8 Best Sports Books for Kids
From 'Coach Hyatt is a Riot' to 'The Boy Who Never Gave Up', these sports-centered books are bound to hook kids on reading.
by Mike Dojc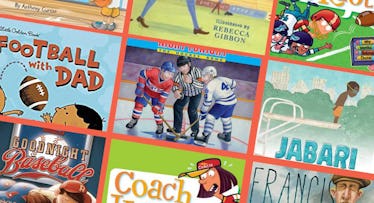 Sports books for kids about football, basketball, gymnastics, and other pastimes can kickoff a lifelong reading habit. From a rhyming alphabet book stuffed with sports trivia to a spellbinding true-life underdog triumph, tales from the field of play can really fire up young minds.
"When I was a kid, I read Chip Hilton and Zander Hollander books, anything that had to do with sports, I was all over it," says ESPN college basketball analyst Jay Bilas. "A compelling story is what's going to capture your imagination, so if it's an area of interest for you, you're going to be more apt to read it and stay engaged."
RELATED: The Three Most Expensive Sports for Kids
Brad Herzog, the author of more than 30 children's books including P is for Putt and Murphy's Ticket: The Goofy Start and Glorious End of the Chicago Cubs Billy Goat Curse, agrees wholeheartedly. Many teachers and parents are quick to thumb their noses at sports books, writing them off as mere diversions, belonging to a lesser genre, which is a big mistake.
"I occasionally give a talk to teachers and parents called 'Hemingway was a Sportswriter' in which I tell them not to shy away from letting kids immerse themselves in sports because it is an opportunity to turn a passion for the games into a passion for reading and writing," he says.
ALSO: 7 Dads on Watching Their Kids Suck At Sports
Great sports books for kids, per Herzog, have a foundation that covers the basics of the story as well as a "dollop of lyrical storytelling" as well as a "dash of 'who knew?' trivia" to keep them entertained and engaged. Whether you're telling bedtime stories or your kids are already reading on their own, here are eight sports books kids will love.
Coach Hyatt is a Riot
Dan Gutman is a prolific writer of children's sports books, but Coach Hyatt is a Riot, from his 12-volume My Weird School Daze series, makes a great introduction to the author's zany catalog. The story ostensibly centers around a Pee Wee football game, but, as with most Gutman's work, that's really all just a setup for him to dispense his pitch-perfect juvenile gross-out humor that'll have kids in third through fifth grade laughing their faces off.
Jabari Jumps
Listen, guys: Jabari is totally ready to dive off the diving board. He's passed all his tests and he's a great jumper. To leap from such a great height looks easy. He's…just got a few things to do before he does the jump. This sports story is a sweet, beautifully rendered exploration of conquering one's fears in order to make a splash. It belongs on any young athlete's bookshelf to remind them that it's okay to be nervous about big events.
Hockey Night Tonight
Stompin Tom Connors' catalog has more than 300 songs but no track has been as enduring as the Hockey Song, Canada's unofficial national anthem that gets plenty of play in NHL arenas up north. Here, the lyrics to the puck-head sing-along get the storybook treatment, in a tale that revolves around a Stanley Cup playoff matchup between the Toronto Maple Leafs and Montreal Canadians. Brenda Jones' vivid illustrations help bring the Stetson hat wearing troubadour's lyrics to life: "Now the final flick of a hockey stick, and one gigantic scream; the puck is in, the home team wins, the good old hockey game."
Two-Minute Drill (Comeback Kids)
Mike Lupica, the James Patterson of sports books for kids, knows how to craft an action-packed middle-grade page-turner. He also has an impeccable talent for turning young sports nuts into bookworms. In this story, a rifle-armed sixth-grade quarterback who happens to be the coolest guy in school buddies up with a brainy kid whose hand shoots up the most in class but seems to have two left feet on the gridiron.
Players in Pigtails
Inspired by the original version of "Take Me Out to the Ball Game" about baseball's mad Katie Casey, this kids sports book imagines Casey as a gal who "preferred sliding to sewing, batting to baking, and home runs to homecoming." The tale takes place in the 1940s, back when the All-American Girls Professional Baseball League's Rockford Peaches and South Bend Blue Sox were all the rage in the Midwest. It's a great precursor to a family viewing of A League of their Own.
Francis and Eddie
The 1913 U.S. Open is right up there with the Miracle on Ice as one of the most heart-lifting underdog triumphs of all time. Here we had 20-year-old Francis Ouimet, a self-taught amateur golfer who literally lived across the street from the course, and his 10-year-old caddie Eddie Lowry. Against all odds, the duo qualified for the tourney and defeated the day's top players. This gorgeously illustrated 32-page sports book brings the incredible story to life.
Goodnight Baseball
Wish Goodnight Moon had balls and strikes and ballpark franks? You're in luck with in this re-imagining of the rhyming bedtime picture book known for lulling little ones into sweet dreams. A boy and his dad head to the ballpark to root for the Rockets, eat hot dogs, and get their seventh inning stretch on. Now of course the game won't be truly over until they say goodnight to every inanimate object around from the outfield grass to boxes of popcorn.
Football with Dad
A father and son gear up for game day by rocking their team's jersey and tossing around a football. This bright-eyed and bushy-tailed tale of father-son bonding goes beyond cheery sentiments to hone in on a few key football fundamentals: "After warm-ups, dad shows me how to grip and throw the football. I put my fingers on the laces, then lift the ball over my shoulder to throw." There are also a couple great pointers on safe tackling.
The Boy who Never Gave up
Golden State Warriors fans are going to be all over this bouncy picture book recounting Stephen Curry's journey to the NBA. Can an undersized boy buck the odds, follow not only his dreams but his father's footsteps too and end up raining tres in the pros? For those more interested in LeBron James' formative years, pick up The Boy who Became King which was drawn by the same illustrator.
This article was originally published on