12 Essential Parenting Podcasts For Parents Without Any Free Time
Don't have time to listen to a podcast but want to download only the best? We get it and we've got you.
by George Lopercio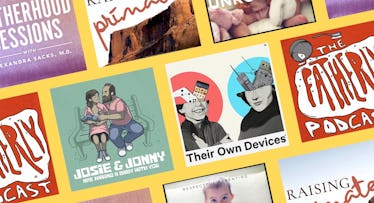 Guess what? The podcast thing is out of control. There are literally thousands of them, and more every day. If you've gotten on board this runaway train, then you probably already know the value of a great podcast. But you also know that sifting through the rubble to find a gem is time-consuming. Like discovering new music, it's a young man's game. But when we reach a certain age, who has the time? We just listen to what we like and have learned to live with the fact that we're probably missing out on something.
Podcasts on parenting are no different. There's a whole bunch of them, and most are either bad or so niche as to be irrelevant to most of us. But the best among them can provide us with a fresh perspective, expert advice when we need it most, and comfort in the knowledge that we are not alone. After all…misery loves company. So we've sifted through the mountain of digital content to find the smartest, most pertinent, and funniest parenting podcasts out there. We're confident that at least one of these will work for you.
With episode titles like, "Your Kid Failed the Gifted and Talented Test, Now What?" and "How Do I Explain to my Kids Why I Don't Talk to Their Grandfather?", Slate's parenting podcast is a no holds barred look at the darker side of parenting. These are often subjects you don't even want to talk to your friends about.
With so much of parenting media still focused exclusively on moms, this is a great listen for involved dads. Stemming from the meetup, City Dads Group, organizer and host Matt Schneider interviews authors and experts with a focus on fatherhood.
Anchored by This American Life contributor, Hillary Frank, this narrative podcast is exceptionally well produced and alternates between heartfelt and hilarious. Definitely focuses on motherhood, but there's something in here for everyone.
This one's been around for years and often gets overlooked. Hosts Theresa Thorn and Biz Ellis share stories about parenting that we can laugh at. No advice here, and no judgment – just funny stories by a couple of parents who are right in the thick of it with you.
Marc Groman (former Obama White House tech and privacy adviser) and Dr. David Reitman (adolescent medicine) have candid discussions about social media, sexting, online gaming, and other screen related issues facing all of our kids. This new podcast is so helpful in facing an increasingly urgent issue.
I was initially skeptical about this one – something about the title smacked of a personally exploitative podcast fame grab. But I was wrong. Two comedians, Josie Long and Jonny Donahoe share all the ins and outs of their experience with great guests like comedian Eugene Mirman and musician John Darnielle. Hilarious and sincerely informative.
This brand new podcast from Gimlet is hosted by renowned reproductive psychologist Dr. Alexandra Sacks. She has conversations with mothers about the psychological explosion that happens when you become a parent. This podcast is not for someone looking for sunshine and roses, but is immensely insightful and a great companion for someone wrestling with their post-child identity.
Recently renamed (formerly The Attachment Parenting Podcast), Raising Primates is a podcast "interested in the intersection between biology, culture, and parenting practices around the world." This one is a great way to broaden your perspective, geek out a little, and get a glimpse of this parenting thing through the eyes of people outside of our own worldview.
Part of what's great about this podcast is the chemistry between married hosts Cathy Cassani Adams and Todd Adams. One takes a more spiritual and emotional approach and the other is a die-hard pragmatist. The banter and arguments are entertaining and relatable, while the variety of perspectives proves very useful.
Best selling author, Janet Lansbury ("No Bad Kids: Toddler Discipline without Shame" and "Elevating Child Care: A Guide to Respectful Parenting") does a deep dive every episode into sometimes very difficult questions from parents like you. Perhaps the most popular podcast on this list, but for good reason
From the BBC World Service, this is just a classically great advice podcast. They bring in experts to talk about big issues every parent faces in a straightforward and easy to digest format. This one is good for any parent, anywhere.
Hosts Ellie Gibson and Helen Thorn have frank and hilarious discussions about parenting with a new special guest each episode. Put this one on when you have a day where you feel like the worst parent in the world – they'll give you permission to laugh.
You know we had to include our own podcast! Co-hosted by Joshua David Stein and Krishna Andavolu, features open wide-ranging conversations with famous and notable men about how they take care of themselves, their families, and their children (not necessarily in that order). In addition to featuring a familiar father figure, each episode goes deep on a specific parenting issue, explaining the state of scientific research on topics as diverse as what kids see in mirrors, what happens when parents yell, and how to do hugs right. At the end of each episode, Joshua recommends a way to make your life as a parent just 3 percent more fun. After all, everyone wants to do just a little bit better.
This article was originally published on