7 Best Maurice Sendak Books You've Probably Never Heard Of
Beyond The Wild Things is a treasure trove of other illustrated masterpieces.
by Tess Gionet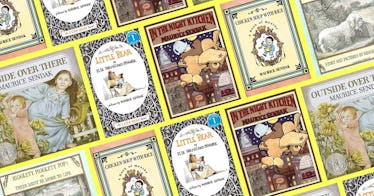 Most likely, Where the Wild Things Are, by author and illustrator Maurice Sendak, is hanging out in your kids' room right now. It's one of the most popular children's books of all time, it's sold over seventeen million copies, and truly, it's the stuff childhood dreams (and more than a few nightmares) are made of. If this is the only Maurice Sendak book sitting on your shelf though, something's got to change.
We're big fans of the late Sendak here at Fatherly, not just for his gritty writing and bonkers illustrations, but because he was kind of a badass, too. The thing that makes new generations of parents buy Wild Things almost sixty years after it was first published is the thing that should make you want to buy (or borrow) more of Sendak's books: he writes just as much for parents as he does for kids. In fact, he really wishes you wouldn't call him a children's book writer. "I don't write for children," he said in his final interview, "I write, and somebody says, 'That's for children!'"
So whether you get these seven amazing Maurice Sendak books for your kids or just for you, it doesn't matter; just go get them.