Kids Birthday Party Entertainment That Doesn't Suck
From private cooking lessons to backyard petting zoo, here are nine winning birthday party entertainment ideas.
by Alexis Barad-Cutler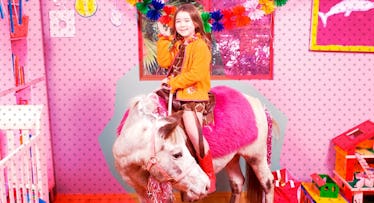 When nearly every weekend seems swallowed up by the birthday party circuit, things can get more than a little repetitive. Between the creepy balloon guys, the cheesy musical performers, and cringe-worthy magicians – you're almost over the whole birthday thing by the time your own kid's birthday comes around. But since RSVP'ing "no" to your own child's party isn't an option, a better idea is to hire birthday entertainment that is actually kind of cool. We've sleuthed out some birthday party entertainment that doesn't suck.
RELATED: 14 Fun Indoor Activities for Your Kid's Next Birthday Party
Birthday Party Entertainer #1: The Mad Scientist
If Weird Science is your kid's thing, hire a scientist who will bring the "lab" to you. A lot of the same local science-themed activity spaces where you might send your kid to after school or to camp also offer in-home birthday party packages. The "Science Guy" or "Mad Scientist" will conduct about an hour of safe, hands-on science experiments in your home, where kids get to take part in science demonstrations including chemical magic, and bubbling potions – and also often involves some kind of take-home creation (like putty or slime) to remind party goers of how cool your party was.
Birthday Party Entertainer #2: The Princess
To make your little princess's dreams come true, enlist the help of one or two princess characters to come to your home for some signing, dancing, story time – and if you're lucky, a coronation of the birthday girl or boy with a tiara. There are plenty of companies that do this, and some even have "princesses" who do face painting, lead games, do musical performances, or even host tea parties (it's the ultimate two-for-one deal.)
Birthday Party Entertainer #3: A Crocodile Hunter (But With Lizards)
If you live near a nature or wildlife preserve, find out if they offer in-home party visits. Some such places will bring lizards, snakes, frogs, turtles, and insects to your home, to scare the pants off of all the grownups and delight all the little animal lovers. Don't worry, they usually don't leave any critters behind.
Birthday Party Entertainer #4: Preschool of Rock
If you're nauseated at the idea of listening to Baa Baa Black Sheep at your kid's birthday, there is an alternative. Look for music classes in your area that offer an alternative to the regular baby music standbys, and who mix it up with jams you like to listen to — but adjusted to the preschool set. You can sometimes find this in a single musician who offers this service, or as a birthday package that a music class offers. The latter usually includes instruments (drums, shakers, scarves) to enhance the experience, because they tend to have more singers.
Birthday Party Entertainer #5: A Dance or Movement Teacher
Get all the kids tired out by inviting a dance teacher to lead your kid's next birthday. Have them lead a dance and movement class with games and music that ends in a raucous game of Freeze Dance or something completely zany and energy-sucking so that by the end, all the kids will want to do is quietly inhale some pizza and cake and then go home.
Birthday Party Entertainer #5: Mobile Petting Zoo (With Ponies)
"I don't want a pony for my birthday," said no kid ever. Make their cowboy and cowgirl dreams a reality, if only for a day. An attendant will assist riders with riding and handling the pony, and guests can often feed and pet the pony as well. Some companies will combine an on-site petting zoo complete with sheep, goats, chickens, ducks, and rabbits (or an exotic animal option). Usually the petting zoo option comes with two handlers to accompany the animals to your location, and guests will have an opportunity to feed animals a small snack, and hold the smaller animals.
Birthday Party Entertainer #6: A Theatre Troupe
Do you have a future Oscar winner on your hands? A theatre troupe will help make your kid feel like a star on his or her special day. These are often themed parties that involve all of the guests participating in creating their very own show. Kids create and perform in the show – complete with costumes and music. Often, guests get to take home their own DVD.
Birthday Party Entertainer #7: A "Glamsquad" For Kids
In-home pampering services aren't just for grownups. You can hire a "glamsquad" that specializes in birthday parties for the ten and under set to come to your house and gussy all the partygoers up for a night on the . . . well, for pizza and cake. Packages usually include some combo of nails, hair, and makeup. Some even offer an option to do a mini fashion show (with provided accessories, clothes, and props) or photo shoot, with printed photos for guests to take home.
Birthday Party Entertainer #8: A Legit Puppeteer (Who Usually Performs for Adults)
Puppeteering is kind of a lost art – but its not lost on preschoolers and younger. There is something that is magical and engaging about this type of performance. You can also often expect your puppeteer to arrive with some classic magic tricks up his sleeve, as well as balloon art, or slime, or sand to play with. Some puppeteers moonlight as stand up comedians, and bring this kind of humor into their birthday party shticks to make it more entertaining for grownups.
Birthday Party Entertainer #9: A Private Chef
Mini bakers can learn at the helm of a hired, private chef to help them make their own party food, like homemade cupcakes, pasta, or even pizza. Some chefs bring everything you need (ingredients, stuff to keep the kitchen clean, child-friendly cooking supplies and tools); while others don't. Just make sure to do your research ahead of time. Bonus: When the chef cleans up the kitchen.
This article was originally published on