Best Halloween Movies For Kids Streaming On Hulu
These family-friendly movies are a whole lot of fun!
by Alicia Kort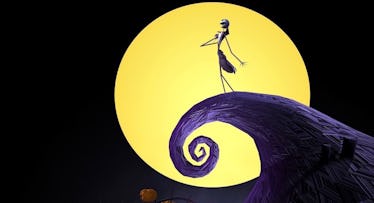 Disney.
With pumpkins around every corner and Halloween costumes and candy in every store, Halloween is officially upon us. Your kids have — hopefully — decided on what they're going to be this Halloween and are eagerly enjoying the Halloween decorations everywhere. Get them even more excited for trick-or-treating with this list of family-friendly Halloween movies on Hulu. Some are a little spooky, some are a little silly and some are a little bit of both. Either way, they feature witches, ghosts, Jack Skellington and plenty of pumpkins. These films won't keep your kids up late with nightmares like some PG-13 or R-rated fare that is wildly popular this time of year. Halloween is also a great time for traditions. You might be familiar with the films on this list, because they were popular when you were younger. Maybe you even grew up with them. So choose to treat your kids with classic spooky films that you loved this Halloween with one of these films were Hulu.
1. Double, Double, Toil and Trouble
America's most famous twins go on a Halloween-related adventure. Mary Kate and Ashley Olsen have to trick their malevolent aunt into giving them a moonstone, so they can save the family home.
2. The Nightmare Before Christmas
Celebrate Christmas and Halloween in one go with this classic animated Tim Burton movie. The King of Halloween Town, Jack Skellington, discovers Christmas Town and is just a little bit flummoxed.
3. Teen Wolf
No, this is not the MTV Teen Wolf series that features a lot of shirtless teenagers, but you might be able to trick your teenagers into watching this movie that way. This 1985 film stars Michael J. Fox of Back to the Future fame as a teenager who discovers werewolves run in his family. In this comedy, the high school nerd uses his newfound strength and agility to his advantage.
4. Tyler Perry's Boo! A Madea Halloween
Madea crashes a frat party in order to supervise some teenagers, but her job becomes much more difficult when poltergeists, ghosts, killers and zombies try to kill them all. This movie is rated PG-13, so it's probably too scary for most children.