7 Spooky and Silly Halloween Games for Kids
The best Halloween activity for kids is a holiday-themed game. Here are 7 of our favorites.
by Lauren Steele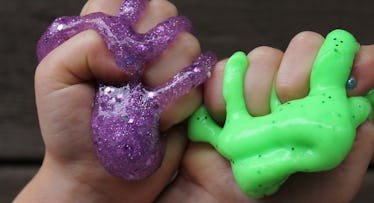 The ideal Halloween for kids would involve sneaking age-inappropriate movies to get scared out of their minds, and eating candy until they're ill. For parents, it's the time to tow the line between fear and fun, treats and diabetes. The compromise is to turn off the television and turn candies into a reward system for these fun Halloween games and activities that are just spooky, icky, and strange enough to get them excited.
Creepy-Crawly-Gooey-Spook Buckets
Kids love to touch things. Especially gross things. But this time let them touch. Inspired by the original showing of Rocky Horror Picture Show, sensory buckets filled with different textures can enhance the spooky entertainment and (STEM learning) factor for kids while reading a "scary story," such as The Curious Little Witch or Splat the Cat, What Was That? Before you start reading, fill buckets with things that feel like items that will be in the book: pumpkin "guts," plastic spiders, spaghetti noodle "brains." Then, line the buckets up in the order of that the sensations appear in the book. When you get to the page that talks about spiders crawling, ask your little one to stick their hand in the bucket and feel — and so on.
Mummy Race
What child hasn't gone totally overboard with a roll of toilet paper? This game actually allows them to totally trash a roll of T.P., with no toilet-clogging nightmares for parents. To play, split kids up into two teams and designate one member on each team as the "mummy." Then 3, 2, 1 — see which team can cover their mummy head to toe in toilet paper the fastest.
Spider Web Labyrinth
It's a true test of wits and balance for kids to navigate a tricky spider web without "falling off" to win a secret surprise. This game is great because you can make it more difficult (by putting obstacles on the web or making a "tip-toe only" rule) or keep it as easy as walking straight on lines of tape. To set up your spider web, find some open space outside or inside where you can put tape on the ground. Tape down your spider web and then place plastic spiders in different sections of the web and place a prize of your choice in the center of the web. The goal? Collect all the spiders without falling off the web to claim the prize.
Full tutorial here
Witch's Hat Ring Toss
Elevate a classic backyard game with a little witchy-ness by gluing store-bought or hand-made witch's hats onto a wooden or plastic base. You can make the hats different sizes for different levels of challenge (and extra points!) so that whoever lands the most rings over the hats wins a special prize — like a caramel apple or glow stick. Check out the full tutorial here.
Boo Bombs
Smoke bombs are a undisputed favorite at the 4th of July, so take a classic and put a scary spin on it for Halloween by letting your kids set off smoking ghost boo bombs. These DIY "bombs" are all-natural and are made of eggshells and corn-starch, so you don't have to worry about any (actually) scary chemicals or fire. Full tutorial here.
Monster Rockets
Put your little scientist up to the test and concoct some monster rockets. It's probably easier than their last science project since all you need is some Alka Seltzer, film canisters (which you can decorate to look like whatever monsters you want), cornstarch, and water. Once the chemical reaction starts, you'll have spirits and ghouls flying through the air. Full tutorial here.
Ghoul Slime
Whip up some stretchy, gooey, ghoul slime with your little ones in your magic cauldron to entertain them with a little tactile fun (that requires no sugar). The recipe is pretty simple—just calling for food coloring, school glue, and liquid starch. After whipping up your slime, play with it while reading a slimy inspiration: Goodnight Goon, a parody of the classic, Goodnight Moon. Full tutorial here.
This article was originally published on