10 Easy Halloween Costume Ideas for Babies and Toddlers
by Rebecca Jane Stokes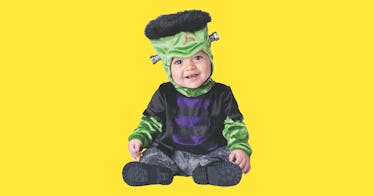 When pumpkin day arrives, do you know what Halloween costumes your babies and toddlers will be wearing?
Babyhood and toddlerhood are the only times in your child's life when you can live vicariously through their costume. They have less choice in the costume, so it hardly matters if they understand the costume. You're basically playing dress-up on a living doll, so enjoy it. Do they know who Yoda is? Nope! But you do, and the pictures will be amazing.
For years to come, you'll have princesses and puppies and ghosts, but in these brief years, there's some time to do some fun, irreverent, and easy Halloween costumes for babies and toddlers. We've rounded up ten of the cutest costume ideas. Let this list inspire you to create a truly cute, truly memorable, and, not-so-terrifying, Halloween.
Mad Scientist
We all dream of our kids tackling challenging and fulfilling careers. What better to inspire them to take on a career in the sciences than dressing them up as your favorite B-Movie mad scientist and teaching them to yell "It's allllllllive"? A fluffy white wig really sells the mad scientist look, but as long as you've got the traditional white lab coat, you're good.
Shop the Look:
Baby Scientist Custume Body Suit
Toddler Girl Mad Scientist Costume
Toddler Boy Mad Scientist Costume
Bumble Bee
Your wee one is already busy as bee most days as they grow and learn. Lean into all that development and dress them up as a baby bumblebee. There are plenty of options when it comes to find the snuggly bumble bee suit for your baby buzzer. In these fluffy suits, you don't have to worry about them getting cold.
Yoda
So many people jokes about babies looking like Winston Churchill, but if you're a Star Wars fan you know the truth: Babies can look an awful lot like Master Yoda. Delight your friends and savor this time when you and you alone pick their costumes. Bonus points if you go dressed as Obi Wan Kenobi. Bonus bonus points if you can get your child-Yoda to say "I sense much candy in you" instead of trick-or-treat.
Grogu (AKA Baby Yoda)
Got two kiddos? Then have one go as Master Yoda, and another go as the Mandalorian's beloved charge Grogu (that's Baby Yoda, to be clear). All the appeal of older Yoda, infinitely cuddle, Grogu's cooing, burbles, and passion for touching things he shouldn't, make him a clear costume choice for the baby in your life.
Taco
Are people always telling you that your kiddo is so cute they just want to gobble them up? Make it even more tempting by dressing them as one of the best foods around, a taco! There are baby and toddler taco costumes options available, and if you feel like joining in their are adult taco costumes, too.
Mouse
Nobody wants to find a mouse in their house, unless that mouse is their own adorable child wearing a set of oversized mouse ears and/or a pair of whiskers. A mouse costume also allows for some pretty excellent photo opportunities, that goes double if you happen to own multiple cats.
Snowflake
Want a frilly and sparkly costume but not loving the idea of your kiddo being a princess? A snowflake costume is the right fit! Plus, if your tyke dresses up like a snowflake, you can teach them that just like them, every snowflake that falls from the sky is totally unique.
Where's Waldo?
A classic children's' picture book series (if you're like me, you poured over this as youth), the eponymous Waldo in his red and white stripes is hidden in a picture on each page. Make it easy to find your own kid with a Waldo costume. This is a great way to introduce kids to the Waldo books, too.
Mermaid
If your child can't walk, take advantage of the fact and dress them up as a mermaid! Can you imagine anything cuter than a tiny mermaid baby like yours appearing on the beach? Splish splash the night away with this adorable and magical costume.
Frankenstein's Monster
Sure, you didn't make your baby out of spare cadaver parts, but you did technically make them. Celebrate your hard work by dressing up your baby as Frankenstein's Monster! This time the villagers won't be chasing Frankenstein with pitchforks, they'll be chasing him for cuddles.
This article was originally published on