8 Great New Family-Friendly Hotels For 2021
Staying away from home is still dicey. But there are some new options out there.
by Sara Clemence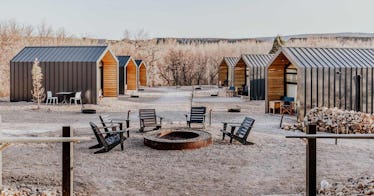 Yonder
Hotel openings haven't exactly been the first thing on the minds of parents in 2021. But now the world is opening up again, slowly. And while it's appealing to go back to beloved destinations, there's also something to be said for trying something new—especially after months of isolation.
A number of new family-friendly hotels and resorts have come on the scene, and whether your jam is a design-minded luxury escape, French-inflected aprés-ski, or Walt Disney World, one just might fit the bill. These are properties that don't just give kids a trinket at check-in; some were built specifically for kids, but also make vacation easier for grownups. Others were created to make guests of all generations happy. They promise to make your upcoming trips more memorable and more comfortable.
From more affordable to very upscale, here are nine North American hotels we're excited to see for ourselves.
The Stress-Free Ski Trip: Club Med Québec Charlevoix
Québec, Canada
It wouldn't be terribly surprising if you've never heard of Le Massif de Charlevoix. The ski mountain is just an hour northeast of Quebec City, receives 21 feet of snow a year, and has breathtaking views of the St. Lawrence River—but has historically been a local hangout, with lodging limited to small auberges. That changes this December, with the opening of Club Med's first Canadian property. The 300-room all-inclusive offers ski-in ski-out access, on-site gear rentals, skiing and snowboarding lessons, two indoor swimming pools, ice skating, and a slew of other activities and amenities to keep kids and adults happy, whether they're powder-hounds or are more excited about the fondue. While Charlevoix is weighted toward black runs, there are also green and blue trails that run all the way down the mountain. From $197 a night for adults; kids under 4 stay free, clubmed.us.
The Modern Desert Escape: Yonder Escalante
Escalante, Utah
Plenty of RV resorts have fire pits and swimming pools and are located near national parks. We're pretty confident that Yonder Escalante is the only one with a drive-in movie theater kitted out with restored classic cars. Just opened in April, the 20-acre resort is situated amidst the towering rock cliffs of Southern Utah, with easy access to Grand Staircase-Escalante National Monument and Bryce Canyon National Park. It has 67 pull-in sites for R.V.s and campers; guests can also stay in the 10 stylishly renovated Airstreams and 22 modern cabins. There's an open-air lounge, a European-style bathhouse, and a general store that sells homemade breakfast and picnic fare, cocktail kits, and anything you might have forgotten to bring. From $69 a night for R.V. pull-in sites, $249 a night for cabin and Airstream rentals, stayyonder.com
The East Coast Playcation: Legoland Hotel New York
Goshen, N.Y.
The much-anticipated Legoland New York Resort, located about 90 minute north of Manhattan, is opening in phases this year. The on-site hotel is scheduled summer. Its 250 rooms will be decorated with four different themes (Pirate, Kingdom, Lego Friends and Lego Ninjago) and have separate kids' sleeping areas with bunk beds and a trundle. Each will also be equipped with a Google nest for streaming bedtime stories and theme-specific treasure hunts. The park promises enough fun for an entire weekend, with seven different "lands" and more than 50 rides. legoland.com
The Hideaway on the Costalegre: Four Seasons Resort Tamarindo
Jalisco, Mexico
When it opens toward the end of 2021, this luxe resort on Mexico's Pacific coast will be a destination unto itself. Situated on its own private peninsula and surrounded by 3,000 acres of nature reserve, the property will have three guests-only beaches, four restaurants, an 18-hole golf course, a water sports center and a large kids' club. Three of Mexico's best-known architects, Victor Legorreta, Mauricio Rocha, Mario Schjetnan, collaborated on the design, which leans heavily on local lava stone, wood, and cement. But the most dramatic element may be the trio of infinity pools that spill down the cliff to the beach. fourseaons.com
The Airstream by the Beach: Autocamp Cape Cod
Falmouth, Mass.
This classic family destination has a quirky new lodging option. Located just a mile from the beach and several minutes' drive from the towns of Falmouth and Woods Hole, AutoCamp offers Airstream suites with bathrooms, sinks, and microwaves, as well as safari-style tents with king-sized beds and fridges. (Tent guests share a bathhouse.) The on-site store is stocked with snacks, beer and wine, fire pit needs, and BBQ and s'mores kits you can cook over your personal fire pit. There's also a fleet of mountain bikes that are perfect for Autocamp's direct access to the Shining Sea Bikeway, a 10-mile trail that goes through marsh and woods, and (of course) past the ocean. From $139 a night, autocamp.com
The Wild West Adventure: Hotel Drover
Fort Worth, Texas
After taking in the rodeo and watching a real-life cattle drive in the historic Stockyards District of Fort Worth, you can bed down in a bunkhouse. This one is far more comfortable than the digs 19th-century cowboys had to settle for Hotel Drover's family rooms have king-size beds as well as twin bunk beds, mini step stools and kid-sized bathrobes. Outback are a pool and hot tub, private cabanas decorated with crystal chandeliers, and fire pits for roasting s'mores. From $185 a night, hoteldrover.com
The Cartoon Getaway: Nickelodeon Hotels & Resorts Riviera Maya
Quintana Roo, Mexico
After years of delays, Nickelodeon's second resort will open this July on Mexico's Caribbean Coast. The property was designed just for families—specifically those who heart SpongeBob SquarePants and Teenage Mutant Ninja Turtles. All of the rooms are oceanfront, swim-up suites with two bathrooms, which means less jockeying for the sink at bedtime. Food, character meet-and-greets, pajama breakfasts, and other activities are all included. The water park spreads over six acres and includes seven slides, two river rides, and splash pads. And for U.S. travelers, there is on-site Covid testing; the resort will provide complimentary quarantine lodging if a member of the family tests positive. From $453 per person per night, including airport transfers, karismahotels.com
The Disney Indulgence: JW Marriott Orlando Bonnet Creek Resort & Spa
Orlando, Fla.
The freshest addition to Orlando's five-star lineup, the JW Marriott Orlando Bonnet Creek Resort & Spa technically opened in July 2020—but we'll give it a pass for the pandemic. It's packed with kid-centric features—the hotel has its own rooftop mini-golf course and a rock-climbing wall, a zero-entry pool, and a kids' lounge area stocked with board games and VR headsets. The two-bedroom family suites have bunk beds in one bedroom. For grownups, there's a 10,000-square-foot spa, an adults-only pool, and a rooftop lounge. In Orlando for the theme parks? A complimentary shuttle will get you there. From $195 a night, marriott.com
This article first appeared on The Expedition. Check out The Expedition's travel subscription deals here.