The 20 Best Documentaries for Kids
Kids are bored, and parents are bored of Paw Patrol. Here are 20 great documentaries that are kid-appropriate and fun for the whole family.
by Andy Kryza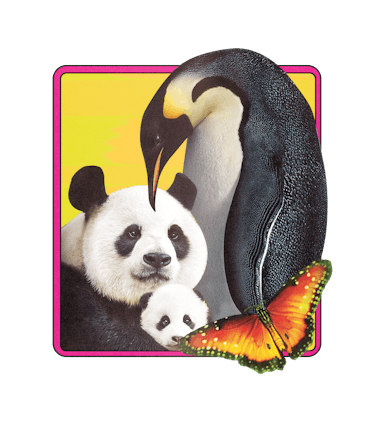 Emma Chao/Courtesy Disney Nature; Bonne Pioche & National Geographic Society; Fatherly; Getty Images
You probably don't think of non-fiction when you think of movies your kids will like, but the best documentaries for kids are as entertaining — and often more interesting and educational — than most kids' TV shows and movies. (We're looking at you, Paw Patrol.) That's why we compiled this list of the best documentaries for kids that are available to stream on Netflix, Hulu, Amazon Prime, YouTube, and other streaming services, some even for free. These documentaries, organized in this list by age appropriateness, can entertain, teach, captivate, and hopefully generate a lasting interest in their subject matter for bored kids.
Here are 20 great documentaries for kids aged 5 and up that cover nature, space, incredible young athletes, and prolific chefs. They are also films that, mom and dad won't hate, which a nice bonus after watching Frozen 2 for the 40th time. For other ideas, check out CuriosityStream — which parents need a subscription to but which features hundreds and hundreds of documentaries, or Disney+, which is more than just Star Wars and Marvel.
1. Born to Be Wild (2011), Ages: 5+
Narrated — as all wonderful things in this world should be — by Morgan Freeman, Born to be Wild is a brief (40-minute) nature documentary about conservationists who adopt and raise displaced orangutans and elephants in Borneo and Kenya, respectively, preparing the animals for re-entry into their natural habitats. The stories are compelling, teaching valuable lessons about environmentalism and empathy, and the animals themselves are wondrous. The film was originally released in IMAX 3D, but the stories don't lose any of their impact — and potential to inspire — when viewed on the small screen.
Available on: Amazon Prime, Hulu
Further viewing: For a look at these majestic animals in their natural environments, Planet Earth, available on YouTube and Amazon Prime, remains the best — and most widely available — nature-based docuseries on the market.
2. Microcosmos (1996), Ages: 6+
It is impossible to tell that Microcosmos was made over 20 years ago. It's a wonderful film about bugs, of all things, using microscopic cameras that make the bugs appear larger than life. It's literally like Bugz Life, but real. Also, the film is silent except for scoring — no narration, no words, no lessons. Just bugs.
Available On: YouTube, Google Play, Vudu
Further viewing: For bug-lovers who also love aquatic species, Wonders of the Sea is a good bet. It's Available on YouTube or Amazon.
3. Expedition China (2017), Ages: 6+
Kids can witness some of the hardest to reach environments in the world with Expedition China. They get to the real, behind-the-scenes fight to make Born in China, and view previously unseen footage of baby pandas, monkeys walking, and the amount of effort put into making nature documentaries. Kids can see orphaned orangutans and elephants fight to survive — and also kids can see the people who help keep these precious animals alive.
Available on: Netflix, YouTube, Amazon Prime
Further viewing: Born in China, the regular nature documentary that this movie is based on, is a good start, and is available on Disney+.
4. A Beautiful Planet (2016), Ages: 6+
Got a kid who loves space? They'll love A Beautiful Planet, narrated by Jennifer Lawrence. Astronauts on the International Space Station captured fifteen months worth of footage of Earth; the documentary explores our small blue dot, the daily lives of the astronauts, the technology of space, and about the international cooperation between astronauts.
Available on: Amazon Prime
Further Viewing: The Last Man on the Moon, available on Netflix, is a great look at space for kids who love it.
5. Wings of Life (2013), Ages: 6+
A kaleidoscopically colored exploration of the birds and the bees (don't worry, that's not a metaphor), this Disneynature documentary for children offers a bug's-eye-view of the world, focusing on butterflies, bees, bats, birds, and other flying creatures, offering insight into their importance to the circle of life via pollination. It's full of great lessons, particularly for kids who seem to hate bugs for no reason. Plus, it's narrated by Meryl Streep.
Further viewing: Flight of the Butterflies, available on Amazon Prime, gives monarchs the March of the Penguins treatment, following the majestic winged ambassadors as they make their journey from Mexico to Canada.
Available on: Disney+
6. March of the Penguins (2005), Ages: 6+
Narrated by the one and only Morgan Freeman, this blockbuster documentary for kids follows a flock of emperor penguins as they leave their oceanic habitat to march across the Antarctic tundra. The imagery is stunning, the penguins adorable, and the story one that will help children understand animal behavior. That said, while it's relatively tame, some of the penguins meet their demise on the journey, which might force a conversation about mortality. Overall, though, it's a breathtaking example of feature-length documentary storytelling.
Further viewing: The BBC's Frozen Planet, available on Google Play, is a series further explores life in the tundra, with equally stunning cinematography.
Available on: Youtube, Amazon Prime
7. Growing Up Wild (2016), Ages: 6+
Kids can watch baby animals take their first steps, to their teenage years, to their first steps out into the world as young adults. Five young animals — including a baby chimpanzee and a cheetah — get the bildungsroman treatment. It's super cute, heartwarming, and at times, keeps you on the edge of your seat.
Available on: Netflix
Further Viewing: "Babies," is a documentary about human babies across the globe, showing their different experiences from Namibia, Mongolia, San Francisco, to Tokyo.
8. Pick of the Litter (2019), Ages: 7+
Who doesn't love dogs? Pick of the Litter follows five puppies from birth through their training to become guide dogs for the blind. It's super cute, super sweet, and a reminder that dogs are, you know, the best.
Available on: Hulu, Amazon Prime
Further viewing: For families with pit bulls, Beyond the Myth on Amazon Prime is a film that dispels myths about "the most dangerous breed." It is not rated, so view with your discretion.
9. The Short Game (2013), Ages: 7+
A group of eight 7-year-old golfing prodigies travel to compete in the World Championships of Junior Golf. These kids are the best of the best — and might give your kid a bit more appreciation for all those golfing tournaments on ESPN.
Available On: Netflix
Further Viewing: For kids 12+, "Hoop Dreams," available on Hulu and HBO Now, is a great documentary about basketball players navigating issues of race and class.
10. Girls Rock! (2007), Ages 8+
Ages: 8+
Portland, Oregon's Rock 'n' Roll Camp for Girls is a storied Pacific Northwest institution where rockers train young girls in the fine art of shredding on stage. This fist-pumping documentary for kids follows four initially shy young ladies through their time camp. Feelings are laid bare throughout, but as the film unfolds, the girls — and the viewers — experience increased self-esteem via the encouragement of adults. By the time they take the stage, the film erupts into a feel-good triumph that will have all viewers — especially little girls — on their feet.
Available on: Amazon
Further viewing: Rock docs made for kids are in pretty short supply, though concert films are abundant. Jack Black's breakout School of Rock, available on Amazon Prime, continues the spirit of kids overcoming emotions in the name of rock.
11. Kedi (2017), Ages: 8+
Sure, it's in Turkish and subtitled, but considering this recent documentary is all about offering a "cat's eye view" of Istanbul, whatever the humans are saying is secondary. It follows seven street cats as they go about their lives, exploring markets, roaming the streets, and finding love among families they visit in their travels. Any kid who adores cats will find much to love while simultaneously exploring a culture half a world away, while parents will become entranced in the narratives relayed by the people the cats encounter.
Available on: Amazon Prime, YouTube
Further viewing: Disneynature's African Cats offers a very different view of felines, swapping the urban jungles of Istanbul for the wilds of Africa.
12. Spellbound (2003), Ages: 8+
The Scripps National Spelling Bee is, inextricably, some of the most riveting television every year. This doc, made over a decade ago, follows eight competitors participating in the 1999 competition, shows how much kids train to compete, and how much families sacrifice for their wunderkind spellers.
Available on: YouTube, Amazon Prime
Further Viewing: Though not a documentary, Akeelah and the Bee, available on Hulu, is an uplifting story of a spelling bee contestant and her triumph.
13. Jane (2017), Ages: 8+
Like Born to be Wild, Jane focuses on the tireless efforts of conservationists to help endangered animals recover. In this case, said conservationist is Jane Goodall, the world's most famous and renowned primatologist, who spent more than five decades living among chimpanzees in the wilds of Tanzania. Hers is a story of overcoming adversity at every turn and about channeling passions into positive change. For any child even remotely interested in working among animals, it's a tale of hope, compassion, and aspiration.
Available on: Hulu, Disney+
Further viewing: Disneynature, naturally, covers primates in the wild in the vivid Chimpanzee, but for a completely different look at the effects humans have on the animals, Project Nim explores the bittersweet story of a chimp raised as a human child in New York.
14. Mad Hot Ballroom (2005), Ages: 8+
Mad Hot Ballroom documents the lives of a few New York City students who are in a dancing competition sponsored by the American Ballroom Theatre. The kids learn how to dance and share their lives with the viewer. The film won a few awards and is funny, heartwarming, and legitimately dazzling.
Available on: Amazon Prime, YouTube
Further viewing: First Position, on Amazon Prime, chronicles six dancers preparing for a major dance competition in New York City.
15. Paper Clips (2004), Ages: 8+
Paper Clips is a powerful documentary to the testament of the scale of the Holocaust. In Tennessee in 2004, school officials ask students to collect millions of paper clips to represent every single Jewish person who perished in concentration camps, which they then put in a rail car. The documentary is moving and a good introduction to the Holocaust for children.
Available on: Vudu, iTunes
Further viewing: For kids 12+, Bully, available on Tubi, Vudu, and Amazon Prime, is another socially-justice minded documentary that addresses the corrosive effects of bullying.
16. Imba Means Sing (2015), Ages 8+
On the uplifting side of things, Imba Means Sing is a beautiful, heartwarming and joyous film about an African children's choir on an 18-month tour of the United States. Kids can view the choir experiencing some of the Western world's delights: a bowling alley, snowfall, for example, while also listening to their beautiful singing voices.
Available On: Amazon Prime
Further Viewing: Queen of Katwe, a fictional film starring Lupita Nyong'o, follows a young Ugandan girl's journey to becoming an incredible chess player.
17. Walking with Dinosaurs (1999), Ages 9+
This six-part BBC series gives the Mesozoic Era the nature documentary treatment, complete with computer-generated recreations of dinosaur behavior and narration by Sir Kenneth Branagh. The dramatic recreations do include some of the requisite mayhem (re: eating) and some of the information has been proven outdated in the intervening two decades. But in terms of educational content for kids who love dinosaurs, it's hard to beat.
Available on: YouTube, Amazon Prime, Vudu
Further viewing: PBS's Nature has a ton of dino-related shows focused on dinosaur archaeology, among them Raising the Dinosaur Giant, which explores the unearthing of ancient of ancient giants.
18. I Am Big Bird: The Caroll Spinney Story (2014), Ages 10+
A behind-the-scenes look at the inner workings of Sesame Street, this documentary trains its lens on national treasure Caroll Spinney, the man who has voiced and performed Big Bird and Oscar the Grouch since their early days. And while some of Spinney's story is steeped in tragedy — abuse, Vietnam, and suicide are topics that come up candidly in Spinney's asides, and some profanities are uttered — older kids interested in a peek behind the curtain of television's most storied children's institution will relish in his inspirational story.
Available On: YouTube TV, Amazon Prime
Further viewing: The overlooked classic Follow That Bird gave Big Bird (and Spinney) his only big-screen starring role in a road trip comedy best described as a lighter version of The Muppet Movie.
19. I Am Eleven, Ages 10+
Similarly aged kids will love this documentary showing kids around the world sharing their thoughts on the things that affect them and the things that don't yet. From a kid in an Indian orphanage to a kid living in Melbourne to a kid who lives in Thailand, kids can peek at worlds that don't look like theirs — and learn how kids their age are feeling and thinking.
Available On: iTunes
Further viewing: Babies, available on Hulu, recommended above, is the version of this film about babies.
20. Jiro Dreams of Sushi, Ages 11+
Jiro Dreams of Sushi is one of the best documentaries of 2011, about Jiro Ono, one of Japan's most prolific sushi chefs, and his sons who work with him. A heartwarming film with a familial twist at the end, kids will love the peek into Jiro's life and into Japanese culture more broadly.
Available On: Netflix
Further Viewing: Chef's Table, a docu-series on Netflix, is a great look into Chefs around the world for tweens.