The Best Cross Country Family Road Trips In America
It's all well and good to say you want to hit the road with the fam, but where should you go? We have some thoughts.
by Chris Norris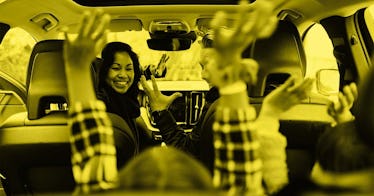 No matter which vaccine they get, few Americans will be immune in the next months to the call of the open road. Spring break is practically upon us, and the summer is coming soon after. Is it time for a cross-country road trip? Maybe!
As the US starts to open- up a little bit in the coming months, consider this late-to-post-pandemic guide for fun, scenic, and rewarding drives to take with fellow survivors of the year-long house arrest. What are the best cross country road trips for families? Since different sites and regions will become safe at different times, common sense and local rules still apply. Read details on occupancy and hours, and book as early as possible. Keep masks handy—they're required in any public area of a national park—but enjoy the wind on your face, the hum of the tires, and epic family "Bohemian Rhapsody" sing-alongs.
For Retro Road Warriors: ROUTE 66
The American classic. It's been name-checked in song titles, movies, and a vintage TV show. It ran some 2,500 miles from Chicago to Los Angeles, and the current version still unrolls like a widescreen Americana frontier from Chicago to Santa Monica. Some fans suggest driving between two marquee destinations—from, say, St. Louis's Gateway Arch to UFO country in Flagstaff, Arizona—and any stretch promises quirks, adventure, and living history. Give yourself a week for the whole hog—across the Midwest, Great Plains, and Southwest—or three days for a shorter stretch.
For Happy Campers: MT. WASHINGTON AUTO ROAD
Few stretches of highway offer the dramatic, even slightly scary kind of drive that you'll find on the historic Mount Washington Auto Road. This 7.6-mile stretch was carved into New Hampshire's White Mountains in the mid-19thcentury and its narrow roads, some without guardrails, will let you and your family climb 4,600 feet to the highest peak in in the Northeast without leaving your car. At the summit, along with spectacular views, you'll see cyclists and hikers stopping at this key point on the Appalachian Trail. The drive must be done in a single day but affordable accommodations await at the base in North Conway, from Top Notch Inn or Passaconaway Campground, where you can unwind after earning the kitsch-classic bumper sticker, "This Car Climbed Mount Washington."
For Lobster Lovers: THE MAINE COAST
You can pick up almost anywhere along the winding rugged coastal roads of Maine for a drive with hours and hours of gorgeous scenery, lovely beaches, and quaint small-town sights. Try the cross country road trip up Route 1 from the Ogunquit through Orchard Beach to Belfast, where a pedestrian bridge spans the Passagassawakeag River, and continue on along the coast to seal and whale-watching Bar Harbor. If you're having fun and feeling ambitious, continue on to the stunning Acadia National Park. Be advised: You'll need an advanced reservation to drive the park's Cadillac Summit.
For Sun-Starved Remote Learners: CALIFORNIA 101
The Pacific Coast Highway 101 stretches 1,650 miles from Seattle to San Diego. If time and grit allow, you can make one unforgettable family trip out of the whole megillah, starting at Seattle's Space Needle and ending at the San Diego Zoo. But it might make more sense to follow this ribbon of highway's 1,075-mile Northern stretch from Seattle to San Francisco. And there's no shame in just tackling the spectacular 575-mile Southern stretch from San Fran to San Diego, where stunning coastal roads bring you to the staggering beauty of Big Sur and Monterey. If weather permits, consider camping at Carmel's Saddle Mountain Ranch.
For History Buffs: THE OREGON TRAIL
For long haulers and fans of pioneer history, the northern route along our country brought wagon trains all the way from Independence, Missouri, to the valleys of Oregon. Today, you could begin it in the coastal beauty of Cape Cod, Massachusetts, and end it with a 35-mile victory loop of orchards at the Fruit Loop outside Portland, Oregon. In between this cross country road trip, you'll travel a whopping 3,100 miles on a once-in-a-lifetime odyssey that brings you to Niagara Falls, Mt. Rushmore, Yellowstone National Park, and so many other national treasures your kids can't help but end it with a broader, happier sense of what it is to be American.
For Six-String Strumming Beach Bums: KEY LARGO
AKA: To Grandmother's House We Go. But there are enough sights, fun, and pleasures along the way to make this trip great even without a snow-bird retiree at the end. Start in Miami and take the Overseas Highway on a largely aquatic run, through the swamplands, past lush forest hiking spots, then over the stunning Seven Mile Bridge to Key Largo, where there's snorkeling at the nation's only undersea park, and, past dozens of gorgeous beaches, to the Southernmost point in the Continental U.S. Suitable entertainment: Jimmy Buffet, Ernest Hemingway.
For Forest Bathers: BLUE RIDGE PARKWAY
This is a lovely cross country road trip year-round, bookended by two spectacular national parks‑—Virginia's Shenandoah and Great Smoky Mountains in Tennessee—and dotted throughout its 469 miles with historic sites and affordable campgrounds. Try starting at Rockfish Gap Entrance, in the Shenandoah National Park, and head to Natural Bridge State Park, with its 215-foot arching limestone gorge, then through Roanoke to the jutting rock formations in Blowing Rock, North Carolina, and then the expansive Museum of the Cherokee Indian on the way to the 800-acre Great Smoky Mountains National Park, where your kids can see some of the oldest mountains on the planet.
For Leaf Peepers: BERKSHIRES
The Berkshire's gliding 63-mile Mohawk Trail is one of the first roads in the country to be planned as a scenic drive, and it shows. It's filled with low-key campgrounds, fancy inns, leafy views, and the kind of stately institutions—six major art museums, the Tanglewood Music Center—that don't spring up overnight. The same goes for the geological fixtures throughout, the Taconic Mountains, Housatonic River marble valleys, and nearby Hudson Highlands. You could do the whole trail quickly, but you'd miss the slow-growth spirit of the place.
This article was originally published on