The 33 Best Coloring Pages for Kids
Entertain kids quickly and easily with these free, downloadable coloring pages.
by Emily Kelleher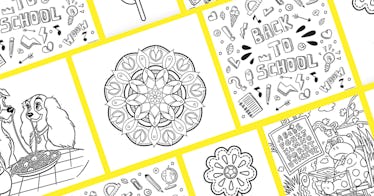 Meeting a kid's complaints of boredom with "want to color?" is a trick as old as time. Parents love coloring because it's a (mostly) mess-free activity that's not screen time and that kids can do independently. Kids love it because they get to express their creativity and use their imagination to fill in their favorite characters. And with the internet's vast supply of free, downloadable coloring pages for kids, you don't have to dig around for that lost coloring book (that probably has one scribble on each page, anyway).
Coloring pages won't spark as much creativity as making art from scratch, which requires kids to imagine something totally new, but they do provide a jumping-off point for kids to use their imaginations and develop their fine motor skills as they select which colors go where and practice staying (or, hopefully, not staying) within the lines. Whether you need coloring pages for little kids or big kids, Disney coloring pages, back-to-school coloring pages, or anything in between, these are the best the internet has to offer.
Back-to-School Coloring Pages
Just in case kids forgot all the stuff they need for schoolwork, here's a reminder from the folks at Crayola.
There are dozens of objects to fill in here. Staying within the lines of the letters could even be educational.
Prepare for what's to come with this cheerful image of kids heading off the school.
Kick your summer brain into gear with this reminder that objects like protractors exist.
This adorable schoolhouse is a nod to the way kids tend to draw houses.
Who doesn't love a maze?
Coloring Pages for Little Kids
A unicorn that's a feline. A feline that's a unicorn. Who cares? It's awesome no matter what you call it.
For kids obsessed with dinosaurs, here's a detailed picture any paleontologist would appreciate.
This simple ship has lots of big blank areas, making it easier to stay within the lines. Or not.
What kid doesn't like coloring flowers?
This wide eyes butterfly has room for many different colors on his wings.
If your kid is a real art snob, this famous portrait will test their skills.
Coloring Pages for Older Kids
The intricate patterns on this playful skull make it all the more satisfying to fill in.
This funky design realllly tests your ability to stay within the lines. It pays off, though.
Budding artists can take inspiration from those that came before them, starting with van Gogh's most famous work.
This cute print makes for pretty decor.
If your kid turns up their nose at the basic four-petal flower doodle, these sunflowers should do the trick.
Architecture makes for surprisingly cool coloring pages.
A staple of adult coloring books, flower mandalas use repetitive symmetrical patterns to up the wow factor.
Disney Coloring Pages
It's our favorite member of the Hauntley family.
Kids can color in Disney's first princess of color.
So they can color in everyone's favorite cowboy anyway they want.
This iconic scene makes for an adorable piece of art.
The detail on Sofia's dress lends itself to creativity.
If Snow White's dwarves can help with dishes, kids can, too, right?
This idyllic nature scene combines big, easy-to-color parts with smaller, more detailed ones.
Depicting Pocahontas relaxing near the water, this coloring page is extra zen.
Belle's famous yellow dress is drawn in all its glory in this detailed coloring page.
Clownfish may be orange in nature, but here, they can be whatever color your kid imagines.
Poor Tinkerbell looks on with envy at a music box ballerina. Give the girl some color!
Aladdin and Jasmine fly through the sky on their famously colorful magic carpet in this well-known scene.
Kids will get the chance to design a new bow for Minnie Mouse with this coloring page.
Lego Coloring Pages
This boxy design is a must for kids into trains or transportation.
Now that's not your average kid drawn house!
Lego's take on farm life is just as cute as you'd imagine.
This article was originally published on