The 19 Best Books for High Schoolers
From young adult to graphic novels and more grown-up fare – here are books a high schooler will love.
by E.L. Kennedy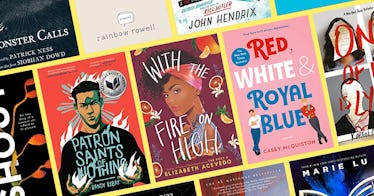 High schoolers are ready to read the classics, and they'll do plenty of that in school. But give them too much "Silas Marner" and they may lose the pure joy of reading for pleasure.
That's why it's important to make sure high schoolers have a variety of books that reflect their own experience and open doors to contemporary and fantasy worlds they've never imagined.
Embrace the growth of the graphic novel genre for the high schoolers you know. You'll win some cool points, and with new adaptations of books like The Iliad and Heart of Darkness, your high schooler has a better-than-Cliffs-notes way to power through the classics you may never have finished yourself. (Admit it.)
Here are 19 of the best books for high schoolers.
This follow-up novel features a high schooler who is struggling after she finds herself pregnant with a daughter. Her dream of becoming a chef is something she just can't deny.
The March sisters enjoy adventures in Civil War New England as they struggle to balance obligation with freedom. They say everyone has a favorite sister; obviously, everyone's favorite is Jo. Try the audio book from Audible, which features Laura Dern, who plays Marmee in the movie.
Hinds' vivid style will turn reading a classic from the chore it might feel like into page-turning excitement. (Now do Ulysses?)
The son of an American president finds himself squaring off against a young Prince of Wales. When the two make nice, they find themselves drawn to each other in ways that surprise them.
One of our editors calls The Fault in Our Stars "the most authentic account of cancer and death I've ever read." And Turtles All the Way Down is an authentic look at mental illness, which Green is frank about struggling with.
Jay Reguero is comfortable in Michigan before discovering his Filipino cousin was murdered as part of Pesident Duterte's war on drugs. In searching for the truth, he'll have to reckon with his own immigrant identity.
But Hey, Kiddo, is a far more grown-up book, examining his own childhood as the son of a drug addict who left the family.
This follow-up features 16-year-old Bri, who dreams of becoming a great rapper. With a tough home life, she finds herself at the center of a controversy that stands between her and her dream.
Halse Anderson's story-in-verse recounts personal stories of abuse, 20 years after her groundbreaking novel Speak. It's a beautifully spun call to action.
The Breakfast Club-style detention crew turns dark when one of the students doesn't make it out alive. Everyone else is a suspect.
Patrick Ness wrote this after the premature death of Siobhan Dowd prevented her from writing it herself. The monster in Conor's backyard wants the truth from him – and truth isn't easy as he struggles with bullies and the illness of a loved one.
Eleanor is bullied, especially for her size, and Park may be the only who stands up for her. Their love story captures the swoon of a first romance, but is grounded by real life problems.
Hendrix tells the true story of Dietrich Bonhoeffer, a pastor who speaks out as the Nazis gain power. Forced to flee, he is determined to stop Hitler.
It's set in the land of Orisha, where a caste system divides people and magic has recently been recovered. Our hero Zelie struggles to unite the kingdom before it tears itself apart.
The series' star, Day, has given up world-saving in favor of keeping his little brother, Eden, safe. The brothers find themselves at odds as Eden gets drawn to the city's dark side.
We don't know why Vonnegut seems designed for precocious high schoolers, but the appeal is undeniable. This satirical novel is an accessible entry point for Vonnegut stans. The narrator, John, sets out to write a book about "The Day the World Ended" and find the creators of the atomic bomb that was used in Hiroshima.
But for your high schooler, take it from the top and go for this stunning debut memoir. Eggers was a college senior when he lost both his parents to cancer and became responsible for his 8-year-old brother.
In Kuper's vision, much of the narrative is shown through the eyes of African natives, no longer faceless "others." (Fun fact for mom and dad: Kuper illustrated Spy vs. Spy in MAD Magazine.)
In a not-so-distant future, 17-year-old Layla Amin is forced into an internment camp for Muslim Americans. She'll have to fight for her freedom. Dare we call this novel prescient?
Every product on Fatherly is independently selected by our editors, writers, and experts. If you click a link on our site and buy something, we may earn an affiliate commission.