5 Great Christmas Movies On Disney Plus and 5 To Avoid At All Costs
by Rebecca Jane Stokes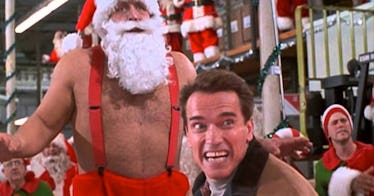 20th Century Studios / Disney
This Christmas season all your favorite streamers are whipping out new offerings and old holiday classics for you to watch with your family. Disney+ is no exception! One visit to the app is all it takes to see that they want you entertained this holiday season. But the choices can be pretty overwhelming. More importantly, what you don't want is to watch something that is actually terrible, even though your kid points at the screen and seems to think that particular thing sounds amazing.
So, which Disney+ Christmas specials are solid? Which ones are you better off pretending don't exist? Here's our 2021 guide.
5 Disney+ Christmas Movies Worth Watching
5. Olaf's Frozen Adventure
If ever there was a perfect time to watch this beloved new Disney classic, it's during the Christmas season. The royal sisters of Arendale, Anna and Elsa, are back, and while they've got Elsa's powers in hand (for now) they want to enjoy Christmas together. When the townspeople don't come to the palace for a festive celebration Anna, Elsa, and Olaf are left to ponder what their own traditions for the season should be.
4. Mickey's Christmas Carol
This 1983 short is an adaptation of Dickens' A Christmas Carol inspired by the popular Disney record An Adaptation of Dickens' Christmas Carol. It's a great intro to the classic story with just enough Mickey Mouse to keep them from getting nervous during the ghost scenes. Plus, who doesn't love Scrooge McDuck, with or without his money bin?
3. Home Alone (1990)
Written by John Hughes and directed by Chris Columbus, Home Alone may technically be a heist movie. A small boy accidentally left behind while his family travels to Paris for the holidays must keep two robbers from invading his home. Katherine O'Hara as mom, frantically trying to get back to her son for the holidays is just one of the storylines that make this 1990 family favorite worth revisiting.
2. A Muppet Christmas Carol
The fact that a second Christmas Carol adaptation made it on the list is a testimony to just how great it is. Kermit as Bob Cratchit? Giant friendly red-haired Ghost of Christmas Present? Michael Caine absolutely slaying as Scrooge? Yes, yes, and yes, please. The songs throughout will have you tapping your toes until New Year's.
1. Nightmare Before Christmas
Jack Skellington is the king of Halloween, but he's grown depressed doing the same thing every year. That's when he stumbles upon a new holiday, Christmas! And he's keen to make it his own. There's some contention as to whether this musical stop-motion Tim Burton cult fav is a Christmas movie, but given Jack Skellington's own passion for the big day, this one is the top of our list. What is Christmas without a few skulls, right?
5 Disney+ Christmas Movies to Avoid at All Costs
5. Star Wars Lego Holiday Special
Released in 2020, this attempt to rehabilitate good feelings for the sequel trilogy, frankly, failed. LEGO Rey goes on a quest to help Finn become a Jedi, and something something time travel, ghosts of Star Wars past. For hardcore Star Wars completists only. Everyone else, hide in the asteroid field until it's over.
4. Jingle All the Way
In this movie, Sinbad and former Governor Arnold Schwarzenegger play absentee dads fighting to get the year's hottest toy for their very greedy children. Is there a sweet message about the true meaning of Christmas in there? Sure, but it's buried beneath a morass of consumerist nonsense.
3. Disney's a Christmas Carol
Remember that time Jim Carrey plays Scrooge and every single one of the ghosts from a Christmas Carol in this motion-capture flick by Robert Zemeckis? Neither do most people and for good reason. This adaptation has a 53% on Rotten Tomatoes.
2. The Nutcracker and the Four Realms
Take the classic ballet The Nutcracker, now turn it into an action film. That's this movie. In the original story, Clara is given a nutcracker for Christmas and falls asleep, and dreams of him transformed into a prince. In this version, Clara is given a gift she can't unlock without battling assorted fairy-type baddies. It could have been compelling! Alas, no.
1. Home Sweet Home Alone (2021)
Sometimes, well enough should just be left alone. In this remake of the original, a married couple tries to break into a home to steal a valuable artifact. They are confronted with a young boy intent on stopping them. Neither the robbers nor the new kid has any of the appeal of the original. Not a great choice for leaving you warm and fuzzy this Christmas season.
This article was originally published on