6 Fantastic Adult Coloring Books Kids Can Enjoy Too
by Jordan Obey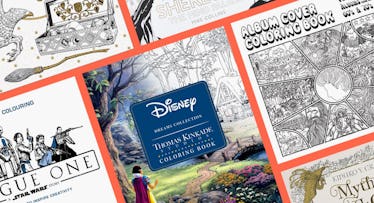 The adult coloring book craze is usually framed as adults co-opting a pastime for kids in the name of stress relief and relaxation. The truth, however, is that adult coloring books have been around longer than their kid counterparts. Adult coloring books have been around at least since the 1600s and were used as a tool for artistic practice so that people could hone their watercolor skills, penmanship, and basic mapping. Now, adult coloring books are less about artistic training and more about relieving the day's stress build-up. Coloring quiets the mind.
But adult coloring books are also great for kids who are tired of easy designs and want to try something more complicated. Now, a coloring book of swear words and sex references probably isn't the way to go (a lot of adult books are dirtttty). So, instead, we offer these excellent adult coloring books. They're challenging, fun, and don't result in your kid staring at the word 'Bullshit' for an hour and a half.
Album Covers
Not only will the psychedelic imagery of this coloring book entrance kids in, but it will also act as a gateway into the world of music outside of nursery rhymes and stale lullabies. All the 50 albums included in the book are from bands of the '60s and '70s. including Cream and The Beatles.
Sherlock: The Mind Palace
Benedict Cumberbatch's Sherlock is, dare we say it, our favorite version of the storied detective. This coloring book is an extension of Sherlock's intricacy, depicting scenes from different episodes of the beloved BBC show that hold secret clues inside of them. The only way to find those clues? You guessed it: color in the scenes.
Disney Dreams Collection
The only downside to the Disney Dreams Collection coloring book is that each of the black and white pages that need coloring is laid out next to beautifully rendered Thomas Kinkade paintings of the same scene. But, that's also what makes the book worth a go: Kids won't only be into the Disney-themed scenes this book has, they'll technically be getting 50 paintings with them.
Myth and Magic
Kids who really want a coloring challenging will thank you for Myth & Magic: An Enchanted Fantasy Coloring Book. Each of the 40 pieces in this book was drawn by Kinuko Y. Craft, an internationally celebrated illustrator who specializes in outstanding works of fantasy. Each of the scenes here is exquisitely detailed and filled with fairies, wizards, angels, and heroes.
Rogue One
Part sci-fi fantasy, part war drama, Rogue One: A Star Wars story was a surprisingly adult entry into the Star Wars film canon. This coloring book is much easier for kids to handle, offering 128 pages of intricate Rogue One scenes, characters, and vehicles to color.
Harry Potter
This Harry Potter Coloring Book is a great way for you and the kids to come together in appreciation of the J.K. Rowling's wizarding world. Each page of the book contains scenes, characters, and artifacts from the series, including, yes Dobby the House Elf.
This article was originally published on