'Behind the Attraction' Reveals the Secrets of Disney Rides
The new documentary series hits Disney+ on July 21st. Watch the trailer here.
by Rebecca Jane Stokes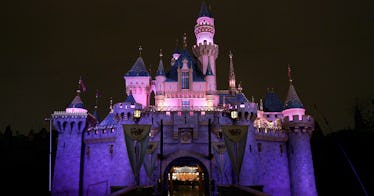 Getty
Whether you're a passing Disney fan or someone who is obsessed with every single ride at Disneyland and Disney World, a new documentary series is about to blow-open the secrets on the happiest place on Earth.
This 10-part series takes Disney stans like me on an intensive journey (you guessed it) behind the history of some of their most popular attractions. The show tells the story of attractions like the Haunted Mansion, Jungle Cruise, and Star Wars: Galaxy's Edge, digging deep into the Disney archives and never-before-seen footage of the attractions. All that and Dwayne Johnson producing make the show a must-watch if you consider yourself a Disney connoisseur. (Or even if you're just mildly curious about rides that you sort of hate?)
Behind the Attraction, narrated by Paget Brewster, hits Disney+ on Wednesday, July 21st with its first 5 episodes. Expect them to cover Jungle Cruise (just in time for the release of the new movie, which happens to star Johnson, hmmm), Haunted Mansion, the Twilight Zone Tower of Terror, Space Mountain, and Star Tours (the simulator attraction that helped inspire Star Wars: Galaxy's Edge.
I, for one, can't wait for them to dig into the Tower of Terror episode, not just because I love the ride, but because the episode promises to also share insight into how Disney is transforming the attraction into the new Guardians of the Galaxy attraction Mission: BREAKOUT!
If the first 5 episodes don't seem to feature any intel about your favorite Disney attraction, fret not! Disney+ has also announced that the show will be releasing another 5 episodes later on in 2021.
This article was originally published on