The Best Batman Shows And Movies That Are Actually Appropriate For Little Kids
They don't call him the "Dark Knight" for nothing. Here's when Batman lightens up.
by Tess Gionet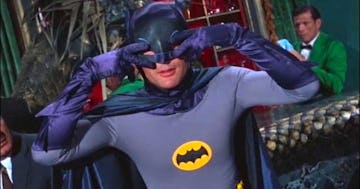 Credit: Warnre Bros
Batman is not a kid-friendly superhero. And for parents who have Batman-obsessed young kids, figuring out which incarnation of the caped-crusader to let them watch is worse than trying to decipher clues from the Riddler. Take it from me. One day my four-year-old decided she was one hundred percent obsessed with Batman. We had never shown her a Batman cartoon before, read her a Batman comic book, or even pointed out a Batman costume in passing on Halloween. Nevertheless, she knew all about this justice-seeking superhero and loved him fiercely, and there was nothing we could do about it.
Unfortunately, unlike other superheroes like Spiderman, there aren't a ton of great options for younger kids. Most of the Batman shows and movies out there are incredibly graphic, violent, or terrifying. The villains Batman goes up against ( The Joker? Scarecrow? Two-Face?!) are the stuff nightmares. In other words, they don't call him the "Dark Knight" for nothing. Batman stuff is scary and dark. And just in case you're confused, there's no way you should take a small child to the new Robert Pattinson version, The Batman. Maybe a kid over 12 for that one. Maybe.
Luckily, there are a few versions of Batman that slide into the zone of being okay for preschoolers and kindergarteners. Here are six Batman shows and movies that work for kids under 7 years old. I'd feel comfortable letting my now 5-year-old watch any of these, again and again.
Justice League: The Series (2002)
This animated series is nostalgic perfection. Wonder Woman, Batman, Superman, The Flash, and more team up to fight crime in this classic series. The animation has a simple, retro feel to it, and none of the villains get too scary.
The Justice League series is streaming on Max.
Batman (1966-1968)
Both the old-school 1966 Batman movie and the popular TV series are some obvious go-tos for kids. Yes, there's violence, but Batman's punches have literal "POW's" and "ZAPs" in capital letters coming out of the air like in comic books. The costumes are fun and playful, and in one episode, there's a dance called the Batusi that's perfect for your kid (and you) to practice. Adam West's Bruce Wayne is also often lecturing Dick Grayson/Robin (Burt Ward) about various civic duties and ways of curbing bad habits. Though some of these do-gooder lectures are played for laughs, he's usually giving good advice.
Batman: The Movie (1966) is streaming on Max. The series itself is only streaming to rent on YouTube and elsewhere.
The Lego Batman Movie (2017)
Fair warning, this is the least family-friendly of the list, but it's mostly fine. Like all the Lego movies, Lego Batman is annoying as hell…but it's full of silly fun and not-too-scary action for smaller kiddos. Bonus for parents: In this Batman, the voice of Bats is played by Will Arnett.
The Lego Batman Movie is streaming on Max.
Batman: The Brave and the Bold (2008)
This animated Batman tv-series is classic Batman at its best. It does have more violence than the other shows on this list — there are a lot of guns and explosions — but it's super cartoonish and over the top. Nobody ever gets too hurt, and it'll give your kid a true sense of who Batman really is. This show is very much designed to put the fun back in Bats, and the best part is, it was made relatively recently.
Batman: The Brave and the Bold is streaming on Max.
Scooby-Doo! & Batman: The Brave and the Bold (2018)
This one-off movie combines two of the greatest crime fighters of all time: Batman and Scooby-Doo! While there are older Batman/Scooby-Doo crossovers, this standalone 2018 movie is easily the best. Plus, it's a good way to bring Batman down to Earth. Really!
Scooby-Doo! & Batman: The Brave and the Bold is streaming on Max
Super Friends (1973)
This truly classic animated TV series is the much-cornier (and perhaps more fun?) seventies version of the Justice League. Like the 2002 Justice League cartoon, Batman isn't the only character here, rather, a member of a big team including Superman, Wonder Woman, Aquaman, and The Flash. Of all the Batmen on this list, his is probably the version who smiles the most.
Super Friends is available for purchase on iTunes.
Batwheels (2022)
The newest version of Batman is all about the Batmobile! If you ever imagined a kind of cross between Thomas and Batman, this show is it. The most toddler-friendly version of Batman ever is sweet, cute, and totally introduces kids to the world of the caped-crusader. It may not be the most exciting Batman of them all, but Batwheels is easily the best version for the smallest little bat-fans out there.
Batwheels is streaming on Max.
No Batman: The Animated Series?
Although we consider Batman: The Animated Series to be one of the Best Kids TV Shows Of All Time, it's definitely better for children a bit older than seven. Six is probably okay, but it's not exactly a show for the very young. In fact, famously, Batman: The Animated Series even briefly debuted in Prime Time!
This article was originally published on