8 Strange Baby Name Trends That Defined The 2010s
How we name our children says a lot about the times we live in.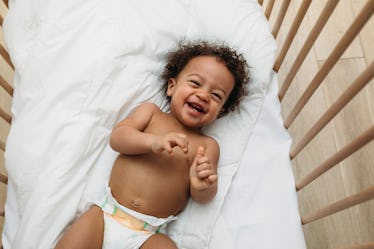 Artem Varnitsin / 500px/500Px Plus/Getty Images
Looking back on the trends that defined each decade comes with its own unique view of a ten-year span. The Social Security Administration (SSA) recently released the top baby names of the decade. The three most popular baby boy names of the decade were Noah, Liam, and Jacob; the most popular baby girl names were Emma, Olivia, and Sophia. But what else do the numbers illustrate?
Well, there was a substantial rise in gender-neutral names such as Avery and Cameron. There was also a huge uptick in unconventional baby names, something that points to Millennial parents' penchant for standing out.
In fact, the most popular names of the decade are far less popular than those in decades' past. Whereas classic names like Michael and Mary took up about 3% or 4% of all names in prior decades, this decade's top names account for less than 1% of the total. Names are more diversified, more singular. Vintage names saw a comeback. So did Greek gods and goddesses.
Recently, the New York Times looked back at the most popular baby names of the decade. Using the SSA database and the team at Nameberry, they crunched the numbers behind more than 500 baby names that enjoyed a top 1,000 ranking in 2018, but weren't on the list a decade ago. As is always the case with baby names, peculiar names — based off celebrities, television shows, and cultural trends — abound.
So, what else do the trends show? We wanted to take a closer look at some of the stranger entries. With some help from BabyCenter, Nameberry, and the SSA database, here are some interesting baby name trends of the decade.
A Penchant For the Peculiar
If there's one major trend that's defined baby naming over the past decade, it's Millennial parents' desire to have their children stand out. From 2011-2015, for instance, 72% of boys and 79% of girls had names that were not in the top 50 most popular in years prior. This craving for individualism has resulted in the popularity of such names as Hudson, Brooklyn, Harper, Nevaeh, Cove, and Hawk.
It also accounts for a resurgence in vintage names. Dorothy, for instance, is the 586th most popular name of 2018 — its biggest resurgence — with 517 female births bearing the name. Otto also rose in the ranks, with 702 male babies bearing the name in 2018. One of the most popular in this category was Eloise, which continued to rise in popularity over the decade (there were 1,733 babies named Eloise in 2018 alone, making it the 167th most popular).
Speaking on the trend to Live Science, psychologist Jean Twenge said, "There's been this cultural shift toward focusing on the individual, toward standing out and being unique as opposed to fitting in with the group and following the rules."
Lots of Love For Greek Gods and Goddesses
Perhaps it's a newfound fascination with Homeric epics and the poetic edda. More likely, pop culture is the culprit. In any case, there was a big resurgence in baby names plucked from Norse and Greek mythology. Such names as Achilles, Freya, Titan, and Magnus all increased in popularity, as did Rhea, Apollo, and Calliope. Hell, there were 16,988 boys named Maximus in the 2010s. The names are undoubtedly strong and beautiful — but they also come with a lot of weight. Growing up as an Achilles, we would imagine, certainly comes with its fair share of expectations.
The Filter Effect
Ah, Instagram. Is there anything you don't affect? In 2015, when Left Shark became a viral meme during Katy Perry's Super Bowl performance and "The Dress" was making people squint at computer screens, a select group of parents were naming their children after Instagram's just-launched filters. As a 2015 survey from BabyCenter shows, such names as Reyes, Valencia, and Willow all became trendy. None were as popular as "Lux" and "Ludwig," however, the former of which saw a 75% rise over the previous year.
Sponsor My Baby!
Consumerism defines more than our closets and cupboards; brand loyalty also plays a part in baby names. According to Nameberry, certain brand names spiked in the 2010s. Although they weren't in the top 1,000, they still are out there. Lexus was popular. So were Kia and Audi. There were 16 boys named ESPN in 2014 as well as six children named Nike; 110 kids in 2013 were dubbed Cartier. Perhaps strangest of all, there were six boys named "Disney" in 2013. "Walt" may have been simpler.
The Game of Thrones Effect
Game of Thrones mania defined much of the 2010s (the show first debuted in 2011) and many parents took their fandom to the crib. In 2014, for instance, Khaleesi was the 757th most popular female baby name in the United States; it 2018, it was the 549th, with 560 babies bearing the moniker. While Daenerys didn't ever find its way into the top 1,000, there were still 171 little Daenerys babies who came into the world in 2018. As for the war crimes the mother of dragons committed in the final season of Game of Thrones? Well, hindsight is 20-20. But it's not limited to the mother of dragons. According to BabyCenter: Olenna was up 71% and Ellaria, 53%. No one, so far as the numbers show, has named their kid The Mountain.
Names From a Galaxy Far, Far Away
Everyone loves Adam Driver. He's a big man! He did a lot of pushups during his formative theater years! He's also one of the finest actors of his generation. But people love Star Wars more, which is what accounts for Kylo, the character Driver plays in the new Star Wars trilogy, being one of the fastest growing names of the past decade. From 2018-2019 alone the name, per the SSA, jumped 287 spots. The Star Wars effect didn't stop there. Rogue One's Cassian also saw traction, jumping 10% in popularity, per BabyCenter.
Getting Back to Nature
Think parents are yearning to get outside more? If names hint at anything, the answer might be yes. Sparrow grew in popularity this past decade. So too did names like Cove, Hawk, and Fern. Delta and Marigold also jumped. One thing's for certain, it will lead to a lot of parents ironically yelling "Cove! I told you no screen time before bed!" which sort of takes away from the natural wonder of the whole thing.
The Celebrity Influence
Naming kids after celebrities is nothing new. But homages to actors, singers, and other pop culture icons surged in the 2010s — a trend that points to the growing cult of Internet celebrity. There are plenty of little Adeles, Octavias, and Saoirses running around (the latter peaked in 2018, when 325 children were given the name). Keanu became more popular, too, with 277 children bearing the John Wick actor's name in 2018 (an uptick from 2001, the previous most popular time for the name).
But celebrity has a more powerful modern effect: Making trends based on the names they gave their own children. Dubbed the Celebrity Baby Name Effect, it sometimes takes some years to truly take hold. For instance, the name Maddox — which Brad Pitt and Angelina gave to their first adopted child in the early 2000s — had a big spike in 2016, with more than 1,600 parents giving the name to their child.
Then again, sometimes it doesn't take much time: Kim and Kayne's Saint and North both gained in popularity, as did the trend of naming little girls James, which Blake Lively and Ryan Reynolds made popular. As social media and internet celebrity culture continue to leech into our lives, the trend will only become stronger.
This article was originally published on