The 15 Best Amusement Parks To Rival Disneyland
There are other happiest places on Earth.
by Chris Norris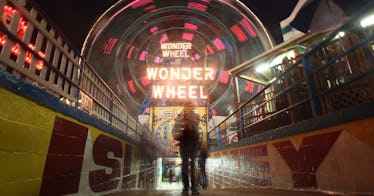 Getty
With absolutely no disrespect intended to the Happiest Place on Earth, there are tons of spacious, safe, and well-maintained American theme parks that don't fall under the Mickey Mouse-eared shadow of Walt Disney. With family vacation season upon us — spring break is almost in the rearview mirror and summer is approaching fast — now seems like a good time to think about outdoor spaces where it's easy to stand six-feet-apart from other families and enjoy yourself.
Long before there was Disneyland, there have been amusement parks and funfairs. Here's a quick look at just 15, ranging from big-ticket Disney challengers to quirky local attractions, to some affordable and adorable American classics. In each case, we've linked-out to each specific amusement park's website. Just click the name of each park to check out their website and current prices. Have fun!
The national birthplace of amusement, this New York institution still offers thrill rides, arcades, seaside air, and a boardwalk that retains just a hint of neon carnival sleaze. The iconic Wonder Wheel and vintage Cyclone rollercoaster both towers over the renovated Luna Park, and unlike most modern theme parks, the rides and stalls are independently owned and operated. If you tire of coasters and cotton candy, the Atlantic Ocean is right there. And be advised: On July 4 this is home to the Olympics of competitive eating, Nathan's Famous Hot Dog Eating Contest.
This makes the list for its location as much as its rides: set on the Santa Monica Pier, overlooking the Pacific Ocean. Though smaller than most parks on this list, this one has solid entries in its 35 mph West Coaster rollercoaster, adrenaline-fiend Eurobungy, kid-friendly Red Baron carousel, and the elegant Pacific Wheel, whose 130-foot peak gives you a spectacular view of Catalina Island. While there may be other amusement parks in the Los Angeles region, frugal parents will appreciate that this one doesn't charge admission.
For years, this has been the premier destination for rollercoaster gourmets, with 18 twisting, plummeting thrill rides—both old-school gems like the Blue Streak and modern stress-testers like the floor-less Rougarou, straight-up Wicked Twister, towering GateKeeper, and the absolute crowning terror, Steel Vengeance. That is, the tallest, fasted, steepest, wood-steel hybrid rollercoaster in the world. There's also no shame in staying with the carousel and other younger-kid-friendly attractions on this lovely stretch of peninsula on Lake Erie.
Like Coney Island's Luna Park, this 100-year-old institution retains a bit of the old-school charm of its seedy origins. Even if we didn't know it inspired his recent novel Joyland, Canobie Lake would still fit the wayside New England of Stephen King. With rides ranging from the 1930s rollercoaster the Yankee Cannonball to a state-of-the-art steel dragon called Untamed, it's a flourishing destination for families from Massachusetts to Maine, with lovely lake activities surrounding.
Where but central New Jersey would the hard-hat realities of construction work spark the seemingly-unwise, totally-awesome idea of letting kids drive an actual 7,000-pound JCB road digger? Or a one-ton Kubota RTV-900? These, along with dump trucks, mini land rovers, backhoes, tractors, and a range of other kid-proofed heavy metal is gassed up and ready to be driven by your offspring in this Tonka-truck dream come to life. All this, plus a ropes course, carousel, waterslides pools, and other family fare for whoever is on their lunch break.
One of the most eye-popping parks on our list if only for its admission price: $0.00. This family-owned, family-friendly park is the largest admission-free one in the country and most every fixture evokes simpler times: a fun, wholesome, well-run park with three wooden rollercoasters, a flume ride, a 1913 carousel, two miniature steam trains, and a vintage haunted house ride—plus with swimming, camping, and other low-key, all-ages attractions.
This one's a bit of a twofer since it stands within the sprawling amusement park that is Minnesota's Mall of America, but it's one of the better living odes to cable TV, in this case the retro-90s fun of Nickelodeon. So: climb onto the SpongeBob Squarepants Rock Bottom plunge, the tower-drop Splat-O-Sphere, the Avatar Airbender, Brain Surge, and other domains of Dora the Explorer, Teenage Ninja Turtles, and the rest of the classic Nick shows. Bonus kid points for being a certified autism center.
The rides at this place redefine "high impact," as the park itself sits 7,000 feet above sea level, making its Cliffhanger roller coaster North America's highest, something you'll definitely feel as you take in the sweep of the Colorado River on your climb to the big first plunge. As you'd expect for a park in the Rockies, it also has the oldest, and many say, highest-octane alpine coaster in the nation: 3,400 feet of track you tear down, while controlling your own speed. The four-person Giant Canyon Swing throws you and your crew out over 1,300 feet of fresh air. And if you've had enough, there are tours of the largest "show"—meaning, public or tourist—cave in the state of Colorado.
As much as we love low-key, off-the-beaten-path amusement parks, there's something to be said for a big budget and great expertise going into the kind of boots-on-the-ground magic you'll find at this place. On two coasts, Universal is giving Disney a run for its money, and their Wizarding World of Harry Potter remains a standard-bearer for the fantasy films come to life. Not only are the Potterverse locations—Hogsmeade pubs, Hogwarts Castle—reproduced in near frightening detail, but the 3D viewer-assisted mine-trolley steeplechase Escape from Gringotts sets a modern amusement-park standard.
Imagine a muddy vacant lot with scrap iron, a rusty box spring, busted piano, a single crutch, a few saws, a hammer, and other debris. Imagine it's behind a fence and that only kids are allowed in. Meet the New York version of mostly Scandinavian "adventure playgrounds," where the children of non-litigious parents wear closed-toe shoes, take healthy risks, and, usually, have more fun than they've had all year. If your nerves are frayed, the spectacular 172- acres of Governors Island await your explorations.
A shrine to the American chocolate empire, with ride height charts that range from "miniatures" to "Jolly Ranchers," Hersheypark is no newcomer to the amusements game, beginning as a resort for Hershey employees back in 1903, adding a carousel and roller coaster in 1923, and growing into 70 rides that include 14 roller coasters, a water park, and an 11-acre zoo. The marquee attractions would be the ranked Hershey Triple Tower, which offers candy-ranked drops from the 187-foot Hershey Tower to the more manageable 80-foot Kisses Tower. And by the way, they also have candy.
It's a Lego world, grown-ups just live in it. For over 30 years, the West Coast builder's paradise has explored all permutations of the mighty Brick, spreading out from the original Miniland's million-brick versions of the Golden Gate Bridge, New York's Central Park, and the Las Vegas Strip into a kid-sized railroad. a waterpark, sea world aquarium, and, recently, a sprawling yet impressively detailed tableaux from Star Wars Force Awakens. A killer amusement park in its own right, Legoland, whose New York version is set to open this summer, attests to the DIY thrill of kid-made constructions throughout.
As if a town named Santa Claus weren't enough of a draw, this large-scale tribute to quirky Americana is a serious Midwestern rollercoaster contender. Called the best "woodie" in America by aficionados, its 1.2-mile long The Voyage offers a very modern-day form of adrenaline rush, banking 90-degrees, giving you 24 seconds in the air, and plunging you through five underground tunnels. The floorless Thunderbird Steel throws a rider barrel-rolling and loop-de-looping through the air, and the full-service waterpark packs the world's two longest water coasters, the Wildebeest and Guinness Book record-holder Mammoth.
Enjoy the Christmas spirit all year long in this quirky, holiday-themed park. Christmas lovers can enjoy the magic of the North Pole even when it's mid-July by riding antique cars, a Christmas train, and rides like the Chimney Drop and elf Flying School (a circular, flying sleigh ride). In the summer, you can even enjoy a trip to the water park, which opens in late May.
Of the celebrities who've lent their names to theme parks, none are as unimpeachable national treasure Dolly Parton, and none show the charm and care that abound in the park she's owned and operated since 1986. Nestled in the Great Smoky Mountains, Dollywood has top-notch thrill rides running throughout its different enclaves—Wilderness Pass, Wildwood Grove, Timber Canyon (home of the 200-foot Dropline)—while a full-size steam locomotive and gentler attractions of Country Fair cater to younger children's needs. And those attractions devoted to American music, like the museum of Dolly-ana "Chasing Rainbows" and the Southern Gospel Museum and Hall of Fame are worthy cultural destinations in their own right.
BONUS:
The Pepsi Cola to Disneyland's Coke, Six Flags remains a powerhouse of American amusement, slightly less sanitized, and—not for nothing—real-life location of Wally World in National Lampoon's Vacation. Experts are divided on whether this California landmark has bumped Cedar Point out of the nation's top rollercoaster spot. But no daredevil can sneeze at the likes of Superman, with its 415-foot, seven-second drop and 100 mph speed, or the terrifying Ninja with its 90-degree angle swings, or the dreaded Slingshot, which is exactly as the name advertises. And perhaps above all there stands the Twisted Colossus, a woodie-steel hybrid that updates the original park's woodie with a 116-foot, 80-degree drop followed by a 360-degree G roll, and heart-stopping inverted dangle. The fainter of stomach, if not heart, can undertake the new 4-D VR Battle for Metropolis, in which they play members of the Justice League fighting Lex Luthor or The Joker. And Toonland offers chiller rides for little kids, and necessary relief for the rest of us.
This article was originally published on