With Kids Books on Racism, Sexism Jelani Memory Follows Fred Rogers
Jelani Memory, the man behind the new children's book company A Kids Book About, just wants to speak truth to the powerless.
by Andrew Burmon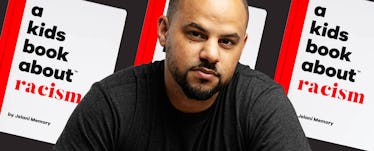 A Kids Book About
The first thing you notice about A Kids' Book About Racism is its cover, which delivers the title in a punchy san serif that leaves little room for hedging. The second thing you notice, on cracking the 8″-by-10″ cover, is that, room or not, there's zero hedging. This is a children's book about race relations and institutionalized inequality. There are no dragons eating tacos. There are no marinara clouds forming. There are no llamas preparing for bedtime. There is just un-triangulated prose that squares so neatly with reality the book itself feels confrontational.
But it's not. It's counterprogramming. Dreamt up by Circle Media founder Jelani Memory — the man who brought parental controls into the 21st century before selling his outfit to Disney — A Kids Book About is a company, not just a clever framing for an unusual book. And the company is determined to create a unique literary offering, a library of books that expound on the issues most likely to confound young readers (and their parents). A Kids Book About has offerings that address belonging, creativity, depression, feminism, failure, and anxiety in precisely the way that modern children's entertainment (all those patrolling dogs and well-visiting pigs) don't.
Memory says he's determined to provide kids with the answers they want, deserve, and may not be getting from their parents. His inspiration? His children, of course — he's got six. But also Fred Rogers and those moments on Mister Rogers Neighborhood when the PBS icon dished hard truths straight to camera.
"If we can carry on Fred Rogers' legacy of talking up to kids, never down, we'll have done a big thing," says Memory. "He didn't pull punches and I admire that."
But selling honesty requires manufacturing it and that's no easy task. As Memory explains, being in the truth business keeps him up nights. He is, after all, playing for stakes. He's also — and one cannot emphasize this enough — trying to make something beautiful and unique for his children. So good enough is not even worth discussing. Fatherly spoke to Memory about his company, why kids deserve great non-fiction and following in the footsteps of Fred Rogers.
The books you've created are startling simple and straightforward. The design is beautiful, but the really shocking thing about the books is how direct they are in contrast to most children's books. It seems like an entirely different approach to children's book publishing. What do you see as the problem with children's books and entertainment that needs to be solved?
I have a core thesis that kids are infantilized and overly entertained. Substance is withheld. None of that has anything to do with their ability to handle complex subjects. It's all about adults fearing certain conversations. Seriously, just type, 'A kids books about…' into Google and any serious topic you can think of. The results will be disappointing.
We're also in a specific political climate. There's polarization and, more to the point, a post-truth mentality that I think leaves adults looking for the same kind of simple truths as kids inevitably do. You can sort of hear that voice saying, 'Just tell me something true.' But that's hard. Knowing what issues to address and how to explain those issues simply and truthfully is difficult. That's why we're structuring each of our books as a framework for a discussion.
You're a very successful entrepreneur and children's book publishing — as I'm sure you're aware — is not the fastest growing sector of the U.S. economy. Why focus on this?
Wanted to flex my creative muscles and, in talking to my kid, I realized we were having a discussion that a lot of families have about race. So I started there with A Kid's Book About Racism. I showed a copy around and something magic happened when I showed it to adults. They offered ideas for books on other heavy topics. So I started thinking about and obsessing over those ideas, which is always a good sign. These books are something I personally want to exist so I can read them to my kids.
This sounds like a project that turned into a business at speed.
It started from a place of… 'Hey look at this cool thing I did!' But the enthusiasm was bigger than that. I started getting interrupted in coffee shops. I would be there with the book, waiting for a meeting or something and people would approach me and want to talk about it.
I wanted to test my theory about people wanting to read about heaving topics, so I made sample covers for A Children's Book About Depression and a few others. The reactions were equally strong. People thought it was cool and, hey, I agree. I just didn't expect people to get it so quickly.
You've said that Fred Rogers is one of the inspirations for this project. Obviously, he's a man who worked incredibly hard to be honest with children. He did not, as you put it, over-entertain. Was he a big figure in your life when you were young or someone you came to appreciate later?
As a kid and then as a teenager and an adult you're always aware of Fred Rogers. He's the one guy that hasn't been tarnished. He's the white male Oprah. I honestly can't remember if I watched Mister Rogers' Neighborhood as a kid, but last summer we saw the documentary and it put a bug in my ear about what more can be done. I don't have a special Mister Rogers story or anything, he's just a life-changing figure.
But you're not planning on becoming a character in the books so there isn't that same focus on authorship that you see with Mister Rogers' Neighborhood and with a lot of children's books. How do you think about creating not only books that draw people in, but a company that resonates?
We're impressed by brands like Warby Parker and Harry's and other direct-to-consumer companies. We want to be a brand first and foremost. That's unusual. Book publishers are historically terrible at branding. Simon and Schuster is a brand that has existed for over a hundred years, but people don't think of it that way. They think about series or authors or specific books. So, without TK, and we're more inspired by Field Notes, which makes pretty simple notebooks. With them, you know what you're getting but you're surprised every time.
I think that, when it comes to adults, brand is just about everything. And adults are the ones who are afraid of these topics, not the kids. These things are fraught for adults but not for kids who just want an answer. So we plan to keep it simple. Simplicity is our brand.
What's the goal? It's pretty clear that you could put out a nearly infinite number of books….
We're shooting for 100 books in the next few years. But, yes, that's really just scratching the surface. We just want to start by creating a collection that allows us to reach in broad and niche communities. We like the idea of people building collections for their kids. We're working on A Kids Book About Depression, Belonging, Adventure, Change, Mindfulness, Friendship, and ADHD. We have 30 authors aboard and I'm out there right now looking for folks to write about gender and immigration.
There are some things that are just true. So we sought out authors that are emblematic of those things. We wanted every book to be autobiographical.
To your knowledge, has anything like this ever been done in the publishing space?
Not exactly. The closest would probably be Golden Books, which meant a lot to American kids and increased literacy. They didn't say anything, but they were fun to read.
What are some of the titles that you've found particularly powerful to work on?
Cancer. Body image. Money.