8 Tips for Picking a Summer Camp, According to a Camp Expert
Day camp or sleepaway? Music or sports? A former CEO of the American Camp Association provides some guidance on choosing from the more than 13,000 options out there.
by Tom Holland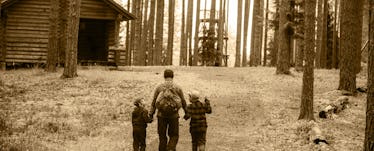 For more than 100 years, summer camp has been a part of American childhood, and for good reason. More and more research is pointing to the importance of the camp experience: kids are taught critical life skills that last into adulthood, and they get a chance to grow outside of the watchful eyes of parents, while supported by inspirational role models in their counselors.
With more than 13,000 summer camps in the US, choosing camp programs for our kids can feel overwhelming. Once just for America's wealthy, now there are camp experiences for just about every budget. Once just a multi-week outdoor experience, now there are a multitude of program types, varying in duration and for every age of child. So, how should we approach finding a camp for our kids? Here are some critical points to keep in mind as summer approaches.
Start With Day Camp
Don't know if camp is right for your family? Start with day camp. The day camp experience in America grew out of the residential summer camp world. Families wanted to feel the experience of residential camp but without the eight-week commitment on a remote lake. Day camp is a great way to test the camp waters and expose your child to the culture of camp. Day camps operate around the United States and offer varying options for length of enrollment. Finally, with day camp, you can get immediate feedback on the experience with your child when you pick them up after an action-packed day.
Try Camps With Many Activities
If you are still learning your kids' interests, try programs that offer a variety of activities, as opposed to a single-activity camp. Unless you already know the exact type of program your child is looking for, cast a wide net. Many day camp and residential camps offer programming that exposes the children to a wide range of activities so that they can find their interests and foster them. It is also important that once they have selected a program that has a specialized skill, it should be one that they want to do. Pick a program that will foster who your child is, not who you want them to be.
Choose Sleepaway Camp Only When Your Child Is Ready
Is sleepaway camp right for my kid? Every child is different, so choose sleepaway camp not according to age, but when the time is right for them. My eldest daughter is the camp kid through and through: she attended her first sleepaway camp when she was 8. My second daughter is now 9, and is still not ready to commit to an overnight experience. One easy way to gauge your child's readiness is to look at how they approach sleepovers: If your kid loves spending the night out, they are likely ready for sleepaway camp.
Camp Alums: Don't Oversell It
Are you a camp alum? Tone down your enthusiasm for "the best summer of your life!" Some parents already know where and when their child will attend camp. For them, a certain camp is a part of their family history. Those legacy families don't have to be sold on the impact of the camp experience. They know how that experience has impacted their families for generations. If that is you, be careful with how you build up this experience for your child. Alumni children sometimes feel the pressure to replicate the experience of mom or dad and may have the experience of falling short. Just be sensitive to how you describe your past experiences.
Ask About Discounts
Concerned about the cost? Don't be afraid to ask about scholarships, discounts, or payment plans, which most camp programs offer. Many of these are advertised, but it never hurts to ask if you're concerned about the cost.
Do Your Research
Word of mouth is wonderful, but it is really important for parents and kids alike to do the research on the camp programs they're interested in. Take a tour. Check references and make sure there is space for your child. Find out if the camp accredited by the American Camp Association: ACA accreditation is the best evidence of a camp's commitment to the health and wellness of the kids in the program. If the camp is not accredited, ask them why they have chosen not to be. ACA also has one of the best tools to search for camp programs in the U.S.: the Find-A-Camp webtool. Check it out for the most comprehensive database of camps broken down by duration, geography, and programming.
Give Your Child a Say
For the most successful experience, include your child in the decision-making process. They should have an interest in going to a camp program, and this often comes from feeling ownership in the process. This doesn't mean that every kid needs to be overwhelmed with excitement to the point where their bags are packed in April. They just need to have an interest, a spark, something that their camp counselor, program staff, and camp directors can foster. Don't worry if, in the final moments before the summer experience, your once-excited child becomes nervous. This is natural for any child venturing into a new activity.
Have Fun
Finally, have fun with the process. Our childhood summers are precious moments that are meant to be fun and memorable. Camp directors know this. They will take a lot of pride in helping you find the best summer experience for your child.
Tom Holland is the owner and operator of Wilderness Adventures, which runs summer camp programs for youth on six different continents. Tom has been the director of day camps, sleepaway camps, and trip and travel wilderness programs, and he is the former CEO of the American Camp Association. He can often be found with his wife and four kids exploring the wild spaces around their home in Jackson Hole.