8 Overlooked Beverly Cleary Books You Clearly Need to Read
Move over, Ramona– these books by the late author are just as good as her famous series.
by Tess Gionet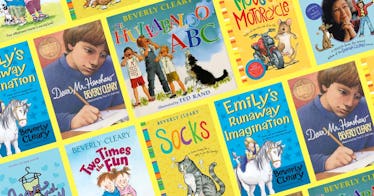 You've most likely laughed at the troublemaking stray dog, Ribsy, and his hopeful owner, Henry. You've cheered the spitfire spirit of Ramona Quimby and rolled your eyes at her sister, Beezus. Beverly Cleary, the creator of these characters and author of three generations' worth of beloved children's books, passed away on March 25, 2021, at the amazing age of 104 years-old.
Cleary won young readers (and their parents) over with her witty and tender writing, perfectly encapsulating the big emotions and challenges of childhood. She wrote over 40 books in 50 years, winning almost every honor a children's book author could win along the way. Though her most famous series (Henry Huggins and Ramona Quimby) should not be missed, there are some hidden treasures within her extensive collection that are just as essential. Basically, you've heard of Ramona, but do you know about a cat named Socks?
Here are eight overlooked Cleary books we think deserve classic status too.
8. Emily's Runaway Imagination (2008)
7. Dear Mr. Henshaw (2000)
6. The Hullabaloo ABC (1960)
5. The Mouse & the Motorcycle (1965)
4. A Girl from Yamhill (1988)
3. Jean and Johnny (1959)
2. Two Times the Fun (2005)
1. Socks (1973)