7 Best Scary Stories For Kids and How to Tell Them
These stories will have them spooked!
by Alicia Kort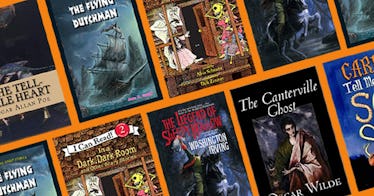 Movies and TV can be terrifying thanks to suspenseful music and terrifying CGI visuals that'll give the kids nightmares, but sometimes there's nothing better than sitting down and reading a spooky story aloud as a family. (Come on, this was the primary form of entertainment since humans could verbally communicate!) As everyone knows, as you read, your kid's imagination is stimulated. You can make up unique voices for each character and channel Jeremy Irons or Morgan Freeman. You can really get your kids invested in the story you're telling by pausing for dramatic effect, shouting unexpectedly and turning off the lights except for the sole flashlight that you'll use to read by. This is an opportunity to be the narrator you've always wanted to be. Give your Oscar-winning performance, your kids will remember it forever. They might even want it to be an annual tradition. In this list below, you'll find a number of classic legends and spooky Halloween stories to lend your voice to.
1. The Legend of Sleepy Hollow by Irving Washington
Forget that Johnny Depp and Winona Ryder movie from the '90s. Read them the original legend. This short story has a little bit of everything: A love triangle, a spooky haunted area of town, mysterious disappearances and good old American history. Introduce your child to the headless horseman and just think about how fun it'll be to say "Ichabod" out loud.
2. The Canterville Ghost by Oscar Wilde
Every good story begins with a "Hey, don't move into that house!" warning. That's how you know you're about to dive into a story where misfortune happens to the characters within it. An American family moves to England and into Canterville Hall, a house that definitely haunted by a ghost. Comedy and scares ensue. You might want to break this up into two sittings as it's about 60 pages long.
3. A Girl With a Green Ribbon by Alvin Schwartz
This story has been told in many different ways and by many different writers, but Schwartz's version of this tale, which appears in his book In a Dark, Dark Room and Other Scary Stories is one that's great to read to your kids. It's about a hitchhiker that picks up a mysterious girl with a green ribbon around her neck. If you're not already familiar with that story, we won't spoil it for you. It might frighten very young children though.
4. The Flying Dutchman by Jane H. Gould
For parents with younger children, this is the perfect legend to start them out with. Take a trip with the doomed, greedy captain and his crew in this graphic novel, which tells the tale of the most haunted ship on the high seas.
5. The Clown Statue
This urban legend has really spread around. There are multiple versions. There's not really an official one, so you could write your own version with your parenting partner. The crux of it is this: A clown statue keeps appearing in a house and is only seen by children and/or the babysitter. The parents say "Well, we don't have a clown statue…" and the kids get the heck out of dodge. It's a quick one, but scary enough to have your kids on the lookout for spooky clowns.
6. The Tell-Tale Heart by Edgar Allan Poe
It's not Halloween without diving into Edgar Allan Poe's archives of unsettling and creepy stories. This short story is narrated by a murderer who is trying to convince the reader that he's sane. It gets deeper than that, but this suspenseful story will have everyone in your house sitting at the edge of their seats. This might be better suited slightly older children.
7. Tell Me a Scary Story... But Not Too Scary! by Carl Reiner
This illustrated book is perfect for kids who like getting scared on Halloween, but sometimes need to take a step back. In this book, they can choose how . Reiner gives the reader choices. Now, they need to make choose-your-own-adventure style scary movies.