7 Audiobook Narrators Whose Voices Soothe Any Wild Child
by Dan Katter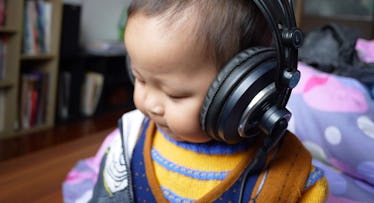 Yes, the source text matters. But audiobooks live and die by the sound of their narrator's voice. Imagine what Charlotte's Web would be like read by Gilbert Gottfried. Or what a macabre event Winnie The Pooh would be recorded by Tom Waits. A masterfully performed book on tape can be the parenting jack-of-all-trades: it lulls your baby to sleep, gets your older kid into reading, and keeps everyone sane on long car rides. For your next download, check out some of the finest talents in the book narrating biz.
Jim Dale
Dale is the Meryl Streep of audiobooks. Yes, he's a prolific stage actor, but probably better recognized for narrating dozens of works, including the septet of Harry Potter readings. And unlike your lazy character-acting, Dale morphs his trademark baritone into a different voice for every character in each book. He did this for 134 voices in The Order of the Phoenix. If Horcruxes and incantations aren't your thing, he also did versions of Peter Pan, Around the World In 80 Days, and A Christmas Carol.
E.B. White
The beloved children's lit author has a close relationship with oral storytelling. According to legend, he developed the character of Stuart Little in stories he told to his 18 nieces and nephews as a young man. You may have heard Charlotte's Web or The Trumpet of the Swan done by others, but White's own performances are especially memorable. His mature, knowing tone is a perfect fit for the books' narration. After all, he wrote it.
Kate Winslet
Roald Dahl's books are as much fun to listen to on tape as they are to read. Dahl personally performed the audio versions of many of his books, but Winslet's Matilda is a triumph unto itself. She embodies the calm, sane voice of Matilda in a world of ridiculous adults and loathsome children. With the poise and steely confidence of a cool English teacher, Winslet's no-nonsense narration brings the book's magical hijinks into the real world.
Shelby Foote
Be warned: This historian's sprawling book on tape is a weapons-grade sleep aid. Foote's 3-volume, nearly 3000-page history of the civil war is far from most kids' idea of a good time, but his honeyed Southern drawl is so smooth they'll be out cold before they know what hit them. You, too, should be prepared to pass out quicker than you can say "Four score and 7 …"
Maya Angelou
Angelou's reading of her memoir I Know Why the Caged Bird Sings shows just how high the ceiling is when a great performer goes to work on a classic. A poet by training, Angelou has an instinctive feel for the way her words sound together. The content is very adult, but her rhythms should soothe babies or toddlers who don't understand words — or semiotics — just yet.
Tim Curry
The original transvestite from Transylvania reads A Series of Unfortunate Events with the perfect amount of theatrical woe and sing-songy vigor. Curry carries this audiobook like a one-man show, sprinting from character to character to have outrageous conversations with himself. Like Harrison Ford as Indiana Jones, you can imagine the voice of Lemony Snicket belonging to anyone else. (Not even Chris Pratt.)
Judi Dench And Stephen Fry
Stephen Fry is known for his competing Harry Potter audiobook, but being Winnie the Pooh is nothing to sneeze at. Nothing is more British than Fry's charming interplay with Dame Judi Dench, who narrates. The story is about to turn 91 years old, but the characters remain warm and cuddly. If your kids already know the Disney version of the Pooh, time to introduce them to the OG Winnie.
This article was originally published on